16 Fashion Secrets You Never Knew About 'Gossip Girl'—Straight from the Designer
In an exclusive interview with MarieClaire.com, Eric Daman walks us through all the sartorial Easter eggs you may have missed.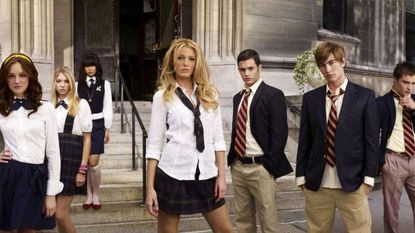 (Image credit: The CW)
Marie Claire Newsletter
Celebrity news, beauty, fashion advice, and fascinating features, delivered straight to your inbox!
Thank you for signing up to Marie Claire. You will receive a verification email shortly.
There was a problem. Please refresh the page and try again.
September 19 marks the 10-year anniversary of Gossip Girl's premiere on the CW. And now, thanks to Netflix, a new generation is discovering the glamorous and oft-emulated costumes of TV's favorite Upper East Siders.
Throughout its six-season run, Gossip Girl essentially dictated how an entire demographic chose to dress—but the show still has a ton of secrets. We spoke to costume designer Eric Daman, who walked us through Gossip Girl's iconic designs and let us in on some sartorial Easter eggs.
"I'd actually gone to the Upper East Side around the private schools to see what they were wearing. I was doing more East Village and editorial stuff before that—more downtown kids. Going uptown to see what those girls were up to was key at the beginning.
There were cliques of the Tory Burch flat girls, the Balenciaga bag girls, the Marc Jacobs backpack girls—they were clicking together almost through brand identity, wearing these high-end designers. It was an eye-opener, and it kind of opened the floodgates: We can do something more fashionable than just a plaid skirt and a white shirt! We had a lot of fun with the uniform and really editorialized it. It feels like these kids are at a private school, but it's also like a runway show every day."
There's a Simple Reason for All the Tights: It's Cold Outside
"It came from me being a practical New Yorker. We would film in January and February. I had to come up with something true and authentic to the city, that also kept the girls warm, and that was also a balance of who they were stylistically. We did color tights on all Blair's minions—each one had a different color. For me, it was almost a nod to Heathers, where they played a lot with the knee socks."
Blair's Headband Was a Symbolic Tiara
"It was iconic to Blair. She was Queen Bee, and that was her tiara. In her meticulousness, that was the last thing she would put on for the day. Wonder Woman has her gold cuffs, Blair has her headbands."
Serena Wore Head Scarves as a Friendship Nod to Blair
"We did head scarves for Serena when she and Blair were having heartfelt moments together. For when we wanted to identify them more as friends than frenemies. Or, for when Serena was trying to emulate Blair. It felt like a nice way to pull them together visually without making a statement. It's an unconscious nod to their friendship: Serena admiring Blair, Blair's style, and everything about Blair that you don't always feel in their relationship."
There's a Reason Serena Wore Sequins All the Time
"For me, Serena is like an international bird. She travels to these amazing flea markets, and everything that sparkles just kind of accumulates in an eclectic way—be it from Morocco, Paris, New York, or L.A. It was always important that Serena had some sort of sparkle. She was like the sun."
Blair's Bows Were Meant to Soften Her Personality
"Blair never really had an amazing childhood, and there's a bit of a lost girl in there. The bows really helped incorporate that into her life, so there was this extra girly-ness to her. And it also helped soften a design that could have been very austere or a little too cold. The bows add a sweetness to it."
And They Changed as She Grew Up
"As she's growing up, the bows become more architectural and design-oriented. It felt very right as an iconic piece for Blair. The bow design was integrated into her headbands, into her neckerchiefs, into her dresses, and into other elements. The bows added softness. We all love Blair, but she has a mean streak and a very cold side, and the bows bridge that."
RELATED STORY
Serena's "Daughter of the Bride" Look Was All Blake Lively
"The gown is Ralph Lauren. We were fitting Blake, and she really wanted to wear it with a belt. So, we opened it up, recut it, and added the black flower and the little black gloves to give it a fashion edge—because a big floral gown could go Mother of the Bride. And we don't want her to look like the Mother of the Bride at her own mother's wedding. We added the edgy details like the short gloves and the black flower to keep her at the forefront of fashion."
And It Could Have Been a Fashion Disaster If It Wasn't for One Tiny Detail
"She could have easily been a bumblebee, but I think it accented her in the right places. If we had done a long black glove, it would have been a disaster. It's really about proportions. That's something I learned working with Patricia Field and Sarah Jessica Parker on Sex and the City. They both had such an understanding of how bodies and proportions translate to the camera. So if that black glove had been long, then it would've been a much different look. It probably would've been a worst-dressed scenario."
Chuck and Blair Matched Their Outfits and We Never Even Noticed
"If you go back and look through certain scenes, there are a lot of coordinated Easter egg moments between the two of them. The more intense their relationship gets, the more they morph into a similar color palette. It's the same when they're distant from each other. In this scene [above], they're both in pastels, but Chuck's pocket square matches her hat.
"It was a thought-out plan to tie them together without it being too obvious. We didn't make an overt shout-out—we just let the viewer pick up on it. In this other scene [above], it's a little more obvious, but I love that they match. They have this growing intensity between them, and the clothes are important. We get to help create emotion and character relationships with what we do in design."
Blair and Serena's Paris Ensembles Were Made by Couture Designers During Fashion Week
"The Paris episodes are some of my favorite because I went to school in Paris and I have a connection to the city. When I went with Stephanie [Savage], we were both like, 'We want this to be fashion 2.0. We want to take Gossip Girl into outer space.' We really wanted to elevate it to a place where it was so over-the-top. It was Couture Week in Paris, and all the Parisian fashion houses were into the show and wanted to help us out. I had access to a whole new stock of items.
For this scene, Serena is in a blush, sequined George Chakra cage dress. There were, like, two of those made. And again, it's, 'Let's just do couture as daywear in Paris.' Blair is in this Moschino cherry and watermelon print dress. These looks are just iconic. It's an evolution from when they were schoolgirls. To go from that to this—I love those bookends stylistically."
Blair's Beret Was a Last Minute Addition from an Assistant's Personal Collection
"I knew I wanted the beret to have a specific moment with Blair. One of my assistants in Paris had actually brought in a couple of her berets, and there was this mint green one that matched the dress. It was just off enough, but also just right enough that it felt like, 'This is the moment. I know this dress is going to get a lot of play, let's do the beret here.' With Serena, we decided to do the straw border hat and the jazz oxford shoes that bring the look down a little bit. The blue pastels tied nicely. It's all very art directed. Everything has a softness that feels really beautiful for how the light is in Paris."
Blair's Paris Dress Was Called in from Oscar de la Renta Completely Last Minute
"I saw that Oscar de la Renta gown in the window at Bergdorf Goodman, like, the day before I was leaving to go to Paris. I knew it was just one of those moments. I literally walked past the window, saw the dress, snapped a picture, and thought, 'That is what I want Blair to wear.' I just knew it was the dress. I had my team track it down, and Oscar ended up sending it to Paris for us. I put Leighton in it two days later. It is very cinematic. It feels like we're in French New Wave cinema—a very European, high-end concept film."
Yep, Chuck Is Wearing Denim on Denim, and Yep There's a Good Reason
"Chuck was trying to run away from all of it. I remember I went to Stephanie and said, 'I think we should put him in denim on denim, almost like workwear from the Dust Bowl era.' Stephanie loved it and thought it would be really cool. Men's vintage workwear was coming into fashion at that time, so it was a win-win. It was all very tailored and immaculate, but it was a very different Chuck than what we had seen throughout the show. So for him to be in that while Blair is in this amazing gown just feels heartwarming and heartbreaking at the same time. It's a great scene visually. We never see them together in this kind of alternate universe, and it's just a very special moment for them, stylistically and thematically."
There's Also a Reason Nate's Top Button Was Always Undone
"Nate has more of an understated thing. With his school uniform, he always had his top button undone, his collars for his Oxford shirts were unbuttoned, so there was an ease and leisure to it. He was this blue-blooded kid who didn't feel like he needed to iron his Brooks Brothers shirts. But then he could turn around, go to the black tie events, and be spot-on."
Circa 2017 Dan Would Definitely Have a Beard
"He's a pouty intellectual from Williamsburg. If we were doing it today, he would definitely have a beard. If he were a young Dan and we were doing it today, he would have the glasses. It would be a flannel shirt and jeans, and the jeans would be much much shorter and tighter."
Follow Marie Claire on Facebook for the latest celeb news, beauty tips, fascinating reads, livestream video, and more.
Celebrity news, beauty, fashion advice, and fascinating features, delivered straight to your inbox!
Mekita Rivas a multicultural freelance journalist based in Washington, D.C.