"People Wake Up": Lena Waithe on Being the First Black Woman to Win a Comedy-Writing Emmy
The actress and writer talks to MarieClaire.com about making history, co-writing with Aziz Ansari, and her upcoming Showtime series.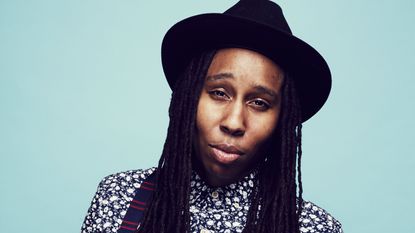 (Image credit: Getty Images)
One of the few uncontested highlights of the Emmy Awards on Sunday night was Lena Waithe's moving speech following her win for Best Writing in a Comedy Series. Back in July, Waithe became the first black woman ever to be nominated in this category for her work on the Master of None episode "Thanksgiving" (which she co-wrote with Aziz Ansari). On Sunday, she became the first black woman ever to win the award.
A standout episode in the second season, "Thanksgiving" follows Waithe's character Denise through many years, and many Thanksgivings, as she gradually realizes that she is a lesbian. In keeping with the show's semi-autobiographical style, Denise's coming-out experience mirrors Waithe's real-life journey.
MarieClaire.com caught up with Waithe a day after her win to talk about her onstage experience, how Ansari pushed her to co-write the episode, and why she's okay with going first.
The 48 hours since her win have been a whirlwind.
"I've been trying to respond to as many people as I possibly can, which is borderline impossible because there's so much love, and I've just been really trying to receive all of it. The main thing for me is trying to get through all the messages, trying to touch people back as much as I can—because it really means the world to me, and I wouldn't be where I am if it weren't for all these people who supported me on my journey, who have never met me, but have been following my journey all this time. I'm just really trying to be in a space of gratitude."
Ansari told Waithe in advance that he wanted her to take the mic if they won—and had one specific pointer.
"I'm not a fan of pulling out a piece of paper. No shade to anybody that does, I totally get it. Aziz called me that morning to say 'Lena, don't forget to thank Netflix! You should write something down.' But I just don't like to do that, I want to speak from the heart. So he's like, 'Alright, do your thing.' He had always said, 'I want you to talk, I want you to take the mic.' So I wanted to make sure I didn't forget Netflix, which I didn't thank God, and I also just wanted to say something because I felt like I shared that moment with the community, and with the culture. I didn't want to just make it about me, because the moment was so much bigger than myself. I'm glad people liked what I had to say, because when you're up there, you are freaking out. It may not look like I was, but I was! So I'm glad I could get words out and that it touched people, because I really wanted to thank everyone, and tell them that I share this moment with the community."
Though it's startling that no black woman has ever even been nominated in this category before, Waithe is okay with going first.
"I'm a person that appreciates firsts. When Halle Berry won [her Oscar in 2002] it meant so much to me. I remember being in my room in Evanston watching it, and the awards had gone very long that night, so it was like one in the morning—it was late, man! My mom was asleep, I was in my room by myself, and I just remember jumping up and down crying, like 'oh my gosh!' because her win told me that I could do anything. It told me that the industry was starting to embrace us as a community, and her speech meant so much to me as an artist, and as a young performer. So for me to be a first, and to possibly have inspired someone else the way she inspired me, that's such a huge gift.
I think every first is a step in the right direction. Donald Glover being the first African American to win for Best Directing in a Comedy Series [for], he's gonna inspire somebody to follow their dream, inspire somebody to tell their story. There is a huge weight that comes with it—but ultimately I feel light like a feather, because it feels like we've done our job, we've inspired others to follow in our footsteps, and it's those moments when the industry changes. People wake up. I'm just honored to be a vessel and honored to be a part of it."
Ansari pushed Waithe to co-write the episode, rather than just share her experiences with him and co-creator Alan Yang.
"In the past, I would go talk to Al and Aziz about my life and things that were going on, and they would take it and turn it into episodes, so I didn't think this would be any different. But when I told them about my coming out, they were like 'no, we kind of want you to co-write this, we can't get it right without you'. The only reason I was a little apprehensive was because I had such a full plate—that's not me being like 'oh, I'm this big shot', but I had booked a movie that I had to go to London to film [Steven], I had this TV show I was trying to get picked up at Showtime. I had a lot going on, so I just didn't want to half-ass it.
We ended up writing it in London where I was filming. Aziz came out and we made it work, we took three days, locked ourselves in a hotel room and knocked it out. We went back and forth, took walks around London, watched YouTube videos, and we really pumped this thing out. I'm glad he pushed me, I'm glad he had the integrity to say 'look, this is a story about a black queer woman coming out to her family, based on you, we gotta have your hands in it.' I told him the story, and we just figured out a way for [Aziz's character] Dev to be a part of it, and it came together so beautifully and organically.
I'm a big fan of Nora Ephron who believed everything is copy, and I agree. My life is a template for my art, and I don't like doing surface-y things. I enjoy being vulnerable, I don't mind pouring my soul and spirit onto the page, so Aziz and I really connect in that way."
"Thanksgiving" opens with Denise's mother, aunt, and grandmother discussing the OJ Simpson trial, which Waithe remembers as being pivotal to her understanding of race.
"The OJ Simpson conversation was very specific to my grandmother, who has just passed away. As a kid I learned about race, and what race meant, from listening to my mom and my grandmother talk about the OJ Simpson trial. I didn't really know who OJ Simpson was as a child, but I knew he was a black man, I knew he was accused of killing a white woman, and I knew that my family was not happy about the fact that he was being blamed for it. The roles that black men play in America, and the dynamics of interracial relationships, I just learned so much by listening to them talk about it, and hearing how passionate they were about it. Aziz really took to that, and was like 'yeah, you should totally write that in.'
Later in the episode we talk about Sandra Bland, and the story that Aziz's character shares [about an elderly Indian man being beaten by police], because those are the conversations we have around our dinner table. We really wanted to let people be a fly on the wall to us, and the conversations that we have and how we deal with what's going on in the world, and how we rationalize and make sense of it all. We didn't want to be too preachy, but we just wanted to shed light on what it means to be a person of color, in this world, and to feel like you're a target."
Denise's line about coming out—"It's more intense for black folks. Everything's a contest for us and your kids are like trophies"—was drawn from Waithe's own experience.
"That's how I felt, because I am othered already, I'm black and I'm a woman, and there are things that come along with that. That's one reason I was so nervous to tell my mom, because I think she was really worried and scared for me, like okay, you're a black woman, and now you're gay as well, so you're really gonna have a hard time out in the world. I didn't want that to be seen [in the show] as a criticism or her being a villain, I wanted to see it as her wanting me to have as normal and happy of a life as I can. I think that's every parent's wish. What's so exciting is that I got to grow up in a world where, as I got older, the world started to embrace me almost because of that, rather than shun me because of it. My mom's fear was that I would be ostracized, so for me to be on that Emmys stage and get a standing ovation because of an episode I wrote about what it means to be a queer black woman, was just a huge moment—not just for the industry and the world, but for me and my family."
Waithe was as excited for some of Sunday night's other winners as she was for herself.
"I'm a huge fan of television, and the reason I'm a part of the world is because I'm a fan of it. The Handmaid's Tale wins were a big highlight for me, because I just think that was so beautifully done and it's such an epic, epic show. I'm obsessed with Atlanta, and I'm obsessed with Donald Glover, I'm honored to call him a friend, and a colleague, and a peer, and for him to win Best Directing was just huge. Also Sterling K. Brown—who I've become friendly with because of this whole Emmy party campaign tour we've both been on—is such a phenomenal talent, and a phenomenal human being. I think we're lucky to be around and alive during his life, and to watch his art."
She has a new series coming at Showtime.
"It's a drama called The Chi, which is a nickname that Chicagoans have for the city. If somebody asks where we're from, we say 'The Chi.' And I'm really proud of it. Rick Famuyiwa is executive producing it with me, and our goal is to really humanize the people of Chicago, and show that city in a different light. Without veering away from the reality of what's going on there, we really want to show the humanity behind the headlines. There's a lot of people there that are just working every day, living their lives, trying to raise kids, chasing dreams. We don't shy away from the truth of it, we're aware that there's violence there and I do not shy away from that, but I also want to show the other side of it. Showtime is phenomenal, they've been believers in me long before the Emmys. It'll be out early next year, it's my first show that I got to sell, and I couldn't be more excited."
Working for years as an assistant in Hollywood taught Waithe some invaluable lessons.
"I had a lot of great bosses—I worked for Gina Prince-Bythewood for two years, I worked for Ava Duvernay as a PA on her first narrative film, and I worked with Mara Brock Akil, so a lot of wonderful role models. A big thing I learned from them is poise, and having a certain decorum in this industry, how to always have gratitude and work with integrity and have a sense of class. As a black woman in the industry, you really do have to hold your head higher, stick your chest out, be kind, and polite, and generous even when you don't want to be sometimes. I learned that, and also just to never take no for an answer."
Follow Marie Claire on Facebook for the latest celeb news, beauty tips, fascinating reads, livestream video, and more.
Celebrity news, beauty, fashion advice, and fascinating features, delivered straight to your inbox!
Emma Dibdin is a freelance writer based in Los Angeles who writes about culture, mental health, and true crime. She loves owls, hates cilantro, and can find the queer subtext in literally anything.