What Kind of Mother Leaves Her Kids?
Divorcing dads give up custody every day. Increasingly, so do moms. So why are they judged more harshly for it? Three women tell their story.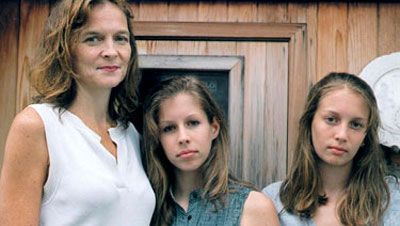 (Image credit: Annabel Clark)
Marie Claire Newsletter
Celebrity news, beauty, fashion advice, and fascinating features, delivered straight to your inbox!
Thank you for signing up to Marie Claire. You will receive a verification email shortly.
There was a problem. Please refresh the page and try again.
MARIA HOUSDEN, 47, NEW JERSEY, BECAME A BEST-SELLING AUTHOR

During her 15-year marriage, Maria Housden played the role of suburban mom. She shuttled her three kids to playdates and made sure a balanced dinner awaited them upon their return. But as much as she loved her children, something just didn't seem right. "It started as a restlessness. I had this feeling that I could write a book, that I'd like to travel the world," Housden recalls. It didn't help that Housden's husband, Claude, routinely criticized her housekeeping and child rearing. The marriage was starting to fray.
Then, the unthinkable happened: In 1994, the couple lost a child, 3-year-old Hannah, to kidney cancer. Initially, Hannah's battle galvanized them, and a year after she died, Housden gave birth to her fourth child, Madelaine. But gradually, the couple's tenuous reconciliation began to give. "Hannah's death made me realize life is too short. At what point do you say, 'This isn't working?'" she declares. Three years later, Housden filed for divorce.
While Housden and her husband desperately sought an amicable custody arrangement, she didn't want to be tied to New Jersey, where they had lived. Housden longed to write about the devastating experience of losing a child, an undertaking that would require intense reflection — and freedom from the daily grind of raising three kids. It was Claude who first suggested that he retain physical custody. But the idea horrified her. "Are you crazy?" she yelled. "What kind of mother makes that decision?"
Unable to sleep that week, Housden realized that she was letting her fear of what the neighbors might think — "that I was incompetent or that I didn't love my kids" — dictate what was best for her family. While the children needed stability, she needed time to process what had happened to her. Shortly after, she agreed to give up physical custody. She moved to an apartment three miles away from her children so she could see them on weekends.
But just a year later, Housden, who'd fallen in love with a writer she met while on a retreat, moved across the country — to San Francisco — to be with him. (They wed in 2000.) While her daughters were too young to comprehend the distance, her eldest, Will, then 12, was crushed. "I kept telling the kids that I'd see them as often as I had before," Housden says. True to her word, she drained her savings flying back and forth every other weekend.
Housden spent her days writing, as vivid recollections of her late daughter came flooding back. In the summer of 2000, with just $300 left in her bank account, Housden sold the proposal for Hannah's Gift for $250,000. The book has been translated into 15 languages and optioned for film, affording Housden the ability to take her kids to London, France, and the Bahamas. She acknowledges that while her ex supplies the structure, she brings the adventure — a role she relishes. "The joy of my life has been providing those experiences for my kids. Their lives are bigger because of it," she explains.
Housden's second book, Unraveled, published in 2005, tackled her agonizing decision to forgo custody. "I did something divorced fathers are expected to do every day. But when a mother does it, it's abandonment," she says, recalling a stinging radio interview in which a caller suggested she be sterilized. Housden, who has since divorced and moved back to New Jersey, says her kids, now ages 13, 15, and 21, have embraced their custody arrangement — they live with her every other weekend and over summers. "Even now I still have moments where I ask them, 'Is all of this OK with you?'" she adds. "They say they have the best of both worlds. This really works for our family."
NEXT PAGE: -->
ELLE HULL, 39, LONDON, LEFT FOR A FRESH START ABROAD

After she and her husband split in 1999, Elle Hull packed up her three girls (the eldest from a prior relationship) and moved from Virginia to Illinois, where she found work as an administrative assistant. She and her daughters, who ranged from ages 2 to 11, barely scraped by. Things got so bad that Hull sent her oldest to live with the girl's father in Missouri, while her two youngest daughters shuttled to New Jersey for weekend visits with their dad, who lived in a comfortable home with a spacious yard. It was hard not to be resentful. "My ex had taken a great deal of time after our divorce to get back on his feet. Here I was, eking by because the girls needed me," Hull says.
Within a year of the divorce, Hull began toying with the idea of giving custody to her ex. She casually floated the idea to her daughters, who delighted in the prospect. "It's the last thing you want to do, because you sort of hate this person," she explains. "But you think, This is in the girls' best interest. I'll go back to school, get a decent career, and be a better mom."
In October 2001, Hull got engaged to her London-based boyfriend. The idea of a fresh start in the U.K. tantalized her. Yet she felt defensive about her plans when she proposed them to her ex-husband. "This isn't me running off because I met a great guy," she insisted to him. "I really think you're more stable, financially and emotionally, right now."
Two months later, Hull's ex arrived for the girls. "I gave them big hugs and told them they're going to have a great time with Dad, that I'd be seeing them soon," she recalls. The girls watched their mother waving them off just as she did when they boarded the bus for school. Holding back tears, Hull shuffled back to her half-empty house and distracted herself with her own impending move.
That first year abroad, Hull vacillated between bleary-eyed enthusiasm for her new home and marriage and interminable longing for her girls. It took a year before they settled into a routine of weekly calls and seasonal visits. Soon after, Hull enrolled in law school. "There's no way I could have done it as a single mother," she declares. "They'd never understand why Mommy has to study for an exam. They'd say, 'Where's dinner?'"
Like many noncustodial moms, Hull is hesitant to disclose her situation to acquaintances. Invariably, she's asked whether she misses her kids. "What an asinine question. Of course I miss them," she fumes. She has endured equally biting remarks from her girls. Hull recalls the first time they came home and called their father's girlfriend "Mom." She bit her tongue and let the remark slide. When they're older, she thought, they'll understand.
Update: This year, Hull and her ex-husband agreed that she would reassume custody of her younger daughters, now ages 15 and 12. To ease their transition in the U.K., Hull stopped working and is preparing to move the family into a bigger home. Hull says she's better equipped now to handle the challenges: "There was an emptiness I felt on a daily basis without the girls. Now life feels full again."
NEXT PAGE: -->
REBEKAH SPICUGLIA 30, NEW YORK CITY, MOVED ACROSS THE COUNTRY

When colleagues learn that Rebekah Spicuglia has a child, they just assume he's at home or in school. If she's feeling especially confident, Spicuglia, a communications coordinator for a Manhattan-based nonprofit, will clarify that, in fact, 11-year-old Oscar lives with his father 3000 miles away in Santa Maria, CA, outside Santa Barbara. That usually elicits puzzled looks, even the occasional grimace. Not mentioning Oscar at all spares her from having to correct false assumptions, relieving her of the need to launch a high-pitched defense. "Motherhood is the most sacred thing in our society," Spicuglia sighs. "Mothers like me — well, there isn't really a dialogue about us. People just don't even know how to talk about it."
Spicuglia was just 17 and living on her own when she hooked up with Oscar's dad, then a 23-year-old undocumented worker from Mexico who cooked in the restaurant where she bused tables. He was the first man she'd ever slept with. The intense physical attraction obscured their obvious differences — she loved to travel and practice her music (she plays piano and guitar). He was content working and hanging out. The pregnancy surprised them both, but they quickly agreed to keep the baby. "It sort of happened, just like that, no grand moment," Spicuglia recalls. "He said, 'We should get married.' So I said OK."
Ten days after Oscar's birth, they wed in a simple ceremony at the local courthouse. And yet their profound differences chiseled away at the relationship. Spicuglia, by then a film student at a community college, pushed for their young family to move to Los Angeles, where she could find work in the movie business. But Oscar's father, who had clocked in at the same kitchen for eight years, preferred the familiarity of Santa Maria. "It was very painful, and I knew it wasn't going to work out between us. But I didn't want to spend my life there," Spicuglia recalls. The pair separated in 2000. Oscar stayed with his mother, but saw his father daily.
The informal custody arrangement hit a snag when Spicuglia was accepted to Berkeley as a transfer student. The hitch: It would be months before she could secure family-friendly housing. "I couldn't imagine turning down this prestigious university," she says. Oscar, then 3, moved in with his dad while she settled in at Berkeley. It took 18 months for Spicuglia's name to come up in the university's family housing wait list. By then, Oscar's father, who had already earned his citizenship, refused to let the boy go. Angry and frustrated, she considered hiring a lawyer. But the prospect of taking Oscar away from his loving father and extended family rankled. Plus — though admitting it startled her — she craved the freedom. "This is the part that's so hard to talk about. But secretly, inside, it was the most exciting thing. If he was living with his father, I would be free to do what I wanted to do," she confesses. For nearly two weeks Spicuglia agonized before finally agreeing to give Oscar's father physical custody.
Almost immediately, she suffered an identity crisis. Could she turn off her maternal instincts? Would they just go away? Emotionally spent, she fled to New York that summer, sublet a room from some jazz musicians, and immersed herself in the boho lifestyle. "I had to think about what the world was opening up to me," she explains. Spicuglia dated, played guitar, and explored the city between shifts as a waitress. She told virtually no one about her failed marriage and 5-year-old son. "I just bottled it up and related to people as who I am, not who I was," she recalls.
Two years ago, Spicuglia, who has since remarried, moved to New York permanently. Though she and Oscar talk regularly and visit every few months — "He's flown by himself a dozen times!" — she struggles to maintain a presence in her son's life. For a while now, she's been fighting her son's school to be listed as one of his emergency contacts, which she's entitled to under the joint-custody deal. And every fall she pleads with a new set of teachers to send her updates on Oscar's academic progress. "People just assume that if you're not the custodial parent, you won't be as involved," she says. "You have to pound down doors and go begging for updates."
Spicuglia has never discussed her custody decision with Oscar — he's still too young, she says. But she's confident that the unorthodox setup has helped create a sensitive, open-minded child. In Santa Maria, he is the nucleus of a tight-knit, churchgoing Mexican family. In New York, he's an explorer, sampling the city's vast wonders — from street fairs to symphonies in the park. "He's a really happy kid," she says, "with a very rich perception of life."
WHO GETS THE KIDS?
It used to be that courts automatically deferred custody to mothers following a divorce. Today, judges weigh the "best interests of the child," which could mean awarding custody to the wealthier parent or keeping children in the community in which they've grown up. (Few judges, for example, would let a mother whisk her kids off to another country.) While fathers are making inroads, mothers still win custody in roughly 70 percent of divorce cases. Here, the three main arrangements:
Joint custody: Both parents have an equal say in major decisions — like schooling, religion, and medical care — regardless of where the child resides.
Physical custody: Determines which parent maintains the child's primary residence and oversees the day-to-day care.
Sole custody: One parent has exclusive say over the child's rearing and residence. The other parent may get visitation rights but has no legal standing in the decision-making.
Celebrity news, beauty, fashion advice, and fascinating features, delivered straight to your inbox!