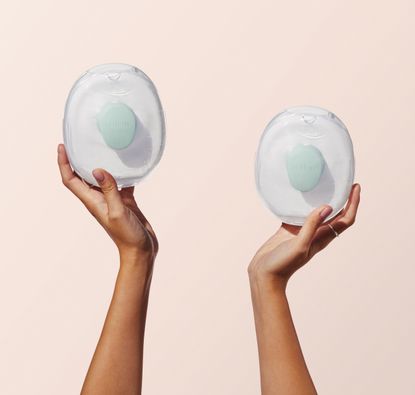 (Image credit: Willow)
Marie Claire Newsletter
Celebrity news, beauty, fashion advice, and fascinating features, delivered straight to your inbox!
Thank you for signing up to Marie Claire. You will receive a verification email shortly.
There was a problem. Please refresh the page and try again.
Moms deserve more. That's what the team at Willow, who created the first in-bra wearable breast pump, believes. The pandemic has exposed the structural challenges that parents face every day—but there's still so much expectation and judgment, particularly around how they choose to feed their babies.
"Our business is built around Mom," explained Willow Chief Commercial Officer Sarah O'Leary in a recent episode of Marie Claire's Getting Down to Business Instagram Live series. "The person who gets missed in the conversation when a baby is born is Mom." Willow's mission is to build solutions for moms' most meaningful problems—and they want your help to demand better.
A traditional breast pump isn't made with new moms or their mental health in mind: They're usually loud, bulky, and plugged into the wall—not to mention often uncomfortable and unwieldy. Adding to this initial challenge is lack of public spaces for moms to pump, and the necessity to pump every two to three hours. Moms feel intense pressure because they've been told "breast is best," but it can be impossible to achieve their breastfeeding goals alongside the requirements of life, like going back to work or managing childcare for other children.
"It's putting this burden on the parent to sort through [challenges] instead of saying, 'You have done something amazing, it's really hard, and how can we support you?'" O'Leary said. "What I wish for the world is that we get to a place where new parents are truly supported and enabled to experience this transformative experience."
The first Willow product was launched in 2018. They developed a tube- and cord-free wearable breast pump, the only one of its kind that offers 360° leak-proof mobility, meaning moms can pump hands-free, with dignity, while they go about their busy day. "Willow essentially set them free to be able to live their life," explained O'Leary.
The brand now offers two wearable, cordless, hands-free pumps: the Willow 3.0 and the Willow Go, which is at a lower price point ($329.99, and as low as $150 with insurance). The pumps' suction is designed to mimic the latch of a baby, and the mechanism isn't reliant on gravity like traditional pumps. Willow 3.0 also offers insights via their mobile app, and there are discounts for military personnel, teachers, and healthcare workers. The pumps and accessories are available on their website but also on Target and Buy Buy Baby.
"We're working to bring this life-changing technology to more moms," said O'Leary. "Now our goal is that every mom has the option of pumping and breastfeeding in a way that enables her life and gives her freedom at a more accessible price point."
Willow recently announced their Register for More campaign, which includes a ton of resources for new parents, their partners, and friends and family who want to help. The goal is to enable women to demand better, whether it be help from the community or better structures in place at work. Part of the campaign is getting parents the support they desperately need. But it's also about placing moms at the center of the discussion about breastfeeding and caregiving. After all, being a mom is a strength in life and in the workplace—not a weakness. As O'Leary says: "I gain in my work from my experience as a mom. I have gained empathy, shifted in my leadership skills (try leading a 2-year-old!), have gained wisdom and perspective, and have become a master prioritizer."
Willow hopes moms, dads, partners, and other relevant voices join the discussion about breastfeeding, childcare, and other postpartum subjects on their website and via social media: on Facebook or Instagram with the hashtag #WithWillow. "I'm really proud to be working in a place where we're making a difference and starting to use our brand voice and storytelling to change that narrative about what parenting needs to be all about," said O'Leary.
Learn more about the Willow Go and other pump options on Willow's website, and let your voice be heard on the Register for More website.
Celebrity news, beauty, fashion advice, and fascinating features, delivered straight to your inbox!