Q&A with Mondo Guerra
Nine months ago nobody knew anything about Mondo Guerra. Now he's a designer with a following and a face for HIV awareness. We sat down with him to discuss his new collection, the Living Positive by Design campaign and how he feels about Gretchen Jones.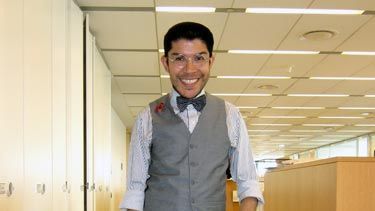 (Image credit: Sergio Kletnoy)
When Mondo Guerra lost season eight of Project Runway, an uproar ripped through the social networks. The designer, who became known for his beautifully structured pieces and bravely announcing his HIV status on air, had been a crowd favorite who almost split the judges' decision. But despite coming in second, Guerra has blossomed as a designer and become an HIV awareness advocate.
What was the most unexpected result of being on Project Runway?
The wonderful thing about it is being able to speak out on this subject of HIV. I've been able to take on a role and open up the conversation about HIV/AIDS again. That conversation has been pushed under the table because there are treatment options that are keeping people alive longer. That's why I'm so excited about teaming up with Merck to do this national HIV campaign called Living Positive by Design.
What's the mission of the campaign?
The message really is just to encourage people living with the disease, as I have, to just continue having a positive outlook on life. With Living Positive by Design, we're really trying to combat the stigma behind HIV.
Fashion-wise, what have you been up to?
I debuted in El Paseo Fashion Week in March, with Michael Costello and Christopher Collins that were on season eight as well. And it went really well. I wasn't expecting the production to be so well done. It was like we were back at New York Fashion Week.
Do you keep in touch with a lot of people from the show? The Project Runway world seems very close-knit.
Yeah, if you share an experience with somebody you kind of build a friendship, a bond. And it was like [that with] us being on the show for six weeks – it was like summer camp, you know?
And Gretchen? Do you two talk?


I don't talk to Gretchen. I mean, we text once in a while. We send funny things to each other and kind of communicate like that. But I think that right now, it's just easier for us to do our own thing.
Do you have a collection in the works?
I'm really hoping to launch something for spring/summer 2012. I already have my concept, which I won't tell you about, but I promise that it's really colorful. I'm really known for making patterns and shapes and really strong, structured silhouettes, but in this collection, seeing that it's spring and summer, I'm going to work a lot with draped silhouettes. So I'm excited about that, because I think it's something new that people haven't seen from me.
Can you give us any tips on how to dress for spring and summer?


If you wear too much black, stop. Even if you have to start out just putting a piece of color on you, try it. And don't be afraid of your closet – I mean, it's not gonna attack you. I encourage people to go into their closet and play with their clothes to figure out what they like and what they don't like.
And for spring, I really love the trend of mixing patterns. I'm so happy that that finally caught on. It's like, yes! Who would have thought, stripes with polka dots?
If you weren't a designer, what would you be?
Oh, my gosh, I get this question all the time – I love this question!
Do you change it every time?


No! I'm 100 percent honest. When I was in fifth grade — this is weird — I always wanted to be a ventriloquist. I always wanted to be a performer or something for children, 'cause that's always inspired by visual, weird stuff – and, like, what's the weirdest thing besides a ventriloquist? I think they're so weird. It's a little creepy. I loved it. So my mom would always buy me puppets from the thrift store, and I'd always practice.
Do You have any advice for our readers?
The advice I would say I learned first and foremost on the show was that I have to allow people to love me, and that I can love them back. But the thing that I have to remember, the thing you must remember, is to love yourself first.
To find out more about the Living Positive by Design campaign visit livingpositivebydesign.com
Celebrity news, beauty, fashion advice, and fascinating features, delivered straight to your inbox!