10 Modest Swimsuits I'd Happily Trade My String Bikini For
Covering up never looked so good.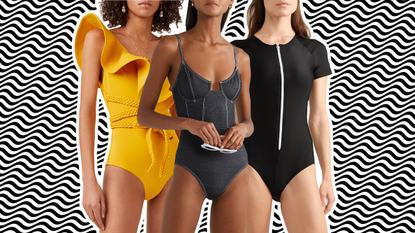 (Image credit: DESIGNED BY MORGAN MCMULLEN)
The phrase "modest swimsuit (opens in new tab)" kinda has a negative rep, and I'm here to set the record straight. Modest doesn't mean ugly or that you have to completely cover up at the beach (or in your backyard/balcony because #stayhome (opens in new tab)). Instead, modest swimsuits are simply toned-down versions of your string bikinis and one-pieces with over-the-top cutouts. Think: Swimsuits with sleeves, or more ruching in the midsection and back. These suits were made to help you look and feel your best. You can still look feminine, sexy, comfortable—all those good things—without feeling completely naked. Let me prove this to you with the best modest swimsuit pieces ahead.
Chelsea Hall is the Assistant Fashion and Beauty Editor at Marie Claire, where she covers celebrity style, fashion trends, skincare, makeup and anything else tied into the world of fashion and beauty