These Bleached Denim Pieces Are Worth the Investment for Spring
Relive the boy-band '90s with grown-up versions of distressed denim.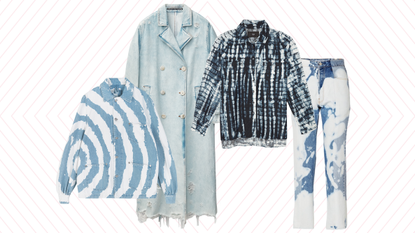 (Image credit: Courtesy)
Denim: one of the few fabrics that is truly appropriate year-round. But that doesn't mean that all denim works for every season. Come spring and summer it's time to shed those dark indigo flares for something a little lighter. Like so much else in our culture at present, the '90s are providing ultimate inspiration, with bleached denim making the ultimate comeback. Here, Jessica Azoulai, president and CEO of Denim Therapy, shares how to wear the trend in a modern way and we share the items we can't wait to buy.
Marie Claire: Why is bleached denim making a comeback?

Jessica Azoulai: It seems like people are getting nostalgic and want to go back to the good old days by feeling comfortable in their old jeans.
MC: How can people take care of their bleached denim?
JA: It needs to be washed as little as possible, but if jeans do need a wash, make sure to turn them inside out, set your washing machine to the gentle or delicate cycle, and use cold water only.
MC: What's the most popular way to bleach denim right now?
JA: The bleached trend comes in all shapes and sizes: tie-dyed, full bleached, patterns, ombré, etc. Even shoes are being bleached!
MC: Is there a sustainable way to bleach?
JA: A lot of companies now use either laser or ozone processing to bleach their garments. With these techniques, chemical-product and, especially, water consumption are largely reduced.
Celebrity news, beauty, fashion advice, and fascinating features, delivered straight to your inbox!