The Oversized Blazer Is a Year-Round Essential
Consider it the ultimate fuss-free layering piece.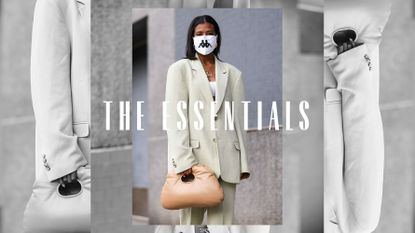 (Image credit: Getty Images)
Consider the oversized blazer a fuss-free essential. Whether it's your own or stolen straight out of your S.O.'s closet, this borrowed-from-the-boys, boxy silhouette is an elevated addition to any outfit. It can be thrown over a mini dress (opens in new tab) to step up your weekend attire, worn as a suit with matching trousers for an office look, or layered over thin knits with stellar denim and gold jewelry (opens in new tab) for a trendy take. This wardrobe staple is here for you no matter your style preference, from bright and girly to sleek and edgy. Scroll down and check out our top picks to add to your collection.
The Insta-Worthy Blazer
1. The Frankie Shop Graphite Notch Lapel Blazer
The Frankie Shop blazers have taken over Instagram, and if you haven't seen these tagged in every other post this is your wake-up call. The oversized shape is a laid-back and minimal take that can be paired with their matching trousers or any of your favorite dresses.
The Designer Blazer
(opens in new tab)
2. Bottega Veneta Oversized Double-Breasted Grain de Poudre Blazer
Take the leap on this investment piece. This Bottega Veneta blazer is oversized but still tailored, with amazing attention to detail. It will not only always be chic but will last you season after season.
The Dad Blazer
(opens in new tab)
3. ASOS DESIGN Extreme Dad Suit Blazer
Under $100, this slightly slouchy and single-breasted blazer is meant to be worn with the matching charcoal pants, but looks just as trendy layered over a chunky knit and your favorite denim jeans.
The Girly Blazer
4. The Source Unknown Notch Lapel Suit Blazer
This find is anything but basic. Style this pastel-pink blazer with high waisted denim and statement mules and roll up the cuffs for a laid-back cool take.
The Blast From The Past Blazer
(opens in new tab)
5. MANGO Oversize Corduroy Blazer
The '70s called and they want their blazer back. The relaxed fit, padded shoulders, and rich forest green shade has us rummaging through our parents' attic to find more gems. Wear this blazer as a suit with its matching trousers and a chic white blouse.
The Denim Blazer
(opens in new tab)
6. We The Free Adriana Denim Blazer
The denim blazer is the perfect versatile piece for layering to work or over the weekend. Sport dark trousers and your favorite white sneakers for a casual off-duty look.
The Leather Blazer
(opens in new tab)
7. ZARA Faux Leather Oversized Blazer
This boxy (faux) leather blazer is created to have a oversized roomy fit. Style it with a fitted tank, dark denim, and chunky rubber-soled boot for an edgy feel.
The Checkered Blazer
8. Wilfred Mariposa Blazer
A neutral checked blazer is an wardrobe staple. Style with anything from a matching tailored pant to sleek dresses and skirts.
The Two-Toned Blazer
(opens in new tab)
9. Tibi Liam Blazer with Flap Collar
This deconstructed blazer gives business casual an edge. The oversized fit can be effortlessly layered over your favorite fall knits and skinny jeans.
Taylor Ayers is a fashion editor at Marie Claire, covering the new editorial fashion trends, looks, and contemporary styles.