The 40 Best Fall Dresses in 2023
From warm neutrals to show-stopping statement pieces.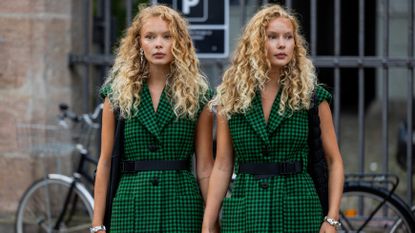 (Image credit: Christian Vierig/Getty Images)
Marie Claire Newsletter
Celebrity news, beauty, fashion advice, and fascinating features, delivered straight to your inbox!
Thank you for signing up to Marie Claire. You will receive a verification email shortly.
There was a problem. Please refresh the page and try again.
While fall is many people's favorite season (including mine), it can be tricky to dress for. Its gradually falling temperatures are often offset by random bursts of heat—something that makes layers, lightweight fabrics, and mid-length sleeves and hemlines an absolute must. I keep this in mind no matter the fall trends of the season, but it's especially top of mind when shopping for fall dresses.
"In fall, you can get away with a variety of fabrics," says Alissa S. Wilson, stylist and Editor in Chief of Stylish Curves, acknowledging the ever-changing weather of the season that makes fall dressing both complicated and rife with possibility.
Below, Wilson delves deeper into the world of fall dresses, explaining what to look for in a fall dress, what to style one with, and which dresses have made it to the top of her autumnal wishlist.
What to Look For in a Fall Dress
In terms of fabrics, Wilson is fan of the classics, noting that "knit and sweater fabrics are always a good option, especially for fitted and body con dresses." Beyond that, she says, "Silk and cotton blends give a luxe look. Also, sheer and mesh dresses are perfect for transitioning from summer to fall when the weather is a mix of hot and chilly days. Plus, these fabrics allow you to move around comfortably in dresses."
Fall's color palette also differs from that of the other three seasons, veering into deeper territories than the bright shades and pastels of its warmer counterparts.
"I recommend fall dresses in neutral colors like grey and navy, and anything in the brown/beige family such as cognac and camel," agrees Wilson. "And I recommend looking for vibrant-colored fall dresses in red. As for prints, search for ombre, stripes, or dark floral printed dresses. "
Fall Dress Trends
This year's fall trends include a number of elevated, classic styles that are ideal to keep in one's wardrobe for years to come. Wilson agrees, commenting, "I think fall fashion is in its classy, sophisticated era"—a sentiment that echoes the fashion world's movement toward elevated basics and quiet luxury.
More specifically, Wilson explains, "Shoppers should be looking for midi and maxi length dresses, and dresses with structure, like a blazer dress. And thanks to designers like Balmain, dresses with off-the-shoulder and sweetheart necklines are going to be chic options to take you from day to night." To make your go-to fall dresses even more versatile, she says to focus on sleeve lengths, specifically targeting "sleeveless, and puffy short and long sleeves."
Wilson also says that this year's draping trend is sure to last through autumn, recommending "dresses that have interesting yet classy details like ruching, draping, ruffles and twist knot details."
Accessorizing Fall Dresses
The best part about the weather growing colder is the ability to accessorize and layer more. But what should you pair with a fall dress?
"When it comes to styling fall dresses," says Wilson, "I recommend incorporating fun accessories like hats, gloves, and headbands. Play around with belts. Try a corset style belt over a knit body con dress. Add a pair of sheer gloves with a structured blazer dress. Go for oversized drop earrings with an off the shoulder neckline."
And if you're not into fancy accessories, consider optimizing your footwear so that it accentuates or balances out the vibe of your dress. Wilson says, "Chunky boots with fall dresses give a street style vibe. Also, platform ankle strap sandals look great with a sleek silk or knit fall dress. Over the knee boots elevate the look of any fall dress."
The Best Fall Dresses
Transitional Dresses
Per Wilson's expertise, blending fabrics like cotton and silk is key to transitional fashion. Mesh and sheer elements have a similar effect, keeping the garments lightweight overall and creating pockets of ventilation that are sure to keep you cool as temperatures fluctuate. Plus, Wilson points out that sheer elements are prime for layering, a fall fashion must.
Cozy Sweater Dresses
Of course, as temperatures fall, we begin to pull out our knitted, crocheted, and cashmere sweaters. A sweater dress is an even easier, cozier take on the style, allowing wearers to embrace comfort from top to bottom.
Statement Dresses
Statement dresses come in all forms, from patterns to vibrant colors to standout details like puff sleeves. This fall, consider a Bohemian look that incorporates florals or long, flowing fabric, or opt for an option that brings elements of evening wear to your daytime look. And just because it's fall, doesn't mean you need to completely neutralize your fashion palette—plenty of fall dresses incorporate reds, oranges, and jewel tones like deep blue and green.
Neutrals
Neutral colors like beiges, browns, and olive greens look fabulous in the fall. They mirror the shades of the landscape—particularly the browning leaves of trees. Wilson encourages fashion enthusiasts to embrace this palette as the weather begins to cool, and suggests experimenting with festive spins on this shade like bronzes and golds. She also favors details like knotted accents, twisted fabric, and split hems.
Structured and Sophisticated
Per Wilson, this fall is destined to be the season of elevated dressing, from romantic details like ruffles and sweetheart necklines to structured silhouettes like blazers and shoulder pads. Of course, these designs are perfect for work and for special occasions, but they're also fun to wear on the daily. After all, in the words of Oscar Wilde, "You can never be overdressed or overeducated."
Meet the Expert
Alissa S. Wilson is a stylist and the Editor in Chief of Stylish Curves, a fashion, beauty, and lifestyle site dedicated to supporting and creating visibility for plus sized women. Currently based in New York City, Wilson also creates fashion-centric YouTube videos and contributes to several nationally distributed style publications.