Meghan Markle and Kate Middleton's Exact Missoma Jewelry Is On Sale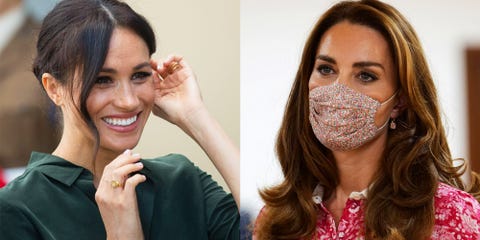 Black Friday is the Olympics of shopping holidays, and there are so many deals for online shoppers to contemplate between now and December 1. If you're a jewelry lover and aren't sure where to start (which, fair), Missoma is taking 25 percent off its entire site starting Monday, November 23 for the occasion. This is exciting stuff, because the cult-favorite brand only goes on sale once a year. Pro tip: If you're justifiably worried about pieces going fast, the retailer is granting instant early access to anyone who signs up for emails.
For the uninitiated, there's a lot to be obsessed with when it comes to Missoma. For one, the women-founded brand primarily uses 18 carat gold vermeil, which means most of their jewelry won't tarnish if it comes into contact with rain, sweat, or lotions. Adding to the allure is the fact that Missoma is famously loved by Meghan Markle and Kate Middleton, in addition to legions of other celebrities. And, of course, making the label all the more cool is the fact that the brand doesn't lean into its celebrity following on social media. Missoma, instead, focuses on highlighting the ways women of all age wear its pieces, with the occasional feel-good quote thrown in.

Because picking a Missoma favorite is next to impossible, I've rounded up 12 contenders to make navigating the sale even easier, below. Happy early shopping!
1
MEGHAN MARKLE'S SIGNET RING
Gold Open Heart Signet Ring
$115 $86 (25% off)
As spotted on Meghan Markle when she and Harry visited Sussex back in 2018 (fans will recall her in that iconic green leather skirt and silky olive blouse ensemble), this signet looks just as good on its own as it does paired with stacking rings. The heart amulet signifies love, passion and friendship, which makes it a special-feeling piece.
2
KATE MIDDLETON'S EARRINGS
Rhodochrosite Gold Mini Pyramid Charm Hoops
$110 $83 (25% off)
For a sense of how versatile these hoops are, turn to Kate Middleton, who's been spotted wearing these on numerous occasions. Per the product's description, these earrings are also rooted in meaning with the stone being described as a "heart-based healing crystal that radiates love, compassion and all-around good vibes."

3
MEGHAN MARKLE'S STACKING RING
Gold Interstellar Ring
$64 $48 (25% off)
If your stacking game could use an upgrade, here's another Meghan Markle-worn option that's on sale for less than $50. The Duchess was first spotted wearing this dainty stacking ring on a trip to Edinburgh in 2018.
4
LAYERING STAPLE
Silver Box Link Chain Choker
$110 $83 (25% off)
If you've been wanting to spice up your layered necklace game, this dainty silver choker is a savvy choice—even if you're a gold person through and through. As a gold jewelry person myself, I love how this piece pairs with louder gold chain necklaces to add a delicate touch.
5
PERSONALIZED GIFT IDEA
Gold Engravable Round Signet Ring
$115 $86 (25% off)
Signet rings go all the way back. (Literally, I'm talking Mesopotamia circa 3500 B.C.) Thanks to Missoma's generously free engraving options, here's an under $100 opportunity to create a modern heirloom for yourself or someone you really love.
6
EDITOR'S FAVORITE
Gold Coterie Chain Bracelet
$162 $122 (25% off)
Editor's note: I own this bracelet and it's singlehandedly the go-to accessory I turn to most whenever my outfits feel like they're missing something. Whether worn on its own or layered with daintier pieces, it adds an optimal amount of pizazz but doesn't look flashy.
7
MINIMALIST FAVORITE
Gold Plain Ovate Huggies
$91 $68 (25% off)
Despite their small size, these everyday huggies still make a stylish impact with their modern, box-like shape. Because they're 18ct gold vermeil, you can get away with getting these wet too.
8
ENGRAVABLE
Gold Moonstone Square Locket Rope Necklace
$239 $179 (25% off)
One of Missoma's most popular necklaces, this gold vermeil number includes a clip-on locket charm which opens to fit a small photo. For no extra cost, the locket can also be engraved on the back.

9
UNDER $30 FIND
Silver Pyramid Ear Cuff
$38 $29 (25% off)
Ear cuffs add an instant edge. At this price point, this is a great gift idea for a friend or as a stocking stuffer.
10
TRENDING FOR SS21
Gold Graduated Chunky Pirouette Necklace
$472 $354 (25% off)
If you're after something bold and glamorous, here's a chunky pirouette chain necklace to covet. The styling potential is endless, but I love this thrown over a turtleneck in the winter or paired with a silk slip and slides in the summer.
11
EDITOR'S WISHLIST
Lucy Williams Gold Large Cameo Pendant
$77 $58 (25% off)
If an everyday chain necklace is already in the picture, add a cameo pendant to switch things up. This piece is from Lucy Williams' fan-favorite collaboration with Missoma and was inspired by Roman iconography and '90s cameo trends.
12
Men's Gold Round Curb Chain Necklace
$330 $246 (25% off)
Missoma unveiled its first-ever men's collection earlier this year, which includes this piece I imagine Connell Waldron himself would approve of.
This content is created and maintained by a third party, and imported onto this page to help users provide their email addresses. You may be able to find more information about this and similar content at piano.io