How to Measure Your Bra Size the Right Way
Uh, how does that work again?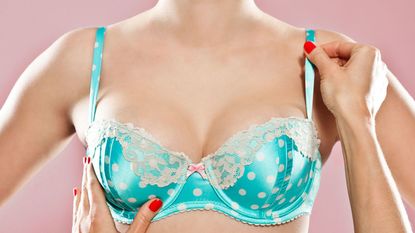 (Image credit: DESIGN BY BETSY FARRELLGETTY IMAGES)
Finding a bra that fits without spilling or gaping shouldn't be rocket science but somehow it still feels harder than it should be when you *finally* get a professional bra fitting for the first time and realize that you're...oh, four letters off of your actual bra size.
And it's not such an uncommon problem for women, either. According to one notorious study that's been repeated over and over again, about 80 percent of women are wearing the wrong-sized bra. Hmmm.
Annette Smith, a professional bra fitting specialist from Montelle—a Montreal-based brand that sizes from 32 to 42 in band sizes and from A-G in cup sizes—says that there are many reasons why women might be wearing the wrong bra size. For starters, it's a sizing issue which begins at the brand level and trickles down. "Women with larger breasts are the ones most underserved by sizing at popular retailers," Smith says. Major chain stores and specialty shops like Victoria's Secret, she says, don't often carry a wide range in bras, especially in the realm beyond a D cup.
As a result, she says women are forced to go elsewhere–either to a boutique or online—only to balk at the high prices. Shopping online can be risky since Smith notes that finding your correct size is challenging if you have not been properly fitted in-person. "You typically will not be the same size across different brands so you may end up disappointed with what you receive." Below, she breaks down common gaffes people make with their bras and how to rethink them, plus the real way a fitting specialist would determine your bra size in-store.
Common Bra Shopping Mistakes
1. According to Smith, when the bra cup is too small, women often make the mistake of going up in the band size rather than the cup size and end up with a bra that covers their breasts but offers no support.
2. She also says there's a big misconception that larger cup sizes means you're overweight. "Women have stared at me in horror when I have had them go down from a 38D to a 32F. There is nothing wrong with being an F! You've been blessed! Just make sure everything's well supported!"
3. Smith says that women should also make proper use of the hooks at the back of the bra. "If you have to hook the bra to the last set of hooks, your bra will soon be loose on you. If, possible start at the first set of hooks and make sure the bra feels snug. After time and washing the elastic will stretch out slightly and you will then have 2 more rows of hooks you can make use of–extending the life of your bra." To rescue shoulder straps that have been stretched out too much over time, another simple bra hack is using a no-sew strap adjuster like The Strap Saver.
Steps:
1.) Using a measuring tape, measure around your rib cage directly under your bust. Ensure that the measuring tape is directly on skin. If it is an even number, add 4. if it is an odd number, add 5.
2.) While wearing an unlined bra, measure completely around the fullest part of the bust (this is your bust line measurement). You have to determine the difference between the bust line measurement and the band size. You may refer to the chart below to find your size:
For example, if your bust size is 36", and your band size is 34", you calculate 36-34=2; your cup size is B. If your bust size is 43", and our band size is 37", you calculate 43-37=6; your cup size is F.
Follow Marie Claire on Facebook for the latest celeb news, beauty tips, fascinating reads, livestream video, and more.
Celebrity news, beauty, fashion advice, and fascinating features, delivered straight to your inbox!