The show may be coming to a close, but she's just getting started.
The show may be coming to a close, but she's just getting started.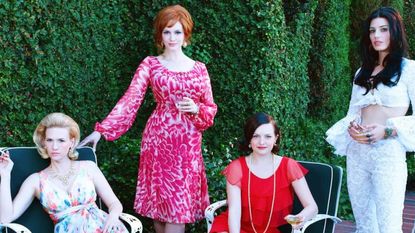 (Image credit: AMC)
Marie Claire Newsletter
Celebrity news, beauty, fashion advice, and fascinating features, delivered straight to your inbox!
Thank you for signing up to Marie Claire. You will receive a verification email shortly.
There was a problem. Please refresh the page and try again.
For fashion enthusiasts, there's no denying that Mad Men has been a never-ending feast for the eyes—and more often than not, a bit of a conundrum.
Whether it's the bright hue of one of Joan's signature tea-length dresses or the polka dots on Peggy's neckerchief, the devil is *always* in the details. The genius behind the masterful construction of these retro looks (and sartorial mind games) is none other than the show's costume designer, Janie Bryant. In seven seasons, Bryant has brought to life many iterations of '60s style—from the polished, ladylike forms of the early years to the printed, mile-high silhouettes at the end of the decade. As of Sunday night's episode (and Roger Sterling's newly-minted mustache), the show has officially hit 'the 70s, which means a whole new decade of fashion—if the Sterling Cooper & Partners office can catch up, that is.
Here, Bryant fills us in on the pivotal style moments of show's midseason premiere, must-watch '70s fashion films, and her upcoming projects that'll help us through our inevitable Mad Men withdrawal.
Fashion-wise, what sets the early '70s apart from the rest of the decade?

"The early '70s are so connected to the late '60s—you know, long flowing dresses, bell bottom jeans, stacked heels, wedged shoes, and polyester dresses. The thing is, the show it's really about being of the moment—what is absolutely happening in fashion in 1970. There are pieces, like Joan's pink dress from Sunday, that definitely are more of-the-moment. She's really the only one in the office—oh, Shirley and Stan too. Stan might be the most fashion forward on the show. [Laughs]"
Joan and Peggy each have very different approaches to style—and it was a point of contention on Sunday's episode. What's the significance of their looks in that scene?

"I always felt like Peggy was a character who was very complex and professional and we've seen her grow as a professional woman with each season. But consistently in her costume design, I always have plaid and polka dots, bows, and high collars. She's a very modest character and I always think it's very important to maintain those elements of her character. It is classic Peggy in a mustard and black plaid suit with a bow at her neck. It's really not a total departure from where she's been."
She's kind of stuck in the '60s, no?

"Absolutely. You know Peggy has always been old fashioned. I mean, she was stuck in the '50s for the first three seasons of Mad Men. [Laughs]"
Similarly, Joan also seems to be one for classics versus being super trendy à la Shirley. Is that a fair observation?

"Joan has had an interesting journey and I can only say it's really important to acknowledge that Mad Men is not a fashion show. That's never been my intention. It's more about telling the story of the characters. I designed the pink dress for Joan as a statement of that dress with the boys and in contrast to Peggy, which we see in the elevator scene.The color of the pink is very sassy, strong, and it's almost a flirtatious color, although that's not Joan's intention, it's just the way she dresses. Joan's storyline also has her come into money, so she has more to spend on her clothing."
Speaking of coming into money, can we talk about that glorious shopping trip—and that LBD with feather, which had the internet swooning?

"When I first had my conversations with Matthew Weiner about that scene he really wanted it to be totally decadent and for Joan to have this extravagant retail therapy. She was just sick of it all and was like, 'I'm going shopping.' When I was reading that scene, and she was bossing the shop girl around, the feathers really spoke to that moment. The embellished neckline, velvet, and feathers combined for that feeling of an empowering decadence."
Where do you imagine the female characters of Mad Men are getting their inspiration from this season?

"When I am costume designing the show and thinking about the characters, a lot of research goes into that process. For Peggy, I'm inspired by a real life ad woman of the time, Mary Wells Lawrence. I also do research in Ladies Home Journal and catalogs. Peggy is never of the moment in fashion nor has she ever really cared. She is more making a statement that she is a worker bee and focuses on working most of the time. For the more fashion-conscious women, I look at vintage Vogue and Harper's Bazaar, and movies of the period. We're always ordering catalogs and magazines off of eBay."
If women want to get even more of a taste of the fashion of the '70s, what's your must-watch film list?

"Saturday Night Fever, Eyes of Laura Mars (Faye Dunaway wears an amazing cape throughout), Klute, Love Story, Beyond the Valley of the Dolls, and Myra Breckinridge."
Of all the characters, who is your fashion spirit animal?

"I would say Megan. She is the most modern and also I think her costume translates the most into contemporary times."
We're also swooning over the uniforms you designed for the new Watergate Hotel. They look distinctly of the Mad Men era.

"The '50s and the '60s influenced with the classic tailoring and sharpness of that period. The formality of the era made the experience of going to a hotel more glamourous. It was all about this amazing aesthetic experience. That's very important in terms of the fit of the garment and also I wanted to incorporate the Watergate signature check design, which was also an important element of the uniforms. So that's sort of throughout the whole collection."
You've done such an amazing job of bringing back the Mad Men decades. What other time periods might you like to explore in future projects?

"You know, I would really like to design another period. I'm kind of obsessed with French Baroque or even the Romantic era around 1820s would be fun. I think that's a beautiful period. I'd also love to take on the '70s disco period."
We love that you're bringing your aesthetic to various collaborations—it'll help with our Mad Men withdrawal. What's coming down the pike?

"My second Shoes of Prey collaboration is available now and Janie Bryant for Black Halo will be in stores in July. I've been working on a collection with furniture with a company called Eko. It's inspired by the midcentury and has some amazing modular aspects to all the pieces. I'm doing things I've never done before, so furniture was definitely on that list. I love textiles and I love design and especially love home design, so I really wanted to be a part of this collaboration. I would love to have a menswear line or a bridal line."
We've gotten a little taste of the latter as you recently designed a wedding gown for a friend getting married at Frank Sinatra's old estate in Palm Springs. Tell us about it!

"It's for my friend Shana who lives in Los Angeles and it's my first wedding gown. It's white lace with an embellished shoulder, large bow on the back, and a very long train. I just want her to have drama. Instead of doing a veil, I designed this beautiful, beautiful cape. When she comes down the aisle, I want people to gasp with excitement and joy when they see her."
*Editor's Prediction: They will—see below!


You should also check out:


25 Things You Never Knew About 'Mad Men'
Exclusive: Christina Hendricks Goes Back to Blonde
It Has Arrived: The First Teaser for the Final Season of 'Mad Men' Is Here
Celebrity news, beauty, fashion advice, and fascinating features, delivered straight to your inbox!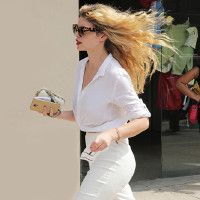 Lauren is the former beauty editor at Marie Claire. She love to while away the hours at coffee shops, hunt for vintage clothes, and bask in the rough-and-tumble beauty of NYC. She firmly believes that solitude can be a luxury if you've got the right soundtrack—that being the Rolling Stones, of course.