'Stranger Things' Season 5: Everything We Know
The Netflix hit is coming back for one final season.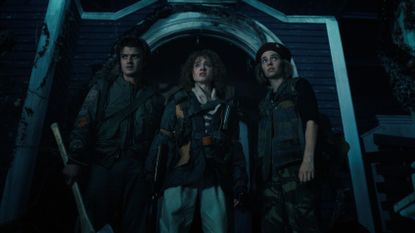 (Image credit: Netflix)
Marie Claire Newsletter
Celebrity news, beauty, fashion advice, and fascinating features, delivered straight to your inbox!
Thank you for signing up to Marie Claire. You will receive a verification email shortly.
There was a problem. Please refresh the page and try again.
Spoilers for Stranger Things season 4, volume 2 ahead.
After six years of '80s adventures (minus a three year pandemic delay), we are facing the end of Stranger Things' run. The Netflix paranormal hit's horrifying fourth season has come to a close, and the Duffer Brothers have confirmed that we just have one season left with the Hawkins gang. So just what will come next for a show that has given us a new iconic sci-fi villain (and the resurgence of Kate Bush)? Read on for what we know so far.
Final Season
The Duffer Brothers revealed that their series would get a fifth and final season in a letter to fans published last February.
"Seven years ago, we planned out the complete story arc for Stranger Things," Matt and Ross Duffer wrote. "At the time, we predicted the story would last four or five seasons. It proved too large to tell in four, but—as you'll soon see for yourselves—we are now hurtling toward our finale. Season 4 will be the penultimate season; season 5 will be the last."
While the rest of the letter focused on the reveal that season 4 would be super-sized, executive producer Shawn Levy explained the creative team's reasoning in an US Weekly interview, saying that the Duffers have been contemplating a thoughtful, fully-formed ending since the show began.
"We don't want to be one of those shows that outstays its welcome and is flailing while it searches for a way to stick the landing," he said. "We really want to stick the landing. I feel like we have been able to do that every season and we also want to do it for the series."
Potential Release Date
We're luckily in the phase of the pandemic when television production has mostly gone back to its pre-COVID pace, so Stranger Things at least won't take three years to return. In fact, the Duffers told Variety last month that they already have a plot mapped out for season 5.
"During the six-month pandemic hiatus, we outlined season 5 and pitched it to Netflix," they said. "Don't hold us to it, but the gap should be quite a bit shorter this time, due to the fact that we already have an initial outline, and we can't imagine there will be another six-month forced hiatus."
As for shooting the series, the creators also told TVLine that they were still working on season 4, volume 2 as of the beginning of June, so they hadn't started work on season 5 yet. In a post-finale interview with Collider, they shared some more info on the show's upcoming schedule.
"We're going to take a little vacation in July," Ross Duffer told the outlet. "And then we're going to come back. I know that the writer's room is going to start in that first week of August."
Following that estimated start date, the Stranger Things team gave an update on their progress on November 6, which is celebrated as Stranger Things Day (a.k.a. the day Will Byers first went missing). They revealed the name of season 5's first episode title with a pic of the completed script written by the Duffers: "Chapter 1: The Crawl."
While there's no word yet for a shooting date, the quick return shows that the Duffers want to get new episodes to fans sooner rather than later. Filming on season 4 took two years including that six-month hiatus, so we're expecting season 5 to come out sometime in 2024.
season 5. chapter one. the crawl. happy stranger things day pic.twitter.com/xCdNLjD7YtNovember 7, 2022
See more
Episode Lengths
Season 4 was the first season where Stranger Things had feature-length episodes, with the finale going for a full 140 minutes (raise your hand if you also sighed when you saw there was a full half hour left after the Vecna battle ended). Luckily for fans who've been a bit overwhelmed, the Duffer Brothers say that season 5 will have shorter episodes.
"The only reason we don't expect to be as long is, [in season 4], if you look at it, it's almost a two-hour ramp up before our kids really get drawn into a supernatural mystery," Matt Duffer said on the Happy Sad Confused podcast. "You get to know them, you get to see them in their lives, they're struggling with adapting to high school and so forth, Steve's trying to find a date, all of that. None of that is obviously going to be occurring [in season 5]."
Though most of the season will go back to pre-4 run times, there will be one feature-length run. "We're more likely to do what we did here, which is to just have a 2.5 hour episode," Matt added.
As for the start, the creators shared that the season premiere will hit the ground running, though they didn't say whether it will start immediately after season 4's final scene.
"Characters are already going to be in action, they're already going to have a goal and a drive, and I think that's going to carve out at least a couple hours and make this season feel really different," he said. "I'm sure the wrap-up will be a lot longer, it's going to be 'Return of the King'-ish with, like, eight endings."
Setting
Season 4 saw the kids and adults of the Hawkins crew split up across three continents, with the final battle against Vecna's hive mind taking place from the Creel House in Hawkins, a pizza parlor in Nevada, and a prison in Russia (not to mention the Upside Down). The finale saw all of our characters finally reuniting in Hawkins, and the Duffers say season 5 will stay local.
"It's mostly in Hawkins, and there's a lot obviously in the Upside Down," Matt Duffer told Collider.
"I think one of the things that's exciting about Season 5 is [that] Season 4 was interesting to us because everyone was scattered to the winds," he continued. "That's what was unique about it. But this is about everyone finally coming back. Coming back together, coming back to Hawkins. Hopper is back in Hawkins. The original group [is] back together—the original group of boys plus Eleven. The OG group. There's something interesting to re-explore some of the season one dynamics again, except on this grander scale."
Plot
The tagline for season 4 was, "Everything Has a Beginning," and its nine episodes follow that guide, right up to an ending scene that sets up Hawkins as the battleground for the fate of the world. The mirror dimension is literally coming to the surface, with smoke and ash billowing out of the giant portals. Though Vecna's pretty heavily injured, once he's healed, the Mind Flayer and hundreds more of his creatures (how ever many exist) will likely rise up out of the ground to conquer us all.
Right now our minds are just running wild, and we won't get any details any time soon, with several cast members saying in interviews that the Duffers are being super secretive and that even they don't know anything. The creators have been giving small hints towards their season 5 outline since Volume 1 dropped, but even some of those details are perplexing now that we know the finale's plot.
For one, in a pre-Volume 2 interview with TVLine, the Duffers said that there would probably be a time jump in the final season.
"I'm sure we will do a time jump," Ross Duffer told the outlet. "Ideally, we'd have shot [Seasons 4 and 5] back to back, but there was just no feasible way to do that. So these are all discussions we're going to have with our writers when we start the room up."
While the time jump made sense pre-finale, with our assumption that it would shorten the gap between the characters' and the cast's real-life ages, it looks like the Upside Down is oozing out of those cracks pretty quickly in the ending scene. It will take time for Vecna to heal and the war to begin, but it can't take so long that the younger kids will be seniors, like we theorized before. Maybe the best solution is to just let go of age continuity entirely (blame it on the pandemic).
While fans are left scratching their heads, the Duffers do know how it will all end. In a fun detail, the showrunners told SFX Magazine that they received advice on making a great series finale from Breaking Bad and Better Call Saul creator Vince Gilligan. Matt Duffer told the outlet that with the help of his opinion, the ending has become "more interesting and exciting than originally envisioned by me and Ross."
"We know what the ending is," Matt said. "It's conceivable that it changes but I think it's unlikely because it's one of those endings that just feels, and has always felt, right. And it also feels sort of inevitable. Then when you come up with it, you're like, 'Oh yeah well, that is absolutely what it has to be.'"
Spin-Off
Though it hasn't been announced or confirmed by Netflix, the Duffers have been working on a Stranger Things spin-off for a while. Even in the letter announcing season 5 as the final season, the creators hinted that "there are still many more exciting stories to tell within the world of Stranger Things; new mysteries, new adventures, new unexpected heroes."
During a Variety interview, when asked if they would wait to work on the new series after season 5 is complete, the creators said they probably would.
"There's a version of it developing in parallel [to season 5], but they would never shoot it parallel," Ross Duffer said. "I think actually we're going to start delving into that soon as we're winding down and finishing these visual effects, Matt and I are going to start getting into it."
"The reason we haven't done anything is just because you don't want to be doing it for the wrong reasons, and it was just like, 'Is this something I would want to make regardless of it being related to Stranger Things or not?' And definitely," Matt added. "Even if we took the Stranger Things title off of it, I'm so, so excited about it. But it is not… It's going to be different than what anyone is expecting, including Netflix."
Though the duo says the spin-off will be different than what fans expect, they told Variety that one person with an intimate knowledge of the show was able to guess.
"We do have an idea for a spinoff that we're super excited about… but we haven't told anyone the idea yet, much less written it. We think everyone — including Netflix — will be surprised when they hear the concept, because it's very, very different. But somehow Finn Wolfhard — who is one crazy smart kid — correctly guessed what it was going to be about. But aside from Finn, no one else knows!"
What Cast and Crew Have Said
Now that all of season 4's surprises are out, Jamie Campbell Bower is back on the interview circuit giving behind-the-scenes details. While he's still pretty tight-lipped on season 5, the actor told The Hollywood Reporter that he thinks there's a chance for the good guys to beat this uber-powerful Big Bad in the final season.
"There's always an opportunity for the good guys to win," he told the outlet. "I think in this case, they'd have to be way smarter than they have been thus far, because Henry is not one to forget and not one to let things slide."
In an interview with Vulture, Sadie Sink shared her thoughts on Max's mental state in the upcoming season, if (or more likely, when) she emerges from the coma.
"I think she's at a place where she now really wants to fight. In episode nine, when she gave that monologue, she was ready to go and she was ready to make that ultimate sacrifice," she told the outlet. "She knew that there was no way she was going to make it out alive, but the fact that she was willing to make that sacrifice was brutal and heartbreaking. If she's still out there, she definitely has a lot of rage and a lot of fight in her. So that's where my hope lies in Max for season five."
Noah Schnapp has also given his thoughts on season 5, and even confirmed a popular fan theory. In an interview with Variety, the actor said that Will is gay, and that the show has been slowly building a storyline about his sexuality since season 1.
"Obviously, it was hinted at in Season 1: It was always kind of there, but you never really knew, is it just him growing up slower than his friends? Now that he's gotten older, they made it a very real, obvious thing. Now it's 100% clear that he is gay and he does love Mike," he told the outlet.
He added that the Duffers told him that for season 5, "they're going to focus more on Will and build that storyline."
"There's so many different things they have to address. Obviously, we hope for a coming out scene, and I also want to see them address this connection to the Mind Flayer and how that fits into the world. And I've always been wondering, why was Will the first victim and the first one captured? I just want to see it all tie in and all work out. So I'm excited to see what happens," he said.
Celebrity news, beauty, fashion advice, and fascinating features, delivered straight to your inbox!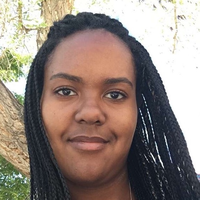 Contributing Culture Editor
Quinci LeGardye is a Contributing Culture Editor who covers TV, movies, Korean entertainment, books, and pop culture. When she isn't writing or checking Twitter, she's probably watching the latest K-drama or giving a concert performance in her car.