25 Things You Never Knew About 'Mad Men'
Pete Campbell was a teen idol. *Swoon*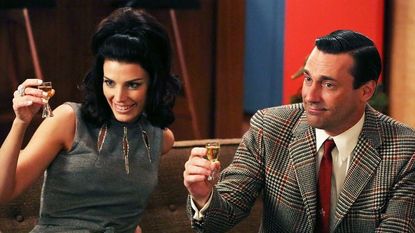 (Image credit: AMC)
In the midst of bracing ourselves to bid adieu to Mad Men, we did some sleuthing for the most obscure, mind-blowing, and simply awe-inspiring facts that have managed to fly under the radar during the show's seven season run.
Here, find 25 facts that are sure to impress at your booze-ridden viewing party as the final seven episodes kick-off on Sunday.
Mad Men was originally pitched to HBO and Showtime, but they both turned it down. Err, sorry guys.
It costs nearly $2.8 million to create each episode. We'd be shocked and all, except that if the show's taught us anything, it's that it's all in the details.
Don Draper's old fashioneds are actually apple juice, while Roger Sterling's martinis are onion water, John Slattery said on the Anderson show.
Mad Men's writing room is predominatly female. When the show first began, seven of the nine members of the writing team were women, according to the Wall Street Journal.
January Jones originally auditioned for the role of Peggy. "I came in for Peggy twice," Jones revealed during The Uncensored, Epic, Never-Told Story Behind Mad Men special. "Matt said, 'Well, there's another role, but I don't really know what's going to happen with her.' He didn't have any scenes for me, so he quickly wrote a couple." And thank goodness, for that.
Joel Murray, who plays Freddy Rumsen, is Bill Murray's brother.
The Mad Men theme is actually RJD2's "A Beautiful Mine." When asked if it changed his life drastically, the producer told Okay Player: "I picked up some accolades along the way, but I'm not driving a Ferrari on Don Draper's dime."
Roger Sterling's ex-wife, played by Talia Balsam, is John Slattery's wife IRL.
Balsam was married to George Clooney from 1989-1993 before marrying Slattery in 1998.
10.
Glen Bishop is played by Mad Men creator Matt Weiner's son. "It was actually someone else's idea, and I was counseled against it from all the complications that could happen from him failing at that job. But he really nailed it, and he's a really good actor," Weiner told NPR.
Jared Harris, who plays Lane Pryce, is the son of Richard Harris who plays Dumbledore in the first two Harry Potter films. Sadly, he died in 2002.
Don Draper is allegedly based off of Draper Daniels, a Chicago ad man who created the famous Marlboro Man campaign. Of course, he too was a bit of a ladies man.
Vincent Kartheiser (Pete Campbell) and Jay R. Ferguson (Stan Rizzo) were teen idols in the '90s. Swoon.
Kartheiser is married to on-screen love interest Alexis Bledel—that's RORY GILMORE, people.
Jon Hamm was Ellie Kemper's high-school drama teacher. The two eventually co-starred in Bridesmaids together.
The show coughed up $250,000 to use The Beatles "Tomorrow Never Knows," as the closing track for one of it's episodes—and we're so happy they did.
Christina Hendricks is Joan, and yet she originally went for the role of Midge Daniels, the artist whom Don has an affair with during Season 1.
Hendricks is a natural blonde and recently dyed it back to her roots, she revealed to us exclusively.
According to The Awl, a martini only cost $0.60 at Mad Men hotspot the Barbizon Plaza Hotel in 1960. Le sigh.
Elisabeth Moss, who plays Peggy, is a scientologist. Moss rarely talks about the controversial topic publicly, but told New York: "I think if there was something that I didn't know and didn't understand, I would probably feel as opinionated."
Moss made her silver screen debut starring alongside Hulk Hogan in Suburban Comando. The wrestler helps rescue her cat, which is stuck in a tree. You have to see it (at 1:45) to believe it.
John Slattery originally auditioned for the role of Don Draper, but has no hard feelings on losing out for the role. "It was apparent from the beginning how annoyingly good [Hamm] was in that role," he told Shortlist.
Don's secretary Miss. Blankenship (may she R.I.P.) was played by Randee Heller, who also played the mom to the Karate Kid.
Though set in New York, the entire series, aside from the pilot, has been shot in Los Angeles.
Kiernan Shipka a.k.a. Sally Draper was in a Mighty Milk commercial with Shaquille O'Neal. You're welcome.
You should also check out:
Exclusive: Christina Hendricks Goes Back to Blonde
It Has Arrived: The First Teaser for the Final Season of 'Mad Men' Is Here
Let's Wildly Speculate About These Photos From the Final Season of 'Mad Men'
Lauren is the former beauty editor at Marie Claire. She love to while away the hours at coffee shops, hunt for vintage clothes, and bask in the rough-and-tumble beauty of NYC. She firmly believes that solitude can be a luxury if you've got the right soundtrack—that being the Rolling Stones, of course.