Spring Break Forever: Q&A with Spring Breakers' Costume Designer, Heidi Bivens
We chatted candidly with Spring Breakers' incredible costume designer Heidi Bivens about her vision behind the film, James Franco's cornrows, and of course, those DTF sweatpants.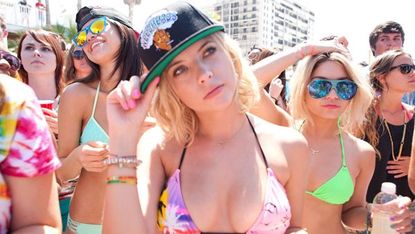 (Image credit: Archives)
Marie Claire Newsletter
Celebrity news, beauty, fashion advice, and fascinating features, delivered straight to your inbox!
Thank you for signing up to Marie Claire. You will receive a verification email shortly.
There was a problem. Please refresh the page and try again.
Every now and then, a movie comes around that makes me want to blow off all my career aspirations and life dreams to embrace some minute semblance of a life of sin. Let me get one thing straight: I'm incredibly Type A and would never even come close to letting that debaucherous lifestyle happen. But Spring Breakers, the most recent movie to shake me to my core, reminded me why "good girls" have a tendency to date "bad boys." It's called escapism, people.
Needless to say, I was thrilled to have the opportunity to chat with Spring Breakers' truly skilled costume designer Heidi Bivens after seeing the film in theaters and talking about it non-stop ever since. Read my interview with Bivens below in which she discusses her vision behind the film, James Franco's cornrows, and of course, those DTF sweatpants.
Marie Claire: You're Purple Magazine's fashion editor and have styled high-end movie and magazine shoots. How did you change hats to this particular project which is a little more American Apparel-inspired, to say the least?
Heidi Bivens: My background is in filmmaking. I started off at the beginning of my career doing both fashion styling and also being interested in films. When I work on editorials, I always try to find some way to tell a story, even if it's just in my own mind or if it's not apparent to anybody looking at the magazine. I've always been a fan of Harmony's and consider him one of the most interesting filmmakers of our generation. When I heard he was making another film, I really pushed for the meeting with my agents in L.A. I wanted to be involved in a project that was more creatively driven than commercially driven. Harmony [Korine] has found a way to sort of marry the two with this particular film.
MC: Speaking of Harmony, how closely did you work with him and the rest of the behind-the-scenes team in creating that perfect aesthetic?
HB: He had a vision from the beginning — he always had the idea to use neon colors, with neon being so predominant in a place like Florida. Where we were shooting in the south of Florida, the St. Petersburg area, neon is everywhere everywhere. So it made sense, just in terms of the environment. The idea of using bright colors was also to give the world a hyper-surreal feel.
MC: I've been wanting to ask you about those monokinis, DTF sweatpants, and unicorn ski masks. Can you explain those?
HB: I always wanted the girls to have a uniform they would wear when they went on their crime spree. In the beginning, when they commit that first crime, they're wearing the same thing, but they're in college — they don't have money, the time, or energy even to invest in some sort of matching uniform that would be beyond just a sweatshirt and cut-off shorts. It's in this more depressive world of where they go to school, the place that they're trying to leave because they're bored. But then when they leave on the bus and go to Florida, that's when this new world opens up to them.We tried to create this visual arc in Florida where the colors are so much brighter. There's this montage in the film of all the crimes they're committing once they have some money and they can go to the Boardwalk and go shopping at Hot Topic.
The pink ski mask with the unicorn head was Harmony's idea! There were a lot of wardrobe notes in the script that we stuck with. Because Spring Breakers was Harmony's project and his baby from the beginning, he created that world; he knew what he wanted in terms of the looks for the girls. For the sweatpants and the monokinis, that was something that developed through talks and through fittings. I wanted to use monokinis in the film, but weirdly, guys are not that into monokinis. They don't understand them.
MC: Guys are simple creatures...
HB: I tried to use monokinis in other parts of the film, but all the guys on the crew, including Harmony, came back and said it's just not sexy to us. But there was a way to use them, and it was with the sweatpants low on the hip where it felt more like they were wearing clothing — almost like a leotard and less like a bathing suit. We always wanted to use swimwear that had an animal face on it, and I had actually found this brand from Australia called "We Are Handsome" that does a lot of that, but they couldn't get in samples in time for shooting. I found those lion ones at a local mall.
And the sweatpants idea was just to give them a tougher edge so the girls could feel more empowered while they were doing all the action. That was the part creative, part functional solution to giving them this tough edge. I knew I always wanted to put something on the back of the butt, because when you go to the beach and go to those Boardwalk stores and you can have stuff airbrushed on the back of your shorts. I was definitely inspired by Jersey Shore — you know, Gym Tan Laundry.
MC: I have to say that James Franco is my number one favorite celebrity, and his gangster with a heart of gold performance absolutely killed it. What was your creative process like when you were working on his costumes?
HB: I was working on a lot of different inspirations from the beginning that were far-reaching. Harmony had asked me to look at Riff Raff early on, and I didn't realize how much of an inspiration he could be. I hadn't really paid much attention to him, and then we got into fittings, and videos would surface on YouTube of Riff Raff, and Harmony would say, "You gotta check this out!" The eccentricity aspects of Riff Raff definitely came into play — the "anything goes" and creating your own style based on whatever it is that you're into and following someone else's lead.
I wanted him to feel like a beach bum-gangster. He was definitely hip-hop-inspired, street-inspired. I was happy to be able to help him become that character through the wardrobe, because that's the sort of thing that usually happens in a period film. It's not in most modern day films that you have an opportunity to work with an actor and transform them into a totally different character.
MC: One last question for you. Do you have a favorite scene or a favorite costume from the movie?
HB: I think one of the things I love most about the film is how Harmony really let the camera linger so much. In a way, it picked up on small little details that you don't normally get to see in a movie. Usually when I'm working on the costumes in the pre-production process of a movie, I think about all the little details, but it's very rare that they show up on camera. Like, it's very rare that you even see people's feet in a film, unless it's in a wide-shoot on the feet. All these details to pull the whole look together that you think about in a fitting won't come across on film. I was very pleased that there was moments in the film where the camera explores and finds little moments with the actresses, where you see the rings they're wearing on their fingers, you see their feet, you see their underwear, you see, you know, little details that I think we were really hoping for everyone to see. The fact that they ended up on the big screen was very exciting to me.
Spring Breakers will be available on Blu-ray and DVD July 9.
Photo: Courtesy of Lionsgate
Celebrity news, beauty, fashion advice, and fascinating features, delivered straight to your inbox!