My Drug Overdose Saved My Life. Now I'm Saving Others.
Sarah Gad was in medical school when she was first prescribed opioids. Countless jail stints and one overdose later, she found the treatment that helped her get sober.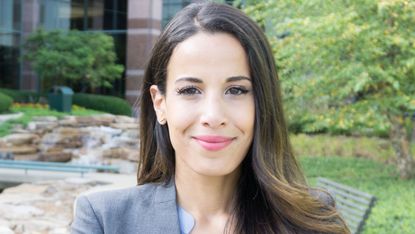 (Image credit: Courtesy Sarah Gad)
Like so many others, my opioid addiction began with a legitimate prescription for pain medication. In 2012, I was in a serious car accident. At the time, I was 24 years old and in medical school at the University of Pittsburgh, living the life I'd always dreamed of: I had a full scholarship, had just passed the first step of medical board exams, and was gearing up for an eight-week visiting rotation in ear, nose, and throat surgery at the prestigious Mayo Clinic in Rochester, Minnesota.
I emerged from the accident with several broken ribs and a compound fracture of my right ankle. My fibula had pierced through my skin and had to be hammered and screwed back into place. My doctors prescribed me pain medications, including oxycodone. The addictive potential of these medications was never really discussed—it was just kind of assumed that I already knew. Of course, I did know that opioids were addictive—it just never occurred to me that I could become addicted. Though I understood addiction to be a disease, I naïvely thought that my medical education and training somehow immunized me against it. Addiction, I now know, does not discriminate based on education, profession, or anything else, for that matter.
I began to wonder if I had a problem when I found myself reaching for my pill bottle first thing in the morning, regardless of whether or not I was in pain. Though it worried me, I justified my use, telling myself that I wouldn't have been prescribed opioids if I didn't need them. I reassured myself by taking "Are You an Addict?" quizzes online, but, of course, downplayed my symptoms to skew the results. I even tried abstaining for a day or two, just to prove to myself that I could—but after months of regular use, I needed the pills just to get out of bed in the morning.
I started isolating myself, cancelling plans so that I could stay home and get high. I gained 40 pounds in two months and neglected myself in the most basic ways; showering and personal hygiene became too effortful to even bother with. I didn't bother returning to school and eventually earned an automatic withdrawal on my transcript. One day, I looked in the mirror and was shocked. I barely recognized myself. It was like I had fallen down the rabbit hole and didn't notice until I'd already hit the floor.
Between 2013 and 2015, my life was a revolving door, in and out of jail and rehab centers. I would get arrested for a nonviolent drug offense, spend a few days in jail, get sent to rehab, then try to stay clean and get my life back on track. When I was inevitably rejected from every job I applied to—from retail to waitressing—I would start to feel hopeless, relapse, and get sent back to jail. Needless to say, jail was not the slightest bit rehabilitative. I was booked into jail with an addiction and released with an addiction plus PTSD, a traumatic brain injury, broken nose, and a 4-inch stab wound in my thigh. At one point, I was beaten so badly that jail staff had to give me opioids for my injuries.
In July of 2015, I was arrested for my third nonviolent drug offense and spent five days in jail detoxing from a 1,000 mg/day oxycodone habit—enough to medicate about 100 people. My withdrawal symptoms were the worst they had ever been: endless vomiting, abdominal cramps, cold sweats, restlessness, body aches, severe anxiety, and delirium from lack of sleep. I spent the 30-minute car ride from the jail to my parents' house, where I was living at the time, vomiting into a reusable grocery bag. I couldn't wait to go home and get high.
I returned to find that my family had raided my bedroom and gotten rid of any pills and prescription bottles they could find. A wave of relief hit when I remembered my secret stash—20 tablets of 10 mg oxycodone, which I had hidden in a VHS tape labeled "Sarah's dance recital." I snorted a few tablets and swallowed the rest. Shortly after, my withdrawal symptoms eased and I was awash in euphoria—possibly the most intense euphoria I had ever felt. My eyelids were heavy, but my body felt light as a feather. I remember nodding off, thinking I was falling asleep. The next thing I knew, I was in an ambulance being injected with Narcan and told that I had overdosed.
Though it nearly killed me, my overdose ultimately saved me. While in the hospital, I was told about buprenorphine/naloxone (Suboxone) and medication-assisted treatment (MAT), which was described as the "gold standard" for treating opioid addiction. I was skeptical. Up until that point, I had been misled to believe that abstinence-based rehab was the "gold standard." Yet, within minutes of dissolving the tiny orange Suboxone strip under my tongue, my withdrawal symptoms abated. By the time I was released from the hospital three days later, so had my cravings. I was discharged with enough medication to last me until I could establish care with an outpatient addiction medicine specialist, which I did later that week. I started taking Suboxone on July 9, 2015—the day after my overdose—and have stayed sober ever since.
Despite the well-known dangers of forcing abstinence on opioid addicts, jails and prisons are notorious for doing so. Forced abstinence lowers one's tolerance to opioids, making a person far more susceptible to overdosing upon release. My overdose did not result from escalating opioid use, but from failing to recognize that even just five days of abstinence was enough to reduce my body's tolerance to doses I had previously been accustomed. Unfortunately, this scenario is all too common. Over the years, I've lost several friends and acquaintances this way. Women who did not realize that, upon release from jail, their risk of overdose had skyrocketed.
My former cellmate Amanda was the first person I'd ever met who died of an opioid overdose. Amanda became addicted to opioids after having back surgery at the age of 20. She spent more than a year in jail for violating her probation (she'd been in for a nonviolent drug offense) by failing too many drug tests. Amanda died of a heroin overdose on the same day she was released from jail. Her girlfriend, who was incarcerated in another county at the time, also died of an overdose less than three months later.
Summer was another former cellmate who died of an overdose shortly after leaving jail, a heroin addict who had been in and out of jail throughout most of her adulthood for various nonviolent drug offenses. On December 10, 2016, she was found dead in the bathtub of a halfway house with a syringe of fentanyl-spiked heroin in her arm. She left behind a son who had turned 10 just one month earlier.
Marley and I were not cellmates, but we might as well have been. Marley was a heroin addict who had gotten hooked after being prescribed opioids in 2011. She had been in and out of jail for minor drug offenses ever since. We met in 2014 while were both in solitary confinement for getting caught with pills during a cell frisk. We were confined to adjoining six-by-eight-foot cells 24/7 and, though we never actually met face-to-face, we spoke daily through vents in the wall to pass the time and keep each other company.
I learned that Marley had died when I visited her Facebook page in the summer of 2017. She died of a fentanyl-laced heroin overdose on my birthday, just a few months earlier. I later learned that Marley had been clean for several months leading up to her death, but had pleaded guilty to her first felony—a nonviolent drug offense from 2016—lost her job and relapsed immediately after.
After Marley died, her mother created a Facebook page called "Pittsburgh Won't Forget U" in support of others in the area who had lost loved ones to overdoses. For months, I watched quietly as familiar names continued to pop up in new posts. I felt helpless sitting idly by while the women I once knew—the living, breathing bodies who used to laugh, cry, and had their entire lives ahead of them—kept dying. In a post, Marley's mom commented on the alarming death toll by simply saying, "Please make it stop."
I decided that's exactly what I would try to do.
In October 2018, while attending law school at the University of Chicago, I participated in the Clinton Global Initiative University (CGI U), a Clinton Foundation program that engages young leaders around the world in addressing pressing global challenges. I saw this as an opportunity to advocate for better opioid addiction treatment in jails and prisons. At a CGI U opioid panel, I connected with other like-minded students who inspired me to start Addicted 2 Action (A2A), an organization committed to tackling the opioid crisis by making MAT accessible to inmates. CGI U introduced me to researchers interested in measuring outcomes of MAT expansion in correctional facilities, and most importantly, to sources of funding and subsidies to help make medications like buprenorphine/naloxone and methadone available within these facilities.
A2A has one mission—to make MAT uniformly accessible to incarcerated opioid addicts—and one goal—to save lives and end the opioid crisis. Given the high relapse and mortality rates among recently-incarcerated opioid addicts, MAT expansion in jails and prisons should be a no-brainer. Studies involving the use of buprenorphine/naloxone and methadone in correctional facilities have yielded up to 75-percent reductions in post-release overdoses, along with sharp reductions in relapse and recidivism. In spite of this data, less than 1 percent of U.S. correctional facilities currently offer these medications to incarcerated opioid addicts. The mostly commonly cited excuse for not providing these life-saving medications is "funding concerns," even though a daily dose of methadone and buprenorphine/naloxone cost as little as $0.40 and $3, respectively.
Fortunately, A2A is already making headway. What began as a one-woman effort has evolved into an organization of five powerful women, including two physicians, one rehabilitation psychologist, and one attorney. We've recently teamed up with two prominent criminal justice organizations in Chicago: the Women's Justice Institute and the Chicago Urban League—both of which promote decarceration and harm reduction in women, and have an interest in making MAT accessible to opioid addicts, not just in correctional facilities, but everywhere. The Philadelphia Department of Corrections recently incorporated the use of MAT; and a possible MAT pilot program in the Louisiana prison system is being discussed.
If you were to ask me 10 years ago why I wanted to be a doctor, my answer would have been simple: to help save lives and ease suffering. Though I never got to fulfill my dream of practicing medicine, that original sentiment has never wavered—it goes much deeper now. I want to do everything in my power to help save people from the disease of addiction, to keep them from feeling the pain, desperation, and hopelessness that I experienced, and, above all, spare hundreds of thousands of people—like Marley's mom and Summer's son—the lifelong devastation of losing someone that they love to this tragic, yet treatable disease.
To put it simply: I want to make it stop—and I think, finally, we're figuring out how to do just that.
Marie Claire email subscribers get intel on fashion and beauty trends, hot-off-the-press celebrity news, and more. Sign up here.