CeCe Telfer Has Already Made History
Olympics or not, the track athlete is changing the future of sports forever.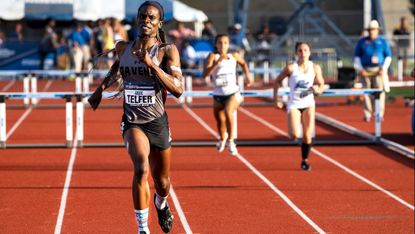 (Image credit: Rudy Gonzalez/NCAA Photos)
Marie Claire Newsletter
Celebrity news, beauty, fashion advice, and fascinating features, delivered straight to your inbox!
Thank you for signing up to Marie Claire. You will receive a verification email shortly.
There was a problem. Please refresh the page and try again.
Update 6/24: On June 23, it was announced that Telfer will not be competing in the U.S. Olympic trials in the 400-meter hurdles because she did not meet the World Athletics eligibility rules for certain women's events. Telfer's manager, David McFarland, said Telfer would respect the decision: "CeCe has turned her focus towards the future and is continuing to train. She will compete on the nation—and world—stage again soon."
Original Post: In 2019, track and field athlete CeCe Telfer became the first openly transgender woman to win an NCAA title (in the 400m hurdles, her signature event). Now, she's got her eyes on the top podium in the world—the 2021 Tokyo Olympic games. If she qualifies, she could become one of the first openly transgender athletes to compete in any Olympic event, ever. Even if she doesn't, Telfer is already making history. Outside of working tirelessly at her sport, she's using her voice to create change in the world of athletics, a world that has historically been riddled with discrimination and prejudice against trans athletes.
It's a reality Telfer knows all too well. Though her college track team at Franklin Pierce University was supportive of her running, as she shares in a profile for the New York Times, she struggled to find a coach who would guide her on her Olympic journey, as well as adequate training resources. She's also been subjected to additional regulations: As mandated by the International Olympic Committee's eligibility requirements, in order to compete, she had to suppress her testosterone levels and sustain them for at least a year.
Though there is little conclusive evidence to support the notion that transgender athletes have a competitive advantage in sports, it hasn't stopped a recent wave of restrictive, anti-trans sports bans and laws (up to 80) across various levels of competition in the U.S. Earlier this month, Florida passed legislation that bars trans women from competing on women's teams in public schools and colleges. The bans are discriminatory and stigmatizing to transgender athletes, many of whom just want to do what they love without constant comment and questions.
As Telfer told the New York Times, a huge motivator for her to compete is to empower young transgender athletes to chase their own dreams. "It's important for me to do it for my people—whether it be women, Black people, transgender people, LGBTQ people—anybody who is scrutinized and oppressed."
At this point, it's unclear whether or not Telfer will get the chance to compete at the Olympic trials, which begin tomorrow in Eugene, Oregon. (Her event is on June 25th.) To qualify to race in the trials, athletes must have a time of 56.50, and Telfer's best clocks in a second behind. However, due to pandemic-related training challenges, USA Track and Field has stated that as many as 28 athletes could race at trials; Telfer is 28th in the field.
Regardless of whether she races at trials or ultimately makes the Olympic team (she'd have to finish in the top three at trials), Telfer has changed the future of athletics. She's one of a handful of openly transgender Olympic hopefuls whose journey serves as a source of inspiration for other aspiring athletes. (Just today, trans cycling athlete Chelsea Wolfe was selected as an alternate for the U.S. Women's BMX Freestyle team.) Telfer is already lending her voice and sharing her story in hopes of creating long-lasting, systemic change in the world of both noncompetitive and professional athletics. She is working to make sports a safe space for everyone who wishes to compete.
Win or lose, Telfer is already blazing the track (and, trail!) for a more inclusive future. And that's something truly medal-worthy.
Celebrity news, beauty, fashion advice, and fascinating features, delivered straight to your inbox!
Megan DiTrolio is the editor of features and special projects at Marie Claire, where she oversees all career coverage and writes and edits stories on women's issues, politics, cultural trends, and more. In addition to editing feature stories, she programs Marie Claire's annual Power Trip conference and Marie Claire's Getting Down To Business Instagram Live franchise.