Fight The Flu Like a Fashion Editor
If there's anything worse than catching the flu, it's getting sick while you have no time to slow down and rest.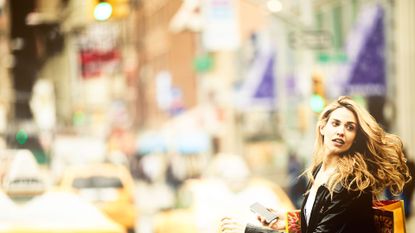 (Image credit: Emilie Duchesne/Getty Images )
Fashion editors have notoriously hectic schedules so it makes sense that they have found ways to keep flu symptoms at bay. When throats start to tickle and they're facing another deadline-filled week, editors turn to quick fixes to stay on top of their games. Read on to discover six different drinks to beat those pesky seasonal bugs!
Fit for a Queen
The fight starts before symptons hit. For preventive care, try Ladurée's Marie-Antoinette Tea (opens in new tab) and Miel d'Acacia de Bourgogne honey. Together, the combination is a delicious mélange of Chinese and Indian black teas combined with rose petals, citrus fruit, and honey that has a mild, sweet, and floral flavor.
Sore Throat Slayer
When you feel the first tickle in the throat, turn to Golden Blossom Honey's Sore Throat Treatment. A ginger, honey, and citrus quick-fix soothes throat discomfort and is easy to make at home or in the office.
Ginger & Honey Citrus Sore Throat Treatment
Ingredients

4 tablespoons GOLDEN BLOSSOM HONEY

Juice of 1 large lemon

3 teaspoons vegetable oil

1/4 teaspoon ground ginger
Directions

Mix all ingredients together in a small jar. Every hour, take 1 teaspoon in your mouth and gargle. Then swallow the remedy.
The Cold and Flu Warrior
We all know juice is high in vitamins and minerals that keep us healthy but those properties are even more important when we are feeling run down. MarieClaire.com editors turn to this Juice Generation concoction to keep their heads in the fashion game, even when they're feeling under the weather:
Juice Generation's Cold Warrior
Ingredients

1 cup of organic green tea

Juice of 1 orange

1 inch piece of ginger, peeled and grated

1 teaspoon of organic agave nectar

Drops of echinacea, vitamin c and zinc to enhance immunity
Directions

Mix together and drink to bring out your inner cold warrior!
Rooibos Refresher
The immune-boosting benefits of rooibos tea make this drink a fashion editor go-to during cold and flu season. The blend of rooibos tea, apple, and spices contain beneficial compounds that boost energy and fight inflammation in the body.
Teavana's Spiced Apple Cider (opens in new tab)
Ingredients

3 teaspoons of Spiced Apple Cider Rooibos Tea (opens in new tab)

3 cups of spiced apple cider

1/4 slice of vanilla bean

2 apple slices

2 orange slices
Directions

In a medium sauce pan, combine the apple cider and vanilla bean (sliced carefully, scraping the inside of the bean with the blunt edge of the knife). Add the apple and orange slices. Bring the cider and fruits to a full boil on medium to high heat. Add the Spice Apple Cider Rooibos Tea and quickly lower the flame. Simer for 10 minutes. Send the cider through a strainer and into your mug. Add the macerated apples and orange slices. Garnish with a cinnamon stick and enjoy!
Meet Your Matcha
Another immune system boost can be found in matcha, a super-concentrated powdered form of green tea. The holistic benefits of green tea are well known so it is no surprise that we turn to a hot cup of matcha to kick cold symptoms to the curb.
Teavana's Perfect Matcha
Ingredients

Teavana Imperial Grade Matcha (opens in new tab)

Bamboo Utensils (opens in new tab)

Bamboo Whisk (opens in new tab)

Matcha Bowl (opens in new tab)
Directions

Using the bamboo tea scoop, measure out 1 ½ tea scoops (or 1 Perfect Tea Spoon (opens in new tab)) of matcha into the matcha bowl (opens in new tab). Add water and using the bamboo whisk (opens in new tab), whisk rapidly until tea is dissolved and liquid is topped with a light colored foam. Zig zag patterns and concentrating the whisk on the center of the bowl works best. Drink immediately, before powder has time to settle. It is normal for some powder to remain at the bottom of your cup.
Haute Toddy
We've all been there: the obligatory dinner and drinks when we're coming down with a cold. The perfect way to give yourself a boost is the tried-and-true Hot Toddy. The mixture of tea, lemon juice, honey, and whiskey (we've even heard of some people using rum or brandy) has been a cold-fighting favorite for generations.
Hot Toddy
Ingredients

1 shot brandy, whiskey, rum, or cognac

1 tbsp honey

2 lemon wedges

1 cup of your favorite black tea
Directions

Allow your favorite cup of black tea to steep. In another class, add liquor, honey, and the juice from one lemon wedge. Pour the tea into the glass with liquor, serve with additional lemon wedge.