Confessions of a Middle-Aged Figure Skater
Christina Han on becoming an amateur ice skater as an adult.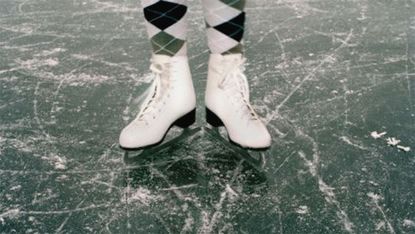 (Image credit: Getty Images)
When I turned 25, I suffered from what can only be described as a quarter-life crisis. So I decided to take action like any other person without health insurance or a steady job would do: I signed up for figure-skating lessons.
Ice skating was on a list of things I had wanted to learn but never had the opportunity to. Watching the Winter Olympics as a child, I dreamed about floating on the ice and being a jumping dynamo. Unfortunately, I was no longer 8 years old, but in my mid-20s, flailing around like Bambi on a frozen lake. The adult skating class I had enrolled in was great since at least I wasn't alone, marching on the ice like a geriatric zombie while young kids zipped around, giggling at my preferred method of stopping: rushing toward the wall.
Eventually, I outgrew the Saturday morning lessons and got a nurturing coach, who was Olympic caliber but, more importantly, had an infinite amount of patience. Luckily, he was a pairs skater, so he was able to scoop me up when I was repeatedly reminded of the powers of gravity. I soon learned how to do a Salchow, a spin, and basic footwork. I became fast friends with some of the other adults, and we commiserated on the joys of figure skating but also banded together in the lack of respect we received from the rinks.
See, in the hierarchy of the ice-skating world, adults are pretty much the bottom feeders, clamoring to sign up for the limited ice time that's available in the evenings. The experienced athletes get to own the rinks during the day, while the hockey players are kings of the place at night. Adult amateurs are generally (and obviously) looked down on as we have no viable chances for the Olympics or a career in athletics. So basically, we can suck it as far as rink owners are concerned. But we keep trucking on because it's a chance at fulfilling a childhood dream.
Figure skating challenges you mentally, physically, and emotionally. Practicing how to stroke on the ice is a truly humbling experience while those younger are doing double axels and camel spins around you. Your body doesn't recover as quickly after a fall, and your knees constantly remind you that age isn't just a number. But the siren call of freshly cut ice keeps beckoning those of us who want to prove to ourselves and others that we can push boundaries; seemingly small accomplishments like getting an inch of air on that toe loop are celebrated because they're the fruits of hard work and dedication, not due to a pushy stage mom.
So for all the detractors out there who think that adults should simply watch from the sidelines, check out the annual International Adult Figure Skating Competition in Oberstdorf, Germany, open to ages 28-71. You'll get to experience breathtaking views of Europe's countryside as well as witness a group of adults who, in my opinion, are maximizing their potential by realizing their fantasies and changing the way the world looks at athletes. Or that's what I like to think, anyway.
Marie Claire email subscribers get intel on fashion and beauty trends, hot-off-the-press celebrity news, and more. Sign up here.