Supporting Your Mental Health Is Self-Care—Here's Where to Start
We found the right tool.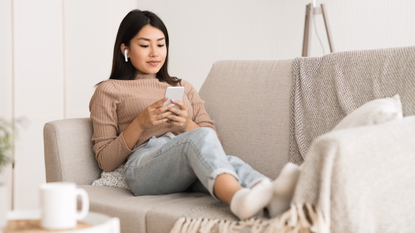 (Image credit: BetterHelp)
Marie Claire Newsletter
Celebrity news, beauty, fashion advice, and fascinating features, delivered straight to your inbox!
Thank you for signing up to Marie Claire. You will receive a verification email shortly.
There was a problem. Please refresh the page and try again.
At Marie Claire, we're all about self-care whether that means a peaceful morning skincare routine, a revamped living space, a little online shopping moment, or anything in between. But the most important thing to remember is that the purpose of self-care is to support your mental health. Thankfully, it's becoming more and more acceptable to discuss mental healthcare openly, but the stigma hasn't vanished completely. According to Mental Health America's 2023 study, 5.44% of adults experience severe mental illness and 55% of adults with a mental illness have not received any treatment.
It's vital to remember that mental healthcare is healthcare, and there's no shame in asking for help when you need it, whether that means talking to a loved one or seeking therapy. Being vulnerable can be extremely difficult, and the process of finding a therapist can often make it more difficult. But there are organizations out there working to make mental healthcare more accessible, most notably BetterHelp. With 32,000 licensed therapists, the health app has facilitated over 350 million therapy sessions and connected over four million people with therapists—all while creating an environment where people feel comfortable to speak freely about their mental health.
If the thought of seeking therapy is scary and overwhelming to you, you aren't alone—one in four Americans has reported symptoms of anxiety or depression. Luckily, BetterHelp's top priority is to connect you with a therapist who will support your specific concerns, taking the burden of finding the right therapist off of your plate. Right now, BetterHelp is offering Marie Claire readers 25% off their first month (up to $70 in savings). The process is super simple: Fill out a brief questionnaire in order to get matched with a licensed therapist in as little as 48 hours. The app is designed to work around your schedule, with a personalization portal that helps you schedule weekly live sessions with your therapist and log your progress.
At Marie Claire, we believe that taking care of your mental health is the key to living a happy and healthy life, and a conversation with the right person is the best place to start.
Celebrity news, beauty, fashion advice, and fascinating features, delivered straight to your inbox!