Jenna Dewan Tatum's Daily Routine Will Inspire You to "Zen Out"
Healthy habits from the actress, dancer, and now Danskin ambassador.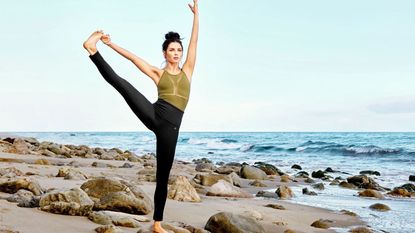 (Image credit: Danskin)
#Goals may be overused, but seriously, there's no better way to describe Jenna Dewan- Tatum, 36, than #EverythingGoals. She's got it all down: from her quick morning routine and pumped-up workouts to family nights with her 4-year-old daughter, Everly, and husband, Channing Tatum, 37. Plus, as a working mom, she has a lot to fit in while her daughter is at school. Though she says it varies from day to day, most often she'll schedule in either a business meeting or a workout, even time with friends. But she's not here to pretend it's all effortless. "One of the hardest things for me—well, for anybody—is to stay balanced," she says. "But I've learned you shouldn't beat yourself up if you're not feeling it some days, either. Give yourself a break!" One fun way she does that? Date night with Channing, which is actually dinner, drinks, and a movie—stars, maybe they are just like us.
1. Lancer The Method: Nourish Moisturizer, $125; BUY IT: Sephora.com. 2. Danskin Sports Bra, $32; BUY IT: Danskin.com. 3. Young Living Essential Oils (lavender shown), $31; youngliving.com.
7:30 a.m.
I wake up 10 minutes before my daughter so I can shower. My beauty routine is pretty simple: I layer on as much sunscreen as I can. Honestly, it's about an inch thick.
8:00 a.m.
For breakfast, I'll have a smoothie made with spinach, romaine, lemon, celery, banana, pear, and apple. It's filled with so much fiber, minerals, and vitamins—it's changed my energy and skin.
9:00 a.m.
I take my daughter to school. There's only so much time when I'm not working or being a mom, so when I can, I catch up with friends. We'll meet up at Fryman Canyon or Runyon Canyon—you can really gab on a hike.
10:30 a.m.
If I can get in a workout a few times a week, I'm happy. I like going to a fun, upbeat class with loud music, like dance cardio. I grew up dancing, so I generally push myself a bit harder when I'm around a crowd.
11:30 a.m.
Sometimes I'll try to fit in meetings during this period. It's a lot of running around town. So I don't get stressed, I like to put down my phone and do a visualization exercise in which you imagine yourself as a tree, with your feet as the roots growing into the earth. It only takes a minute, but it helps me collect myself.
2:00 p.m.
After school, we usually go to some sort of "mommy and me" activity. We do anything from art to gymnastics. We switch it up because, if you're not conscious of it, parenting can start to feel like Groundhog Day.
5:00 p.m.
A family favorite for dinner is pesto pasta with grilled asparagus, and Channing will make meat if he wants it. For a treat, we'll go out for sushi. Everly loves edamame—she calls them "pop-out beans." I'll order some veggie sushi rolls and could eat my body weight in ginger!
8:30 p.m.
After I put Everly to bed, I like to take a bath and pour about a pound of Epsom salts in. Then I add oils from Young Living Essential Oils. I try not to answer e-mails and instead read a book. It helps me Zen out.
12 a.m.
At night, I'll use a retinol cream from my facialist, Shani Darden, and Lancer The Method: Nourish moisturizer. Then, I say I'm going to sleep by 11 p.m., but I'm kind of a night owl, so it's closer to midnight.
This article appears in the September issue of Marie Claire, on newsstands now.
Celebrity news, beauty, fashion advice, and fascinating features, delivered straight to your inbox!