First Mother's Day Gifts Every New Mom Will Appreciate
There's something for everyone, at every price.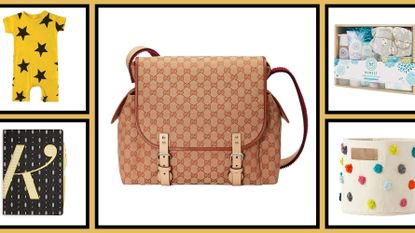 (Image credit: Susanna Hayward/Courtesy)
Whether you're a new mom or you're shopping for someone else's first Mother's Day, gifts for new moms can be challenging to select. Time with a newborn is so special, and those sweet (and sleepless) moments are unforgettable. Becoming a new mom is a huge learning curve, so she'll need to try out a lot of different things to see what works for mom and baby. From carriers, journals, sleep sacs, play gyms, personalized board books, and a high chair to a more sustainable diaper option, this list has a bit of everything. And every mom needs to take care of herself, so consider giving a new mom a gift for herself as well. Happy first Mother's Day!
1/36
Hello Bello Baby Gift Set
Bathtime Essentials
You can never have enough bath care products when a new baby is in the house.
2/36
Tiny Tags Gold Mini Dog Tag with Birthstone
A Customized Charm
A beautiful charm to add to a necklace or bracelet and wear forever. Engrave the front with the baby's name and add a birthstone. On the back, you can include the date of birth.
3/36
Cerebelly Organic Baby Food Pouch Variety Pack 5-7 Months
On-the-go snacks
Developed by a neurosurgeon for her own children, these purees are non-GMO, 100% plant-derived, dairy-free, gluten-free, and have no added sugars. Vegetables are the primary ingredients resulting in less sugar and more nutrition.
4/36
Rothys The Essential Tote
The Diaper Tote
Many moms these days prefer to not have a dedicated diaper bag, too much trouble with all the little pockets! That said, it is essential for any bag used for infants or toddlers to be machine washable. This one can be tossed in the wash and continues to look great.
5/36
Dondolo Baby Chloe Baby Shoes
Sweet Baby Shoes
A charming pair of baby shoes will be a cherished heirloom forever.
6/36
Dyper Responsibly Sourced Bamboo Baby Diapers
Planet Friendly Diapers
Made of natural bamboo, chemical-free and compostable, Dyper goes one step further and purchases carbon offsets on behalf of the customer with every order.
7/36
Miniware Healthy Meal Set
Divider Plate
Little hands love to spread food all over. Plates with dividers that also suction onto a high chair make that learning experience more fun and tidy.
8/36
Sleep and Glow Omnia Pillow with a pillowcase
An Ergonomic Pillow
Becoming a new mom means every minute of sleep is precious. A memory foam pillow matters now more than ever so that mom gets as much rest as possible. This pillow has a special bolster for the neck and a thicker bolster for the top of head.
9/36
Lalo The Chair
Two-In-One Chair
This high chair is a total shape-shifting game changer. After its years of service as a high chair, you can shorten the legs and remove the tray to make it a toddler sized chair!
10/36
Highlights Press The Highlights Book of Things to Do
Never Bored Book
Screen free activities to keep kids growing and engaged are essential for every new family. This book has it all!
11/36
Lovevery The Play Gym
The Pretty Play Gym
New moms will have their home space taken over by toys very quickly. A play gym usually sits in the middle of a living room, so why not get one that's nice to look at? This one can be used from the minute baby comes home and will help the infant learn to focus on high contrast cards, exploring sounds, colors and touch.
12/36
Avana Stainless Steel Insulated Water Bottle, 18oz
For Keeping Hydrated
If mom chooses to nurse, it's a rigorous physical activity, and remaining hydrated is the single most important thing. Having an easy access water bottle handy for mom is essential.
13/36
Uniqlo Long Sleeve Bodysuit
The Classic Onesie
There's nothing sweeter than a newborn in a white cotton onesie.
14/36
LEXON MINO X Floating Bluetooth® Speaker
A Bathtime Speaker
A small waterproof speaker makes bath time so much more fun. It's great for mom to use in the shower.
15/36
Moon and Back by Hanna Andersson Baby Organic Cotton Wearable Blanket
The Wearable Blanket
No blankets are allowed in the crib for infants. A sleep sac is the way for babies from 6 months| to sleep safely. This one has double zippers from top and bottom so you can do middle-of-night diaper changes if needed.
16/36
Rose & Rex Pom Pom Pint Bins
Toy Bins
The reality of new mom life is that your house will be full of toys for many years to come. Some pretty storage solutions to solve this issue are key.
17/36
Kinedu Learning App
Playtime activity ideas for infant through to four-year-old development.
18/36
Welly Assorted Eye Love U Bandages
Printed Bandages
Who knew that bandages would be a reward system? Kids know! These fun, colorful, printed Band-Aids are such a treat that kids ask for them all the time.
19/36
WONDERFOLD Stroller Wagon
A Stroller Wagon
This wagon is great for taking gear to the beach or playground, and when the little one is a bit older they can even ride in it. It seats two! An added bonus, it folds up small for easy storage when not in use.
20/36
Bla Bla Mini Honey the Bunny
A Bunny Backup
For any animal that baby loves to sleep with, it's important to have a backup that you keep out of sight in a closet. You never know when one might get lost and you'll need the emergency companion.
21/36
Doona Car Seat & Stroller
A Two-In-One Car Seat and Stroller
If you live in a city, this is a must-have. Car seats are, of course, a necessity for traveling with a baby. This one easily flips in its stroller wheels to transform into a carseat.
22/36
Delta Children Sloane 4-in-1 Acrylic Convertible Crib
4-in-1 Convertible Crib