Chic Puzzles for Adults That Will Help Ease Your Mind for a Bit
Jigsaw puzzles for adults so cute, you'll want to frame them. From the challenging to the enlightening, these pretty puzzles are all available to buy online.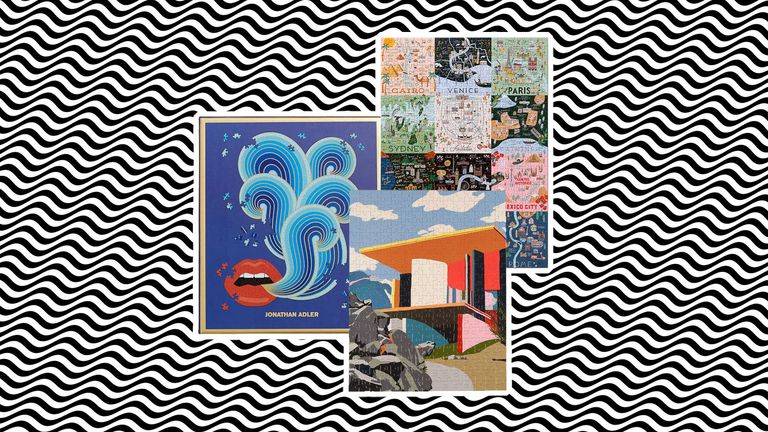 (Image credit: Design By Morgan McMullen)
There are two types of people: the ones who did puzzles throughout the pandemic and the others who would...rather not. If you're in the former group and are waiting out these last few months indoors as the vaccine rolls out, invest in some more puzzles, like these chic picks, ahead. They pair great with a cold beer (or a glass of wine!) after a long day of staring at a screen.
1/18
Gray Malin The New York City Two-Sided Puzzle
New Yorkers long for the iconic restaurants and activities that make NYC what it is. This two-sided puzzle of the city will remind you why it's still the best.
2/18
Areaware Cereal Puzzle
For a quick afternoon activity, enlighten yourself with this 70-piece cereal puzzle part of the brand's munchies collection.
3/18
Rifle Paper Co. Maps Jigsaw Puzzle
Rifle Paper Co.'s gorgeous designs have been transformed into this maps puzzle of Amsterdam, Athens, London, and more cities to temporarily satisfy your wanderlust.
4/18
Ordinary Habitat "Community" by Shanee Benjamin Puzzle
Brooklyn-based artist Shanée Benjamin's "Community" 100-piece puzzle is an ode to the feminine form and a reminder of the sense of community we've been desperately missing throughout the pandemic.
5/18
Urban Outfitters Ruth Bader Ginsburg Puzzle
Celebrate the late Supreme Court Justice Ruth Bader Ginsburg with this 1,000-piece puzzle that honors the gender equality champion.
6/18
Madewell Slowdown Studio Yoro Park Puzzle
Transport yourself to Japan with this 285-piece puzzle of The Site of Reversible Destiny in Yoro Park, Japan.
7/18
Minted Birthday Bouquet Puzzle
Every creative will appreciate this Minted puzzle that looks like it belongs in an art gallery. I mean, those colors!
8/18
Piecework Buns Out Puzzle
Sun's out, buns out! Prepare yourself for a hot girl summer starting with this "Buns Out" puzzle from Piecework.
9/18
The Met Hokusai Great Wave Puzzle
For those feeling nostalgic about wandering through the annual Met exhibitions, order this puzzle of Katsushika Hokusai's famous woodblock print, "Under the Great Wave at Kanagawa," that gives a taste of the museum's memorable artwork.
10/18
Puzzles of Color "Out Of My Soul" by Noland Anderson Puzzle
Puzzles of Color, a Black-owned family puzzle business created during the pandemic, highlights artists of color through its gorgeous puzzle designs. Case-in-point: This piece of art by artist Noland Anderson.
11/18
UncommonGoods Nevertheless She Persisted Puzzle
Talk about a sign of the times. This "Nevertheless She Persisted" puzzle is made up of beautiful illustrations and quotes from powerful women throughout history including Rosa Parks, Malala Yousafazi, and Angela Davis.
12/18
Jiggy Puzzles Boobs Puzzle
Jiggy's 450-piece boobs puzzle, illustrated by Brooklyn-based illustrator Julia Heffernan, is exactly the kind of puzzle your friends will obsess over when they see it framed and hung up in your room.
13/18
Barnes & Noble Candy Shelf Puzzle
Hi, yes, I'm going to require a bag of Sour Patch Kids while completing this 500-piece candy shelf puzzle.
14/18
MoMa Viva La Vida Frida Kahlo Jigsaw Puzzle
This Viva la Vida Frida Kahlo puzzle is not for those of us currently feeling unmotivated—it consists of 1,000 pieces (!) that pays homage to Kahlo and her iconic art.
15/18
Jonathan Adler Lips-Shaped Puzzle
Jonathan Adler's chic matte lip puzzle belongs on every coffee table once it's finished.
16/18
Galison Andy Warhol Soup Can Puzzle
Andy Warhol's double-sided soup can art is basically two puzzles in one.
17/18
Springbok Puzzles Springbok Pencil Pushers Jigsaw Puzzle
For a more challenging pick, dive into Springbok's 500-piece pencil pushers puzzle.
18/18
Shopbop Vintage Matchboxes Puzzle
Find a chicer puzzle than this 500-piece vintage matchbox one. I'll wait.