Editors handpick every product that we feature. We may earn commission from the links on this page.
The 12 Best Weighted Blankets to Help You Relax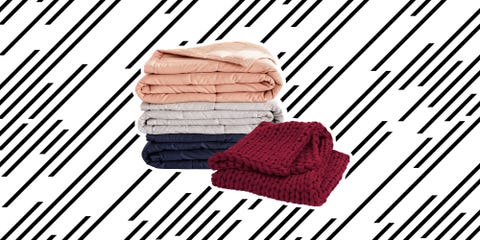 Weighted blankets: The internet's new answer to everything, from reducing isolation anxiety to getting a full eight hours of sleep. But how do you know which weighted blanket is right for you and your needs? As a rule of thumb, a weighted blanket should equal roughly 10 percent of your weight. Once you have an idea of what weight to look for, the options run the gamut—Brooklinen offers a discreet comforter insert, Bearaby makes the Internet-famous Tree Napper, and Casper boasts a beloved line of down jacket-inspired blankets. These are our favorite weighted blankets on the market right now. Happy shopping (and sleeping!).
1
Best Beginners' Blanket
Soft Weighted Blanket 20
If you're not sure where to start, consider this option from ZonLi. It comes in 20 colors and in a range of weights, starting at five pounds and going all the way up to 30 pounds.
2
Best Blanket for Cold Sleepers
Weighted Blanket
Casper Sleep
amazon.com
$179.00
Casper is beloved for its line of super-comfortable mattresses, so it's not a surprise they have a best-selling weighted blanket, too. It's inspired by down jackets, so it'll keep you warm while you sleep.
3
The Internet Favorite Blanket
Tree Napper
Bearaby
bearaby.com
$269.00
This blanket is made from natural eucalyptus fibers that cool you down as you sleep, and comes in a bunch of colors. Plus, it's the one that seemingly everyone on Twitter either owns or recommends.
4
Best Blanket for Hot Sleepers
Tranquility Temperature Balancing Weighted Blanket, 12lbs
Tranquility
walmart.com
$49.98
This blanket comes with temperature-balancing technology to keep you cool all night long. It's also designed to evenly distribute weight across the entire blanket, so you never feel uncomfortable.
5
The Do-It-All Blanket
The Weighted Blanket for Sleep
Gravity
amazon.com
$151.00
The popular Gravity blanket comes in three weight options and in three neutral colors. If you're looking for a blanket that's discreet enough to match any bedding, this is the one for you.
6
Best Comforter Insert
Weighted Comforter
Brooklinen
brooklinen.com
$249.00
Hide this weighted comforter inside your usual duvet cover and nobody will ever guess that it's weighted.
7
Best Splurge-Worthy Blanket
Weighted Blanket
SHELTERED CO.
nordstrom.com
$465.00
This hand-crocheted option is made from deadstock fabric in Los Angeles. It uses nothing but fabric to get its weight, so it's designed to feel like every other blanket on your bed.
8
The Best Selling Blanket
Adult Weighted Blanket
This blanket is made with a seven-layer design that keeps its weight evenly distributed over you all night long. It's also made entirely from organic materials, so it's no wonder it's a best-seller.
9
Best Sherpa Blanket
Sherpa Fleece Weighted Blanket
Cottonblue
amazon.com
$58.99
This blanket is perfect for the colder months, thanks to its sherpa and fleece lining. It's machine washable, too, so you'll never have a reason not to use it.
10
Best Glass Bead-Filled Blanket
100% Cotton Weighted Blanket
Bare Home
target.com
$51.99
Bare Home's weighted blanket is made from 100 percent cotton and is filled with nontoxic glass beads, so it feels different from the others on this list—which isn't a bad thing, according to user reviews.
11
Best for Sensitive Skin
Cooling Weighted Blanket
Aricove
amazon.com
$129.95
Aricove's weighted blanket is made from 100 percent bamboo viscose fabric that promises to keep you cool all night long while delivering maximum sleep support. It's also designed with sensitive skin in mind, so you won't wake up feeling uncomfortable.
12
Best Throw Blanket
Weighted Throw
Vellux
amazon.com
$139.99
$107.90 (23% off)
Who says weighted blankets are for the bedroom? Replace your usual throw with this option from Vellux and feel comfortable while binging your favorite show.
This content is created and maintained by a third party, and imported onto this page to help users provide their email addresses. You may be able to find more information about this and similar content at piano.io