The 15 Best Linen Pants for Women in 2023
Bring it on, 90-degree weather.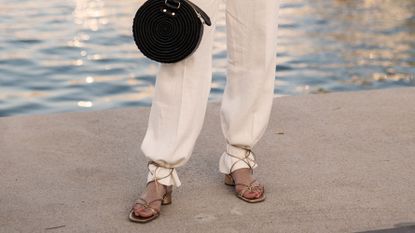 (Image credit: Getty Images)
Fact: Linen is one of the best fabrics you can wear in scorching hot summer weather, bar none. The fiber is quick-drying, breathable, and sustainably made. It's actually made from flax, which is biodegradable, requires little water to grow, and the whole plant can be used. Plus, lightweight linen is the perfect summertime material to lounge around in. We Marie Claire editors happen to absolutely love linen in all kinds of forms in the summer (we've even rounded up a few of the very best linen dresses, linen blazers, linen shorts, and linen suits to prove our collective devotion to the fabric), but there's nothing quite like owning a classic pair of the best linen pants—ones you'll want to wear every day.
So, we took the time to round up a few of the cutest-ever options to show you right here–and our selections do not disappoint. They're stylish, yes, but many of our favorite pairs are also priced at under $50. These summer-ready bottoms are entirely crucial to surviving heat-wave-level temperatures because, let's face it, even the best summer dresses in your closet need a break from time to time! Style your favorite linen pants with your summer outfit essentials, or just throw them on over a bikini on your next beach vacation.
Overview
What to Look For in The Best Linen Pants
Linen pants are one of the most versatile and classic pieces you can add into your wardrobe, so it's important to really consider the details before you purchase a pair. From the fabrication (are they 100 percent linen or a blend?) to the length and style (cargo options are trending, straight-leg linen pants are timeless) to the color (white, or something more fun?) there are a ton of tiny decisions to make along the way.
"I usually look at the material and fabric makeup, since a lot of linen pants are a blend," says fashion stylist Olivia Rose about what she considers when shopping for, as she puts it, the "ultimate summer pant." She adds: "Fabric choice would depend on what exactly you are looking for in the pant. If you want that lighter feeling go with 100% linen and if you want a little more weight or structure, a cotton/linen blend is great," she says.
The best linen pants for 2023 come in just about every different print, pattern, color, and even hemline length, giving you a buffet of adorable linen bottoms to test. Ahead, we rounded up 12 of our favorite pairs to try this season, knowing full well that one of these pants will end up in your warm-weather outfit rotation.
Deals on Linen Pants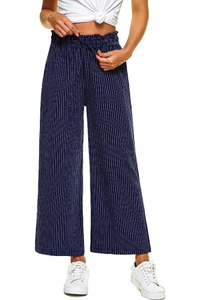 LNX Linen Pants, $30 $26 at Amazon
These top-selling linen pants from LNX are currently 15 percent off right now on Amazon. Shop them for less while you still can—and while the weather is still nice.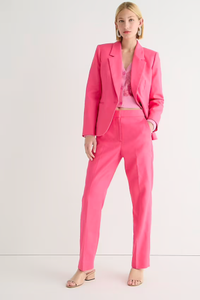 J.Crew Kate Straight-Leg Pant in Stretch Linen, $128 $65 at J.Crew
These bright pink linen pants from J.Crew are currently on sale for just over $100 right now. One five-star reviewer said that they "Love the linen as they're well made and have a little stretch in them too."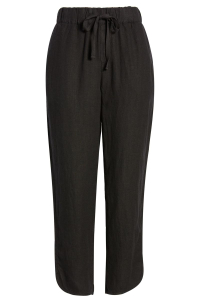 Calson Tulip Hem Linen Pants, $59 $40 at Nordstrom
These easy linen pants from Calson are on sale for under $50 right now at Nordstrom. "I love these pants!," raved one five-star reviewer. "They are durable and a must in the hot weather! I have multiples of all colors."
Venus Linen Drawstring Pants, $34 $16 at Venus
These low-rise linen pants from Venus are on sale for less than $25 right now (!!). Available in sizes up to a 3X, they're perfect to keep in your beach bag.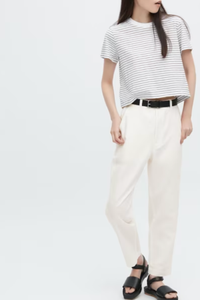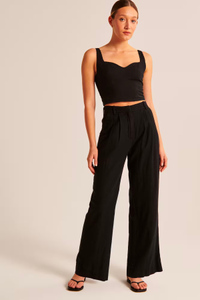 Abercrombie & Fitch Linen-Blend Tailored Wide Leg Pant, $80 $51 at Abercrombie & Fitch
These luxe-feeling pants are now discounted down to $51. Beloved by several members of Marie Claire's team, these office-ready linen pants are great for wearing out with friends, too.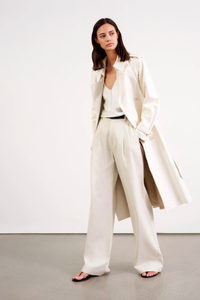 Nili Lotan Flavie Linen Pants, $995 $597 at Net-a-Porter
Marie Claire's Style Director loves this pair of linen pants from Nili Lotan because "their loose move-with-you silhouette will be your default for semi-corporate office dress codes and summer soirees." Shop them now for less than $600 on Net-a-Porter.
The Best Linen Pants
Best Overall Linen Pants
This wide-leg, cropped style is made of a breathable linen-cotton blend and is available to shop in sizes up to 5X. You have my full permission to stock up on every single color (of which there are over a dozen). Plus, consider that they're priced at just $27. With nearly 2,500 five-star reviews on Amazon, they're an undeniable fan favorite. A true cropped pant, they're great if you're on the petite side or are just looking to show your ankles this summer.
Customer Review: "I bought 2 pairs of these pants! Love them! Sooo comfortable. They wash up easy but I hang all my clothes to dry. I don't know if they shrink. Material is perfect for hot & humid summer days. It's nice to find a pair of pants that meet all my needs. To remove wrinkles I put them in my dryer with a mist for a couple of minutes & they come out perfect. Did iron 1 pair one time…ugh. My ironing days are so over!" — Amazon
Best Viral Linen Pants
Abercrombie & Fitch Linen-Blend Tailored Wide Leg Pant
"ICYMI, Abercrombie has gone through a major glow-up in recent years. Gone are the days of graphic tees and distressed skinny jeans. Now I rely on the old mall brand for elevated basics like linen pants (which also come in the Curve Love line and in colors like lavender and red) When I inevitably have to battle the stuffy heat to get to the office, there's a good chance you'll find me in this pair of wide-legged lavender pants. They fit just like the brand's viral Sloane pants i.e. ultra high-waisted with flattering pleats and just the right amount of flair in the leg, only they're made with breathable linen. I plan on snatching up the lavender pair and pairing with basic tees all summer long." — Brooke Knappenberger, Editorial Fellow
Customer Review: "I bought these in white and 2 colors. The white are fully-lined, which is wonderful. They hit at the smallest part of my waist and therefore the wide legs are flattering. Long enough so you can try on your shoes and decide just how to make the length work for you. I can't wear a really high heel and one pair of these I'll match with flatter-heeled shoes and will need to hem - but it will be well worth it!" — Abercrombie & Fitch
Best Basic Black Linen Pants
Calson Tulip Hem Linen Pants
This pair of lightweight, 100 percent linen pants from Calson are my ideal summer pants. Available in four neutral colors—this black option, a classic white, an olive green, and a slate gray—and priced at well under $100, they're a great summer piece to have in your vacation wardrobe. The brand notes that they do run large and recommends sizing down. Reviewers love them because they're comfortable, are machine-washable (so you don't have to hand-wash them every time you wear), and because they don't shrink in the wash.
Customer Review: "Perfect fit - not too tight - comfortable but not baggy either. I haven't washed them and hope they don't shrink." — Nordstrom
Best Colorful Linen Pants
J.Crew Kate Straight-Leg Pant in Stretch Linen
Not all linen pants need to come in neutral colors like cream or black. These top-rated linen pants from J.Crew are available in white and ivory, but they also come in shades like this vibrant pink. You can shop them in sizes 00 through 24 as well as three size ranges—petite, classic, and plus—to help you find the perfect option for you. They have a high rise at the waist and a straight, easy-fitting leg design through the thighs for all-day comfort.
Customer Review: "I've been looking for a pair of nice linen pants that keeps it shape all day long and these are it. I wore the black pair today for the first time to the office and by the end of the day, they still look good on me. Not all baggy and saggy in the butt area like other linen pants I've purchased in the past. I did buy the black pair in my normal size and the lighter color in a smaller size just to compare, but I think they will both fit the same. Please make a darker more camel color." — J.Crew
Best Red Linen Pants
Banana Republic Lena Wide-Leg Linen Pants
Call it the onset of Tomato Girl summer, but fashion insiders have been seeing red this season. This pair of linen pants from Banana Republic is great because they have an easy wide-leg design with a high-rise and tailored details, making them perfect for the office or your day off. They're made from a linen blend so they won't wrinkle as easily as other options on the market and they come in three other colors if red isn't for you, including black and white.
Customer Review: None available.
Best Brown Linen Pants
Reformation Petite Vesta Pants
"As a petite person—I'm 5'2 and proud—I've struggled to find a pair of trousers that fits me without needing to be hemmed, until I found these from Reformation. This pair comes in three colors including this brown option, a black version, and a white version too. The inseam hits at 29", which means that they rest right at the top of my foot. This gives me the option to cuff them when I need to or wear a pair of sneakers or ballet flats, which I love." — Julia Marzovilla, E-Commerce Editor
Customer Review: None available.
The Best Low-Rise Linen Pants
Venus Linen Drawstring Pants
This pair of cream-colored drawstring linen pants from Venus is available to shop in sizes XS through 3X and retails for just over $30, but I love them most of all because they feel like you're wearing the comfiest-ever pair of pajamas while you run your errands. The wide-legged design is great for wearing on nighttime walks on the beach, casual summer date nights, or to wear over your bathing suit by the pool to protect your skin from the sun.
Customer Review: None available.