The 11 Best Satin and Silk Hair Wraps in 2023
Farewell to unruly hair days.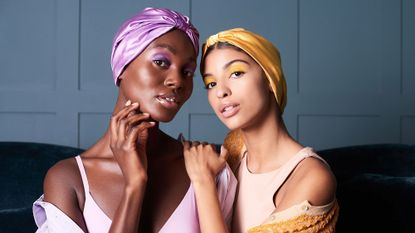 (Image credit: Simon Songhurst)
Marie Claire Newsletter
Celebrity news, beauty, fashion advice, and fascinating features, delivered straight to your inbox!
Thank you for signing up to Marie Claire. You will receive a verification email shortly.
There was a problem. Please refresh the page and try again.
Although hair care for natural hair can be demanding and a little overwhelming—what with all the shampoos and conditioners, strengthening and hydrating oils, masks, treatments, and styling creams on the market—the results are endlessly rewarding. There's nothing quite like showing off a head full of moisturized, healthy locks, whether you're going completely natural or rocking a stunning protective style. But one often underappreciated product is the hair wrap, which is often made of satin or silk and can come in the form of a headband, bonnet, turban, and more.
People use silk and satin hair wraps to preserve hairstyles, prevent frizz, and lock in moisture. I personally adore my growing collection of hair wraps, and wearing them has been an absolute game-changer in terms of keeping my curls looking bouncy and defined. Still, understanding the advantages of a hair wrap and shopping for the right one can be daunting, so we asked Whitney Eaddy, expert hairstylist and founder of natural haircare brand Juices & Botanics, to demystify the world of hair wraps for us. Keep scrolling for her expertise on all things hair wraps, along with some of our (and her) absolute favorite options out there. Your best hair days are well within reach.
Overview
Why Use a Hair Wrap?
As I mentioned, hair wraps are often overlooked, seen as either optional or only necessary when preserving a particular hairstyle for the next morning. However, for many people—particularly women with curly hair—silk and/or satin hair wraps are indispensable.
"Traditionally, head wraps have served functional purposes like protecting women's scalps from the sun, sweat, and grime," says Eaddy. The benefits of hair wraps, however, extend far beyond that. To be specific, Eaddy names five key benefits of wearing silk or satin head wraps.
First and foremost, head wraps provide protection to hair follicles. "Head wraps protect your fragile strands, reduce moisture loss, help avoid tangles and hair breakage," says Eaddy, "especially if worn at night while you sleep." For me, this is the biggest benefit: I notice a huge improvement in my curl definition and hair health when I've worn my bonnet the night before.
Secondly, Eaddy says, wraps "preserve the natural hair oils that are produced in your hair, which will benefit your hair, scalp, and skin."
And if you're trying to grow Rapunzel-length locks, hair wraps can help with that, too. "Head wraps ensure that your stands are protected from root to tip allowing for optimal protection, moisture, and length retention," says Eaddy, meaning that donning a protective hair wrap can help you achieve your hair goals sooner rather than later.
By promoting hair health in these ways, hair wraps provide quick, visible results, beautifying your locks from the inside-out. The most obvious of these results, Eaddy notes, is the way that hair wraps fight frizz by "keeping curls in place during the night while you sleep. But wearing a hair wrap—especially overnight—can also "help preserve your style at any time of the day or night." This makes a wrap the perfect accessory for those who love a low-maintenance hair routine because, in the words of Eaddy, "After sleeping in a head wrap overnight, you will have a minimal amount of work to do to refresh your style, so it saves you a lot of time getting ready in the morning."
Finally, hair wraps are more than just functional: With all the colors, styles, and designs they can come in, they're also fashion statements. "In modern times, head wraps have become a central accessory for many," agrees Eaddy. "The head wrap, just like with textured hair, is about embracing your hair and style simultaneously."
What To Look For in a Hair Wrap
First of all, there's a reason why most hair wraps are made from silk and satin. Eaddy says that when looking for something to swathe your hair in, it's best to "look for a soft material that will not irritate or scratch against the skin," and calls silk and satin "the beauty industry standard for protecting natural hair." Of course, these fabrics can be costly, but investing in a high-quality hair wrap will ultimately protect your hair health and preserve your curls, thus ultimately saving you money on products for hydration and damage repair.
When it comes to choosing between a turban, bonnet, or other style of hair wrap, though, Eaddy says that the decision is determined entirely by your "function and style goals." She explains, "Bonnets are great to protect and preserve styles, as are turbans."
Silk vs. Satin Hair Wraps
At first glance—especially to the beginner buyer—satin and silk may seem essentially the same. However, there is, indeed, a difference between the two, which Eaddy breaks down.
"Satin is the way a fabric is woven, which means that satin fabric can be made of many fabrics, such as cotton or polyester," Eaddy explains. "Satin is made from synthetic fibers. While it may be smooth and shiny, it doesn't necessarily have the same superpower as 100 percent silk."
"Silk is the fabric itself. Silk is a 100 percent natural protein that is gained from the cocoons of silkworms," she goes on. "The fabric helps protect against split ends, does not absorb all the moisture found in your hair and scalp, helps maintain thermal regulation, and extends time in between your washdays."
Styling a Hair Wrap
Hair wraps can either be worn in the privacy of your own home or as fashionable accessories while you're out and about. "Turbans come in many fashionable and chic styles that can also be paired with your favorite outfit," Eaddy says. Try going monochromatic by matching your wrap to the same color scheme as the rest of your outfit, or pick a a statement hair wrap with a floral, paisley, or geometric print to add a burst of excitement to an otherwise subdued look.
Wondering how to tie your wrap? "Head wraps and scarves are extremely versatile," Eaddy reassures us. "There are endless ways to wrap and tie a head wrap, and many examples and tutorials can easily be found online."
Deals on Silk and Satin Hair Wraps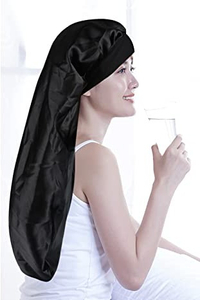 YPGVUO Satin Bonnet $10 $7 | Amazon
This is my hair wrap of choice. It's perfect for my long hair, and reviewers also love it for braids, locks, and other protective hairstyles.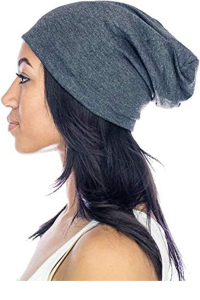 Grace Eleyae GE Women's Satin Lined Sleep Cap $16 $15 | Amazon
If you're looking for all-day protection, consider this satin-lined cap, whose outer layer is made from jersey material, so it looks like any other beanie.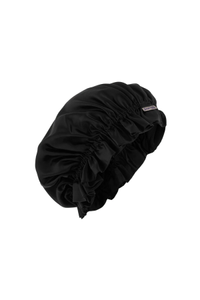 Shhh Silk Black Silk Sleep Bonnet $60 $42 | Shhh Silk
This bonnet is made from 100 percent mulberry silk and is guaranteed to keep your hair smooth and breakage-free, from root to tip.
The Best Silk and Satin Hair Wraps
The Best Silk Hair Wraps
"Silk is a higher quality fabric and is the best option when it comes to hair care," says Eaddy. And not only does this fabric go a long way in terms of pretending your strands from the damage that causes split-ends and frizz, but it's also gorgeous and luxurious to the touch. Keep scrolling for some of our favorite silk hair wraps, many of which are stylist-or expert-approved.
The Best Satin Hair Wraps
While silk hair wraps are the premium option in the world of natural haircare, satin wraps are great when you're in a pinch or on a budget. Below, some of our favorite satin hair wraps that will keep your locks looking bouncy without breaking the bank.
Meet the Expert
Known as "The Growth Guru," Whitney Eaddy is an expert hairstylist who has worked with hundreds of clients around the world with the mission of helping people (especially women of color) love their natural hair textures. She has founded five haircare businesses, all of which are centered around self-love and self-acceptance.
Celebrity news, beauty, fashion advice, and fascinating features, delivered straight to your inbox!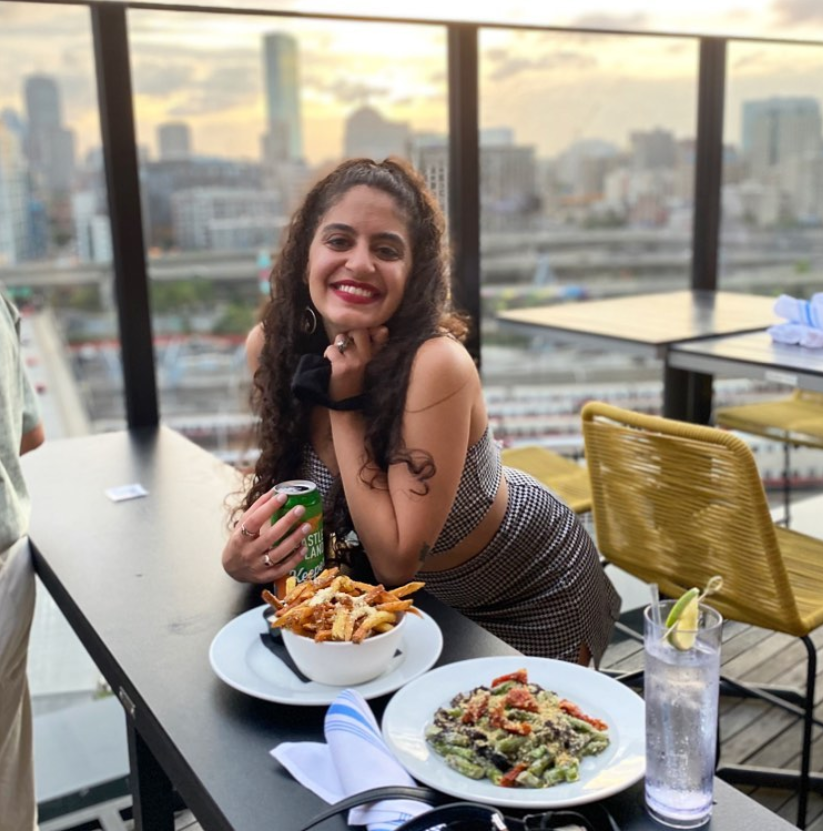 Gabrielle Ulubay is an E-Commerce Writer at Marie Claire and writes about all things beauty, sexual wellness, and fashion. She's also written about sex, gender, and politics for publications like The New York Times, Bustle, and HuffPost Personal since 2018. She has worked extensively in the e-commerce and sales spaces since 2020, including two years at Drizly, where she developed an expertise in finding the best, highest quality goods and experiences money can buy. As a film school graduate, she loves all things media and can be found making art when she's not busy writing.