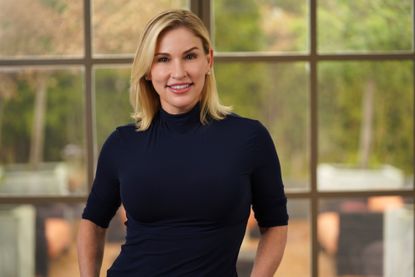 (Image credit: Bank of America)
Marie Claire Newsletter
Celebrity news, beauty, fashion advice, and fascinating features, delivered straight to your inbox!
Thank you for signing up to Marie Claire. You will receive a verification email shortly.
There was a problem. Please refresh the page and try again.
Calling all women entrepreneurs and business owners: As we close the books on 2022, you're likely planning for the year ahead. Whether your business is just getting off the ground or well-established, the end of the year is a great time to take inventory of your business, review your goals and aspirations, and ensure you're not missing any growth opportunities (is your head spinning yet?).
That's a lot to unpack at once, so as always, let's divide and conquer, beginning with three key questions as you look ahead to 2023.
Question 1: Have I considered all sources of funding?
When's the last time you researched the latest and greatest funding sources for your business? You might be surprised to find sources you've never tapped before.
"We're talking to women entrepreneurs every day, and we're constantly hearing that they need funding, but they don't necessarily know where to look," says Sharon Miller, President of Small Business and Head of Specialty Banking & Lending at Bank of America. "And the good news is, there are more options than ever."
A few sources to consider:
1. Traditional business loans. You can learn more about loan options and application requirements online or work with a small business banker who can help you determine the right solution for your business. Also worth looking into are Small Business Administration (SBA) loans, which are guaranteed by the SBA and typically have qualification criteria attainable for new business owners.
2. Credit cards. Lines of credit and credit cards provide ongoing access to funds up to your credit limit, and the payments will vary depending on how much you spend. You may want to open a business credit card to reap all of the available benefits for your business, like points and cash back rewards.
3. Venture capital. While securing VC funding might sound like a long shot, you might be surprised. There's more and more energy in the VC space around women-owned businesses, and many funds are committed to empowering other women entrepreneurs: Coyote Ventures, Chloe Capital, and Fearless Fund, to name a few.
4. CDFIs. Community Development Financial Institutions (CDFIs) are lenders focused on building relationships and serving business owners in low-income communities. If you're struggling to obtain funding from other sources, CDFIs may offer resources and products that meet your needs. You can learn more here.
5. Grants. These are guaranteed funds that don't need to be paid back. There is also often a waterfall effect with grants — once you've been awarded one, it's more likely you'll secure another. You can find hundreds of grant opportunities at Grants.gov.
If you're looking for funding beyond your traditional bank loan or credit card, Miller points to Bank of America's Access to Capital Directory as a great place to start. It's designed specifically to help women business owners find the type of funding that works best for their unique situation – including equity, debt, and grant capital.
Question 2: Am I managing my cash flow effectively?
Keeping close tabs on how much money you have going out the door versus how much is coming in isn't always easy, but it's critical.
"One of the keys to cash flow management is looking ahead," Miller says. "It's easy to get tunnel vision on what's happening in the moment, but losing long-term perspective can lead to trouble. If you can, it's best to project several months out, to ensure you have enough time to map out your cash flow needs, identify risk, and secure funding if necessary."
In a recent Bank of America survey, 38% of women business owners said managing cash flow is a topic they wish they knew more about.
If you need help getting organized, digital tools like Bank of America's Cash Flow Monitor can help you stay on track.
Question 3: Am I taking advantage of all the resources available to me?
Whether you launched your business years ago or recently became an entrepreneur, it never hurts to explore and review the resources available to business owners.
Here are a few to consider:
1. Free educational resources. Educational resources like SCORE and Bank of America's Small Business Resources site provide answers to many common questions and are great to keep handy. If you're interested in pursuing more formal education, organizations like LinkedIn and the SBA have online learning platforms. Bank of America also offers a free online program for women to earn a certificate in business from Cornell.
2. Small business bankers. We've said it once and we'll say it again – developing a strong relationship with a business banker can be key to your success and make your life much easier. A financial expert who can help guide you through the intricacies of business planning and funding is a resource that should not go untapped.
3. Networking & mentorship opportunities. Organizations like the U.S. Small Business Chamber of Commerce or National Association of Women Business Owners (NAWBO), plus the return of in-person events, create opportunities to meet other women entrepreneurs to collaborate with and mentors who can support you along your journey.
4. Women-owned certification. If your business is not yet certified, consider looking into it to secure benefits like increased visibility, access to new opportunities, and chances to win corporate or government contracts. Several organizations offer applications, including the SBA and the Women's Business Enterprise National Council. Eligibility and applications vary, and you typically have to provide financial forms and pay a fee that fluctuates depending on your company's revenue.
One last piece of advice: Don't try and conquer the world all at once. "It's been a tough few years for business owners, and you don't need to tackle all of your business objectives at the same time," said Miller. "Stay focused by setting measurable goals, but make sure you take the time to celebrate your successes and enjoy the holiday season with friends and family."
To learn more about how Bank of America empowers women business owners, visit the website here.
Celebrity news, beauty, fashion advice, and fascinating features, delivered straight to your inbox!