The 24 Best Watches for Women in 2023
Hollywood's It-girls are making these staples cool again.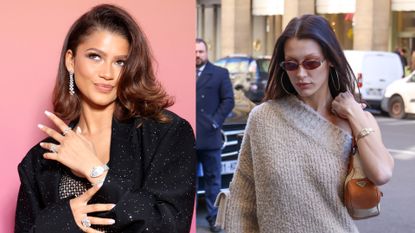 (Image credit: Getty)
Watches have been an iconic status symbol for decades, and they've seen a resurgence in pop culture of late. Models and It-girls like Bella Hadid, Zendaya, Emily Ratajowski, The Olsens and Kaia Gerber have all been spotted wearing luxe timepieces from established brands like Cartier, Omega, and Audemars Piguet. Women have taken notice, opting for watches as a go-to accessory or as a key part of their daily jewelry stacks.
Here at Marie Claire, we also believe watches are a wardrobe essential. But it can feel like some watches are doing too much—tracking your steps, your texts, and your heart rate. What if you want a watch that does less in the logistics department and more in the style realm? Consider the watches on this list our gift to you. We've gathered the very best in luxury and budget, in every material out there, from watches of silicone and rubber to stainless steel and solid gold. We even turned to experts like Brynn Wallner, founder of the mega-popular Instagram account and website Dimepiece, Kim-Eva Wempe, the Managing Director and Owner of Wempe, and J.J Owens the founder of Daily Grail Official, a website dedicated to melding the worlds of watches, fashion, and celebrity, for their advice on all things watches. Keep reading to check out her picks, discover which of the best watch brands are trending for 2023, and bask in the best watches for women this year.
"I think many watch brands have come to the realization that women equally appreciate the technical aspects and craftsmanship of sophisticated watches and have since catered to that, offering a much more comprehensive range of styles, and not just jewelry watches but haute horology pieces as well," says Wempe about how she has seen the women's watch category expand over the last few years.
"When something gets so much attention, it becomes difficult for people to ignore. Soon, you start seeing watches everywhere and realize how impacted by the news/social cycle you are," echoes Wallner. "Once you dig deeper, past the hype, you realize how special watches can be." She also notes that smaller watches like Hadid's are a major trend in the watch world right now. (A small watch is a timepiece measuring under about 36 millimeters.)
Yes, watches can come in at a higher price point than many accessories, but purchasing a watch is more than a single expensive purchase. "They're often an investment from a financial standpoint, yes, but above all, they're a sentimental investment," Wallner explains. "The relationship one forms with a watch is more intimate than with any other luxury item, like a handbag or shoes. A watch, when worn regularly, becomes a part of you, something you wear for life and then pass down to future generations."
In a time when logos and brand names have been removed in favor of subtle, smaller branding, the appeal of a watch seems obvious, especially when smaller sizes are trending. The if-you-know-you-know appeal of wearing a luxury piece with a brand name that's almost imperceptibly small to a passerby on the street is perhaps one of the clearest reasons why timepieces have seen a boost in sales. It's one of the few luxury items you can wear for only yourself with a bit of versatility—concealed under the sleeve of a sweater or shown more prominently on the wrist whenever you want.
Ahead, shop watches from a range of price points from brands like Tory Burch, Michael Kors, and more. The selection has been broken down into both large and small-sized options so you can choose the one that's best for you this season.
Deals on Watches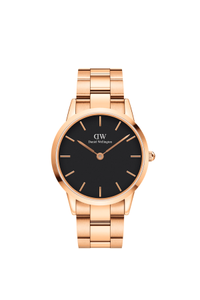 Daniel Wellington Iconic Link Rose Gold Watch, 40mm, $299 $215 at Daniel Wellington
Our top-rated big watch is on sale right now for $150 right now. Snag it if you love the look of a chunkier watch.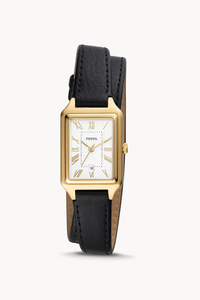 Fossil Raquel Three-Hand Date Black Eco Leather Watch, $150 $90 at Fossil
This wraparound watch from Fossil normally retails for $150 but is currently on sale for $131 on Amazon for a limited time.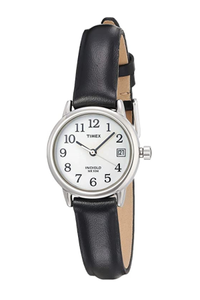 Timex Indiglo Easy Reader Quartz, $50 $33 on Amazon
This affordable watch from Timex just got an even better price. It originally retails for $50 but is now on sale for just $27 on Amazon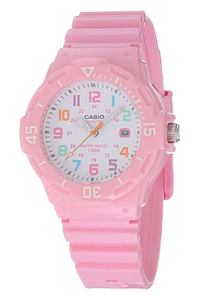 Casio Women's LRW-200H-2BVCF Stainless Steel Watch With Resin Band, $36 $27 on Amazon
Casio's iconic colorful resin watch is on sale for less than $30 right now on Amazon. The watch originally retailed for $27.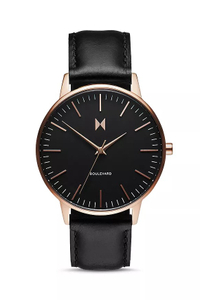 MVMT Boulevard Women's 38MM Analog Watch, $128 $90 at Amazon
This all-black watch from MVMT is on sale for less than $100 thanks to Amazon's massive Black Friday sale. It's the perfect excuse to show off your watch and bracelet stack.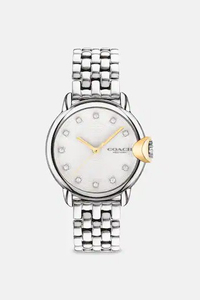 Coach Women's Arden Silver-Tone Stainless Steel Bracelet Watch, 32mm, $295 $221 at Macy's
This subtlety-two-tone watch from Coach is on sale at Macy's for Cyber Monday.
The Best Watches for Women
Best Small Watches
Best Wraparound Small Watch
Fossil Raquel Three-Hand Date Black Eco Leather Watch
For a layered look, pick up this wrap watch from Fossil. Plus, it's pretty customizable: you can pick from two face-color options (white and multicolored purple) plus several strap colorways including deep brown and beige.
Best Classic Small Watch
Tory Burch Eleanor Goldtone Stainless Steel Bracelet Watch
If you're looking for a simple, timeless timepiece, consider this watch from Tory Burch. It's dainty at just 24mm, so it'll blend in with the rest of your jewelry with ease. It's made from gold-tone stainless steel rather than solid or plated gold, so you can get the same look for less.
Best Small Watch on Amazon
Timex Indiglo Easy Reader Quartz
If you want your watch to get here in 24 hours, pick up this classic option from Timex that's available on Amazon. It has no frills, retails for just $50, and will age like the most chic family heirloom.
Best Classic Silver Small Watch
Tissot T-Classic Carson Bracelet Watch, 30mm
If silver is more your go-to than gold, check out this 30mm watch from Tissot. The large roman numerals paired with its sapphire crystal face make for a sophisticated, yet vintage-feeling timepiece.
Best Glitzy Gold Watch
Isabel Marant 33mm Montre Watch
There are gold watches, and then there are blingy gold watches. This one from French-girl favorite brand Isabel Marant definitely falls into the latter category. It's water-resistant up to 40 meters, has a razor-thin mesh band, and has a pared-down design that perfectly complements the shimmery band.
Best Small Watch With A Super-Thin Strap
Shinola Birdy Mesh Bracelet Watch
Not every watch needs a thick strap! This one from Shinola has a dainty option that looks more akin to a bracelet than a traditional timepiece. At 33mm wide and made from sturdy stainless steel, the elegantly braided clasp works for day and nighttime wear.