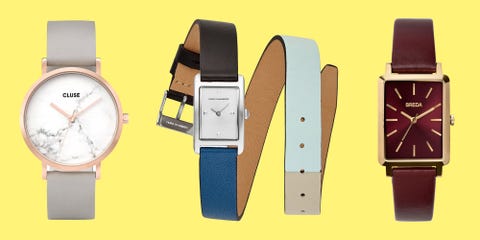 You've probably ditched watches forever in favor of your iPhone, but this timeless accessory can add an extra dose of style and professionalism to an outfit. While I admit I only wear them on special occasions, I do love to browse current styles from the latest tech-driven Fitbit to minimalist watches. If you're thinking about getting back into the watch game, peruse through this season's options, below. You don't need to be a horologist to know they're both functional and fashion girl approved.
Rosefield, $109
If you're not about the flashy colors or prints on a watch, this black-and-gold timepiece evokes simple and minimalist vibes. This is the classy watch you can wear on job interviews or to meetings with executives. Pair with a button-down shirt and ankle-crop navy slacks.
2
The Watch That Doesn't Look Like a Watch
Tory Burch, $195
At first glance, this evil eye watch resembles a bracelet more so than a functional timepiece. The untraditional silhouette was inspired by the nazar amulet and suits those who are looking for something cool and unique.
Adidas, $75
Gift the friend or family member who's obsessed with athleisure this sporty Adidas watch. The understated style has a nifty feature: Japanese Miyota quartz is embedded on the second hand to ensure precise and accurate timekeeping.
Kate Spade, $195
For anyone who loves a good happy hour ($3 sangrias?!), they need this cocktail-themed watch. A pink martini glass image replaces one of the numbers (it's 5 o'clock somewhere, get it?) while the second hand features navy stripes to match the watch's strap.
Rebecca Minkoff, $150
When one strap doesn't seem enough, invest in the wrap watch. This multicolored Rebecca Minkoff option features a modern rectangular dial and four pyramid studs in lieu of numbers for a clean and sleek look.
Uri Minkoff, $175
The next time your sister is running late (again), give her this double-faced watch. It'll be a gentle hint for her to get her act together because there's really no mistaking the time when there are two dials to reference.
Fitbit, $180
This Fitbit comes in a pretty lavender color perfect for summer. Aside from looks, the timepiece is actually quite useful with functions like the ability to calculate how many calories you've burned or the quality of your sleep. You can even opt to receive texts or calendar alerts, which ensures you can stay connected while working out.
Cluse, $140
Amsterdam-based brand Cluse is known for its no-fuss yet elegant watches like this gray and marble timepiece with rose gold accents. The clean smooth lines, as well as the affordable price, will speak to a minimalist who seeks a luxe-looking piece.
Breda, $90
This rectangular watch has an old-school feel because of the dial, which makes it perfect for vintage lovers. Instead of just black, the piece has a gold and burgundy finish for an extra oomph of style.
10
The Interchangeable Watch
Tory Burch, $195
Tired of your watch's colors? Tory Burch makes it possible to constantly switch the hues with interchangeable top rings. You'll feel like you're wearing a new accessory every time, which is pretty damn cool.