I'm 22 and There Have Been Mass Shootings at Both My High School and College
Newsflash: Prayers aren't going to cut it.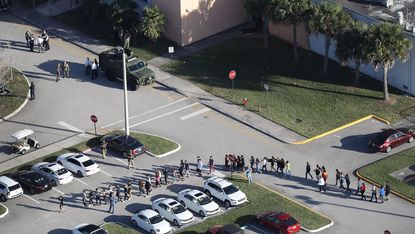 (Image credit: Getty Images)
I received the text from my dad at 2:52 p.m. on February 14: "Shooting at Douglas. School on lockdown." My body went numb. My high school. My high school. Texts from some of my best friends—mostly those who roamed the halls with me for four years at Marjory Stoneman Douglas—began to flood my phone.
"Shooting at Douglas. People dead. Happening now."
"Omg shooting at Douglas. My sister just got evacuated."
"This is unbelievable. Have you heard anything?"
"I feel like vomiting."

The texts came through one after the other, but I had yet to fully grasp what was happening. Graphic videos (that I really wish I hadn't seen) were sent to me of bodies laying face down on the floor, students crying as their classmates and teachers were carried out of the classroom—the classroom they are in seven hours a day, five days a week. Their safe space—the place where they're supposed to be taught about current events, like the gun violence that continues to happen in our country every single day—was just taken away from them. They just became the current event.
Yesterday, 19-year-old Nikolas Cruz entered Marjory Stoneman Douglas High School and opened fire in the "freshman building." This is a building situated on the side of the school adjacent to the football and baseball fields, next to the senior parking lot. Though the gates are locked during the school day, it isn't difficult to figure out how to make your way onto the premises. It clearly wasn't for Cruz, a former student who was expelled his senior year, who entered the freshman building with his AK-15 rifle and murdered 17 students and faculty—including Coach Aaron Feis, Douglas' beloved security guard and assistant football coach, who used his body as a shield to block bullets from hitting students.
It's hard to fathom that this can happen to your high school, your hometown. Yet this is the 18th school shooting in the United States in 2018 alone, and not the first shooting at one of my alma maters. In November 2014, when I was a sophomore at Florida State University, an alum opened fire in the school's main library and shot three people before police killed the gunman. The three students all survived, thankfully, but one of them is paralyzed for the rest of his life. On an average day, 96 Americans are killed with guns. For every one person killed by a gun, two more are injured. Seven children under the age of 19 are killed with guns in the U.S. on an average day. An. Average. Day.
It took me three hours (yes, three hours), to fully grasp what was happening at my high school, my alma mater, the city where my parents and friends reside—the place that has given me the education, friends, teachers, and memories that have shaped me into the person I am today. As I tried to process what was going on (and struggle to do so, still, as I write this), reaching out to my family and friends, I kept asking myself, How was I so initially desensitized to this? Why did it take me so long to feel? And why do we, as a country, continue to let this happen?
The common initial reaction: What could have been done to prevent this (and no, that doesn't include blaming victims)? But at the end of the day, it couldn't have been prevented because of one very complicated, messy process—normalization. Normalization of gun violence to the point that it didn't even immediately cross my mind that I had already experienced a shooting at my college just a few years earlier. Normalization of gun violence to the point which we continue to let this happen every day, turning a blind eye to those with fewer casualties as "just another shooting."
I've updated this @teamtrace graphic three times in the past five months. pic.twitter.com/T7QfqQ9zHnFebruary 14, 2018
See more
The conversation we need to have about mental health—likely a major factor in Cruz's decision to kill innocent people—is equally as important as the larger conversation we need to have about gun control. You've heard this line so many times. I've heard this line so many times. So why do we hesitate? According to the Associated Press, Cruz legally purchased an AK-15 rifle about a year ago. In what world is there a reason someone should be able to purchase an assault rifle, the same style that aided in the horrific events of the Las Vegas shooting, the elementary school shooting in Newtown, the Pulse nightclub shooting, and the shooting at the Texas church just three months ago? The simple answer: there isn't. And there never will be. We also need to provide readily available mental health resources in schools, the workplace, and communities. (I mean truly available.) These things are not mutually exclusive.

There's something that happens inside of you when your community experiences a tragedy. You cry. You mourn. You come together. I've already been invited to an alumni Facebook group, Mobilizing MSD Alumni, that aims to bring former students together to make a difference and support legislators who want enhanced gun control. This is not something to care about only if and when it happens in your city, your state. We need to move forward as a country—starting in our collective communities—and have these conversations. Some people are already trying to do something about it, but it clearly hasn't been enough.
Stoneman Douglas has exceeded the number of deaths of the 1999 massacre at Columbine High School, and is now classified as one of the deadliest shootings in the nation's modern history. My heart is with every teacher who helped protect their students—my friends' younger siblings who will never be able to let go of the sounds and sights of their friends screaming, crying, dying. My best friend's parents, who now have two children who have survived mass shootings. The parents who have experienced the unspeakable tragedy of losing their kids, the students who will never see their friends again, the faculty who do what they can every day to make sure these students feel safe. If it can happen in my hometown, classified as the "safest city in Florida," it can happen in yours too. Call your senators and demand action. It's the only way we can begin to effect change.
Rachel Epstein is the assistant editor at MarieClaire.com. She graduated from Marjory Stoneman Douglas High School in 2013 and Florida State University in 2017.
Marie Claire email subscribers get intel on fashion and beauty trends, hot-off-the-press celebrity news, and more. Sign up here.
Rachel Epstein is a writer, editor, and content strategist based in New York City. Most recently, she was the Managing Editor at Coveteur, where she oversaw the site's day-to-day editorial operations. Previously, she was an editor at Marie Claire, where she wrote and edited culture, politics, and lifestyle stories ranging from op-eds to profiles to ambitious packages. She also launched and managed the site's virtual book club, #ReadWithMC. Offline, she's likely watching a Heat game or finding a new coffee shop.