"She Was Choking on Her Own Blood": Inside the Horror of the Las Vegas Shooting
These women thought they were going to have the perfect bachelorette weekend. A rogue shooter had other plans.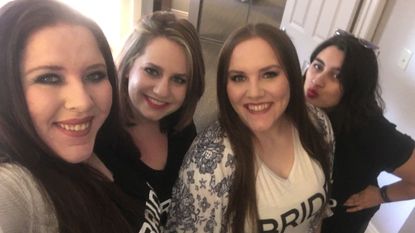 (Image credit: Courtesy Jamie Vazquez)
Marie Claire Newsletter
Celebrity news, beauty, fashion advice, and fascinating features, delivered straight to your inbox!
Thank you for signing up to Marie Claire. You will receive a verification email shortly.
There was a problem. Please refresh the page and try again.
It was supposed to be one of the best weekends of their lives: a Las Vegas bachelorette getaway filled with dancing, drinking, and country music. Instead, 28-year-old Meghann Odum and her bridal party faced unimaginable terror and tragedy.
The bride-to-be checked into the Tahiti Village resort with her sister Kaytelyne Odum, best friend Elisa Martinez, and soon-to-be sister-in-law Jamie Vazquez late Thursday night. They had bought tickets to Route 91 Harvest Music Festival months ago and couldn't wait to see Sam Hunt, Jake Owen, and Jason Aldean live.
"It started out perfect. We were having so much fun—it was just a typical Vegas bachelorette party, you know?" Vazquez, 33, tells MarieClaire.com. After two days of dancing at nightclubs and relaxing by the pool, the women headed to the festival—a night that was supposed to be the "perfect ending to the perfect weekend." They were standing seven rows from the stage when they heard what they assumed were fireworks during Aldean's set.
"I thought someone was being a jerk and popping firecrackers, because the music kept playing," says Vazquez. "But then all of a sudden the lights flickered and someone started yelling, 'Get down! Get down! It's a shooter!' There was mass chaos—we were laying flat on the ground listening to the pops of the gun, wondering if we were going to die."
When the concert crowd began to panic, the women stood up and grabbed hands. "Then we ran—we ran as fast as we could," says Vazquez. "We couldn't tell which direction the shots were coming from, but I was just like, We have to get out of here."
Vazquez, mother to a 2-year-old, couldn't stop thinking about her little boy and husband: "I kept saying to myself, 'You can't die, you can't die, you need to be there for your son,'" she says.
Still holding hands, the women ran to a parking lot, where they saw a red van. "I pounded on the window, begging them to let us in," says Vazquez. "I kept telling the driver that I was a mom and we needed to get in the van in order to live."
The driver, a Kenny Rogers impersonator named Richard Hampton, let them in and shut the door. Within 30 seconds, there was another knock on the van. "It was a woman that we had met the night before and gone dancing with," Vazquez says. "She had been shot in the head."
As the woman clambered into the van, Vazquez realized how severe her injury was: "She was dying," she says. "We laid her across the seat and took off her clothes to use them to stop the blood that was pouring from her head. She was gasping for air and choking on her own blood."
Hampton drove out of the parking lot and helped deliver the woman to medics. "They got her out and the officials start screaming at us, 'You have to go! You have to get out of here!'" recalls Vazquez. "Without Richard we would have definitely died. He is our guardian angel."
The bachelorette group, physically fine but emotionally distraught, is now on their way back to California, where they live. Odum resides in Sacramento with her fiancé, Jared Ludin—they're set to marry in November. "I just want to get home and see him," she says. "All I want is for this nightmare to end."
That nightmare claimed 58 lives before it did. Shooter Stephen Paddock, 64, fired from the 32nd floor of the Mandalay Bay Resort and Casino on the crowd of approximately 30,000 before killing himself, according to reports. His actions resulted in the deadliest mass shooting in modern American history.
"I have to wonder if there was someone or something watching out for us to ensure we survived and to make sure Meghann got back to my brother," Vazquez says. "We're just happy we're alive and together."
If you'd like to help victims of the Las Vegas shooting, the American Red Cross Southern Nevada chapter is accepting donations and looking for blood donors.
RELATED STORIES
Celebrity news, beauty, fashion advice, and fascinating features, delivered straight to your inbox!
Rose is a Staff Writer at ELLE covering culture, news, and women's issues. She is an accomplished and compassionate storyteller who excels in obtaining exclusive interviews and unearthing compelling features.