The Latest on the Irish Abortion Referendum: 'No Going Back' for Women's Rights in Ireland
Here's everything you need to know about the latest on the Irish Abortion Referendum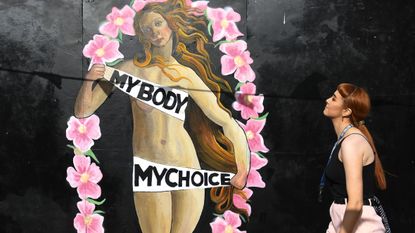 (Image credit: Getty Images)
A leading campaigner for repealing Ireland's constitutional ban on abortions says it's a "monumental day for women in Ireland" after voters appeared to have overwhelmingly backed liberalizing the country's strict abortion laws.
Orla O'Connor, co-director of the Together for Yes group, said Saturday: "This is about women taking their rightful place in Irish society, finally."
Votes for Friday's historic referendum are still being counted, but two exit polls predict a landslide victory for those who want to repeal the constitutional ban on abortions. A leading anti-abortion group admitted defeat Saturday.
O'Connor said the vote is a "rejection of an Ireland that treated women as second-class citizens. This is about women's equality and this day brings massive change, monumental change for women in Ireland, and there is no going back."___12 noonIreland's Minister for Children and Youth Affairs says she is grateful and emotional over with the apparent decision of voters to repeal the constitutional ban on abortions in Friday's landmark referendum.
Katherine Zappone said Saturday she is confident new abortion legislation can be approved by parliament and put in place before the end of the year.
"I feel very emotional," she said. "I'm especially grateful to the women of Ireland who came forward to provide their personal testimony about the hard times that they endured, the stress and the trauma that they experienced because of the eighth amendment."
The eighth amendment requires authorities to treat a fetus and its mother as equals under the law, effectively banning abortions. Currently, terminations are only allowed when a woman's life is at risk.
Exit polls predict overwhelming support for the repeal of the constitutional ban. Officials results are expected Saturday afternoon.___10:40 a.m.One of Ireland's leading anti-abortion groups says the abortion referendum result is a "tragedy of historic proportions" in a statement that all but admits defeat in the historic vote.
Spokesman John McGuirk of the Save the 8th group — which refers to the Eighth Amendment in the constitution that bans abortions — told Irish television Saturday that many Irish citizens will not recognize the country they are waking up in.The official vote tally for Friday's vote has not been finished but exit polls predict a massive victory for repealing the constitutional ban.
McGuirk said it will now be relatively easy for the government to pass more liberal abortion laws in the parliament.
"There is no prospect of the legislation not being passed," he says.The government proposes that women be allowed to terminate pregnancies in the first 12 weeks.___7 a.m.Official counting is set to begin in Ireland's historic abortion rights referendum, with two exit polls predicting an overwhelming victory for those seeking to end the country's strict ban.
The Irish Times and RTE television exit polls suggest the Irish people have voted to repeal a 1983 constitutional amendment that effectively bans abortions. Currently, terminations are only allowed when a woman's life is at risk.
The exit polls are predictions only, with official results expected Saturday afternoon. Paper ballots must be counted and tallied.
If the "yes" forces seeking a constitutional change prevail as the polls suggest, Ireland's parliament will be charged with coming up with new abortion laws.
The government proposes to allow abortion in the first 12 weeks of pregnancy with later terminations allowed in some cases.