I'm a DREAMer Who Grew Up Undocumented, Poor, and Terrified. That's Why I'm Running for Office.
"What's happening in the United States of America at this moment is pure terrorism, cruel, inhuman treatment of children."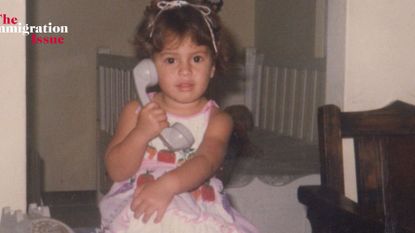 (Image credit: Courtesy )
Late one night this week, I rushed to LaGuardia Airport as word spread that children separated from their parents at the border would be landing there en route to New York City-based federal facilities. I wanted to show these kids that they are not alone and that there are people here who care about them. When I thought of these kids, scared and alone, with no one to trust and nowhere to turn, I knew I had to go because I was once one of them.

When I was nine years old, my single mother brought me to the United States fleeing violence from our home in Colombia. We moved to Queens and struggled to make ends meet. We were poor and on the edge of homelessness my entire childhood. My mom, a healthcare professional back home, now took any job she could find to feed us. She cleaned offices at night, sold empanadas on soccer fields, and handed out flyers. Together, we even collected cans for change.
My worst nightmare was that my mother would be deported and I would be left alone with no one to turn to. As my mom cleaned offices overnight, I never slept soundly for fear she'd be picked up by immigration and not come home. When my sisters were born, I started thinking like an adult, running through emergency scenarios for how to care for them if my mom suddenly disappeared. I was 11.
Right now, there are children far younger being separated from their parents, ripped from their mothers' arms—eight-month old babies, screaming toddlers. They are placed in cages by staff who are told not to touch or comfort them. What's happening in the United States of America at this moment is pure terrorism, cruel, inhuman treatment of children. We've already heard reports of children beaten while handcuffed and young girls abused in custody. Some of these children will never be whole again. It's likely that many will be permanently separated from their families.
Donald Trump wants to fool us into thinking he's merciful by reversing his own family separation policy. He's got us all playing defense, reacting to each new form of terror and inhumanity.
However, we can fight back and change our nation's trajectory. As a child, I saw my mother suffer wage theft because of her immigration status. In that moment of vulnerability, I vowed to fight for families like mine when I grew up. I went to law school and became a public interest attorney fighting to keep immigrant families together.
I am forever grateful to the people who supported me along the way and encouraged me to fulfill the American Dream. Now as a U.S. citizen, I have a responsibility to ensure it continues to be there for future generations. Trump's election has emboldened me to start telling my story. The story of a young girl growing up undocumented, poor, and in constant fear. Today, I'm the first DREAMer to run for office in New York. Ironically, I am running to represent neighborhoods of Queens, the same borough where Trump grew up.
America is an idea. It is a set of values. And we can define ourselves and our country with our actions. We have an obligation to organize our communities, defend these children, and fight for our families. There may not be an America left behind that anyone recognizes if we don't.
Catalina Cruz, a Democrat, is running for the New York State Assembly (39th District) to represent the neighborhoods of Corona, Elmhurst, and Jackson Heights.
Learn more about how to help immigrant children separated from their families here.
RELATED STORIES
Celebrity news, beauty, fashion advice, and fascinating features, delivered straight to your inbox!