How All This Hacking Could Drastically Impact the Election—and the Future of Our Country
Here's what you need to know.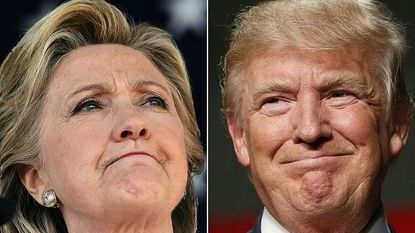 (Image credit: Jewel Samad/Getty Images)
Opp-Ed is a new column from MarieClaire.com in which two women—from opposing political sides—explain their points of view on hot-button issues. Our "Opp-Editors," Sam and Morgan, are both former government officials and current political analysts who hail from across the aisle—and, perhaps most interestingly, are long-time friends. Here, they hash it all out.
Cyber-hacking isn't, unfortunately, anything new. The rise of epidemics like "sextortion," the hacking of high-profile actresses' personal photos, and the Sony Pictures leak underscores how quickly and easily these crimes are escalating. But the level and scope of the most recent attacks—all targeting democratic political organizations and entities—are entirely unprecedented, and should have every American greatly concerned.
Let's go back. On the eve of the Democratic Convention in Philadelphia last month, emails stolen from the Democratic National Committee were released. These emails showed biases on the part of the DNC against Bernie Sanders, which led to the resignation of Congresswoman Debbie Wasserman Schultz, the chair of the DNC. After the DNC hacks came to light, we also learned that the Democratic Congressional Campaign Committee had been compromised. And there have been others: Just a few days ago, it was announced that Clinton foundation emails may have also been attacked (the servers are currently being investigated by experts).
The hack was intentionally timed with the start of the convention, and therefore meant to harm the Democratic presidential bid (or so Wikileaks founder Julian Assange confirmed on NBC's Meet the Press).
Yet, at the DNC—which we both attended—the delegation was more concerned with booing Wasserman Schultz (shaming her for bad behavior) than addressing the larger, much more pressing, and frankly, scarier issue: a foreign adversary had successfully attacked the voting infrastructure of our country.
Bottom line: The conversation happening on the news, on your newsfeeds, and in political forums needs to rise above petty party agendas and address this. Assange has confirmed that more email leaks are forthcoming.
As women in national security who are also members of opposing political parties, we both agree that these cyber hacks are unacceptable actions against any party or member of government—and must be accounted for.
Cyber-espionage is what it sounds like—it's espionage. It's spying. And no political party should ever encourage a foreign entity to participate in such activities, nor should a confirmed candidate—like Donald Trump—ever openly encourage it.
And it's not just the DNC that's at risk—over the past four years, offices within the White House have been hacked.
Since there is an on-going investigation, the U.S. will not comment on the source of these government attacks. However, a private firm (hired to look into the hacks at the DNC) maintains that two Russian intelligence agencies (the FSB and GRU) are indeed behind them. Vladimir Putin spent several decades working for the FSB, and under his dictatorship in Russia today, it is almost inconceivable that the attacks would have occurred without his approval.
If the analysis is true, and Russia is behind cyber-attacks that have disrupted our election, then serious action must be taken. If Russia (or China, or ISIS, or anyone else) can successfully conduct attacks against U.S. data, what's next? Where does this stop? Our voting infrastructure is the foundation for our democracy. If Russia thinks that it can attack this foundation whenever it wants to, then the stability of our democracy is at stake.
But don't be fooled by democratically-laced language defending these attacks, either. Assange likes to qualify his hacks under the "freedom of the press" banner, but make no mistake: Illegally acquiring (also known as stealing) private information was NOT what our founders were referring to when they wrote the first amendment.
The threat of these cyber-hacks carries major implications for our upcoming election. Regardless of who wins in November, the President will have a historic problem on his or her hands—and the consequences could be entirely different depending on who gets elected. If Trump wins, some will argue that there was collusion with the Russians to achieve said victory, compromising the validity of an already fraught potential presidency. If Clinton wins, she will enter office with an incredibly adversarial relationship with our former Cold War adversary—Russia—and could reignite bad blood internationally.
Either way, cyber-attacks stand to alter the very future of our nation—and the proud independence that has defined us for so long.
Sam is a political commentator who served previously as the Senior Advisor to the National Security Advisor in the Obama Administration and as Deputy U.S. Treasury Attaché to Iraq. Follow her on Twitter. Morgan is a political analyst, the former Deputy U.S. Treasury Attaché to Saudi Arabia, and a current U.S. Navy Reserve Officer (her views are her own she does not speak on behalf of the military). Follow her on Twitter.
Celebrity news, beauty, fashion advice, and fascinating features, delivered straight to your inbox!
Samantha Vinograd began her career as the Deputy U.S. Treasury Attaché to Iraq and later held several positions in the Obama Administration, including Senior Advisor to National Security Advisor Thomas E. Donilon. She transitioned to the private sector in 2013 where she has worked on global energy and sustainability issues. She holds a B.A. in Asian and Middle Eastern Studies from the University of Pennsylvania and a Masters Degree in Security Studies from Georgetown. She is a David E. Rockefeller Fellow at the Trilateral Commission, a Millennium Fellow at the Atlantic Council, and a Term Member of the Council on Foreign Relations.