Sex Work Is Almost Never a Choice
And the women who perform it deserve to be heard and believed.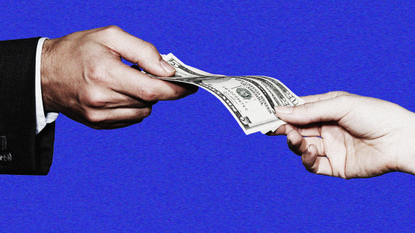 (Image credit: Design by Morgan McMullen)
Even as women push to break glass ceilings in every industry, there is still one area where too many women are working not by choice, but by necessity: the sex trade.
It's all around us, even in resource-rich cities like Washington, D.C.
And I know this all too well...because I was once one of those women.
I, like so many women who walk the streets each night, sold my body in order to pay my rent in the group house I lived in on Capitol Hill. I met men in luxury condo high-rise buildings, suburban McMansions, sometimes the Ritz, sometimes grimy motels for our 90 minute "session." I worked for Deborah Jeane Palfrey, better known as the D.C. Madam, whose contact list included plenty of K-street executives and high-powered government officials. Our Johns were strictly first name only, or the occasional pseudonym, but it's easy to spot that signature Congressional pin on a jacket lapel. I assumed most of the Johns thought women like us were too foolish to recognize it.
I came to D.C. to escape. Growing up in Louisiana, I was surrounded by drugs, alcohol, and abuse. My mom had moved to Oklahoma. I'd graduated high school and had an aptitude for history; I read Ms. magazine, which I'd buy whenever I could afford it. I pictured D.C. as the kind of city where one goes to make a difference, and that such a city of wealth and education would never allow things like prostitution on the same sidewalks that host inauguration parades.
When I got to D.C., I started working at a temp agency, but I wasn't used to paying my own bills, and struggled to manage my money. I tried to get a job at a boutique, but I was late on the first day, and lost the position. I didn't have the skills and understanding of time management to keep a job. My rent was due, and I was hungry.
Then I met the D.C. Madam.
Working for Palfrey, I made enough money to cover my rent. I followed her rules—I wore pantyhose, kept my legs shaved, and didn't ask for last names. But I hated myself for it, repulsed at the way my skin felt when touched. Desperate to escape the horrible feelings of self-hatred brewing inside, I drank as much as I could, turning to cocaine or even crack, anything to block out the feelings of a John writhing inside of me as I'd lie there, counting the minutes until it was over.
I found my own hellish version of rock bottom: overdosing on pills and alcohol, waking up two days later barely able to bend my arms and legs because of the toxins in my body, and knew I needed a change or I'd wind up dead. I quit drugs; I gave up alcohol. When I told Palfrey I was done working for her, she mocked me, saying I wouldn't last long. There were too many hurdles for girls like me, she said. For years I worried she might be right.
But I got therapy. And the therapist connected me to a vocational rehabilitation services program. I applied to college, and the program paid for my tuition and books, and gave me a small stipend for transportation. After graduation, I got a job for Senator Harry Reid. I'm now more than 16 years sober and the founder of HER Resiliency Center (HER), an organization designed to help the exact lost woman I once was. We provide women—particularly those 18 to 25—with intense guidance, resources, and support to help minimize their vulnerabilities while transitioning to adulthood.
The most common words I hear from the women who come to HER: "I don't have a choice." It's not that dissimilar from the feelings that so many victims of workplace harassment face. Summoned to Harvey Weinstein's hotel room for a business meeting-turned-sex proposition is egregious, but so is having to perform oral sex on your manager at the pizza chain where you work. It may seem pitiful and ire-inducing when movie stars are involved, but ugly and shameful when it's poor women, who society views unapologetically as architects of their own fates. Most of the women I talk to at HER who have sex for money are looking for a place to stay for a night. These women are camping out at a bus station, hoping they can trade any sort of sexual favor for something to eat and the opportunity to sleep somewhere that's not a bench. Sometimes they want food, other times a hot shower. Sex is the only currency they have.
And when they are assaulted, either by a John or by an opportunistic thief, the police are wary of their claims. "Why did you even call us in the first place?" one police officer asked a women who'd come to HER after a John raped her, put his hands around her neck and refused to pay.
"I don't know," she'd said.
But I knew. We filed a report, we got a rape kit even though we weren't sure it would lead anywhere. But her story, like so many others, is so easy to overlook when sex work is viewed as a choice.
We need to take the energy and focus of female empowerment and expand the lens. Women every day, in cities rich and poor, are offering up their bodies for sex because they are desperate or in fear. Too often, society unknowingly gives people permission to mistreat or assault sex workers. Instead, we should realize that such women are highly vulnerable and already subject to so much exploitation. We need to believe all women—especially as men continue to seek them out without fear of retribution (opens in new tab). Their work is not a choice, but treating them like they're not people is.
Natasha Guynes is the founder and president of HER Resiliency Center in Washington D.C., a non-profit organization that helps vulnerable young women ages 18 to 25 with the support, skills, and resources they need to make positive decisions and thrive.
RELATED STORY
Natasha Guynes is the founder and president of HER Resiliency Center in Washington D.C., a non-profit organization that helps vulnerable young women ages 18 to 25 with the support, skills, and resources they need to make positive decisions and thrive.