The Truth About The Wives of ISIS
Now that the Islamic State has lost its militant grip on Iraq, what will become of the women being punished for their husbands' crimes?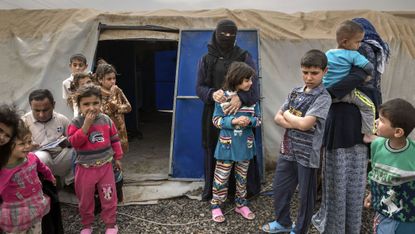 (Image credit: ANDREA DICENZO)
Marie Claire Newsletter
Celebrity news, beauty, fashion advice, and fascinating features, delivered straight to your inbox!
Thank you for signing up to Marie Claire. You will receive a verification email shortly.
There was a problem. Please refresh the page and try again.
This story was reported with the Fuller Project, a journalism nonprofit reporting on global issues impacting women.
Late at night, when the wind whips between the rows of sand-caked tents in a detention camp about three hours north of Baghdad, Umm Ahmed's mind drifts to the orange tree that once stood in the courtyard of her former home in Mosul, then Iraq's second largest city. There, in her mind, she hears her husband, Ali, cracking jokes as her children eat lunch. If only for a moment, she's at peace. But for Umm Ahmed—who, for fear of retribution, asked to be identified only as umm, the Arabic word for mother, and Ahmed, the first name of her 14-year-old son—the memory is fleeting.
Umm Ahmed is accused of being the widow of an Islamic State supporter. There has been no trial. She says Ali was a nurse given an impossible choice: pledge allegiance to ISIS or die. As head of the household, her husband of 16 years held the decision-making power; Umm Ahmed says she had no voice in the outcome. Ali chose life, vowing to serve ISIS, though his service wouldn't last long.
He died in what was likely an air strike or heavy artillery fire, along with two of her five sons, Haresh and Ayman, in early June 2017, during the United States–backed offensive to drive ISIS fighters out of Mosul. One moment Umm Ahmed was washing her face, and the next she was frantically digging through rubble for her family. "I will never forget that moment," she says. "How can I?"
Now Umm Ahmed lives with her three surviving sons, two daughters, and nine other family members in a detention camp called al-Shahama, near Tikrit in central Iraq. She's essentially a prisoner, as she has been since Iraqi security sent her to the camp shortly after Ali was killed.
When U.S.-backed Iraqi forces declared victory over ISIS in July 2017, there was celebration the world over. But what came next was far from black-and-white: Who gets punished for alleged ISIS ties and crimes, and who goes free? Iraqi security forces, militias, and tribal leaders have detained and forcibly relocated thousands of people in an attempt, they say, to root out extremists. Among those rounded up have been Iraqi women and foreigners from Syria, Turkey, Germany, France, and the U.S., according to sources in Baghdad familiar with detainees. (The U.S. State Department would not confirm U.S. citizens are imprisoned.)
As Iraq tries to rebuild, women in former ISIS-held cities are relishing their newfound freedom. They're graduating from college, wearing bright colors, and reclaiming lost time. But women accused of ISIS affiliation say they're being collectively punished for the crimes of violent men who "only brought destruction," as Umm Ahmed puts it. For these women, being branded an ISIS wife, or even the distant cousin of an ISIS fighter, means they're social pariahs, often denied medical attention, government identification cards, birth and marriage records necessary to cross checkpoints and access state services, and, most distressingly, the right to return home.
Isis militants stormed Mosul in June 2014, riding in from Syria in pickup trucks. They took control of the city with ease, seizing weapons and declaring Mosul part of their "caliphate," what they said was a true Islamic State. After decades of war, bitter divisions, and distrust of the government, many residents welcomed the takeover as the lesser evil, finding hope in the militants' promise: a better life, rule of law, a place where Sunni Muslims could live without fear.
But the group's brutality consumed Mosul. Women no longer had a choice in what they wore. ISIS forced them to wear black abayas and veils covering the face and eyes. Cigarettes and alcohol were banned; so were music, cell phones, and the commingling of men and women. Those who disobeyed faced whippings, hefty fines, detention, and even execution—often in public rituals designed to terrify others into submission. Families sheltered children inside, fearing they'd be recruited. Some willingly pledged allegiance. Men became fighters, mechanics, or bomb makers, while women served as "morality police," patrolling streets for those who didn't fall in line. But others say they were merely trying to survive, caught up in a war they did not start. Umm Ahmed says militants sent Ali's name to checkpoints around the city so they could not easily escape. For years, ISIS did everything in its power to keep civilians, including its own fighters, from fleeing. They needed strength in numbers. A 2018 United Nations report estimates ISIS counts up to 30,000 members.
But when ISIS fell in 2017, Umm Ahmed found herself a prisoner once more. Even after Ali's death, his family name is on a long list of people accused of ties to ISIS who have been detained or are wanted by Iraqi security forces, ensuring that Umm Ahmed is always linked to her husband's decision to pledge allegiance to ISIS. The camp is filled with hundreds of families just like hers, most of them made up of widows and children. There, they wait indefinitely.
It's a place of crushing boredom, shut off from the outside world; cell phones have been confiscated and may only be used in the presence of camp management. Water is pumped from tanks and carried in buckets across dusty gravel to filthy, overcrowded tents. There is no privacy. Though the camp isn't officially called a prison or detention center, it's effectively that. Those held inside are forbidden to leave without permission from security forces and tribal leaders, and that permission is difficult to come by. "There is a family behind every [accused] man," says 33-year-old Ikhlas, a mother of six whose husband was a taxi driver who drove families fleeing ISIS to safety in Kurdish government-controlled territory.
Ikhlas insists her husband didn't join ISIS. When militants came to Mosul, her family had nowhere else to go. "I didn't think of anything but fleeing," Ikhlas says. She miscarried during an air strike before deciding her family would die if they didn't risk the journey out. One week before they left, another family tried to escape. ISIS members killed them, including their children, in the street.
Ikhlas's family walked through the night, dodging ISIS checkpoints, to reach a camp for displaced Iraqis, roughly 40 miles away. On the day they arrived, Iraqi security detained Ikhlas's husband. She hasn't seen him since May 2017. "All I want to know is if he's detained somewhere and to let him know his family is okay," she says, sobbing. "My heart would stop if I could talk to him."
Women branded "ISIS wives," like Umm Ahmed and Ikhlas, are the most vulnerable. Many report sexual harassment and assault by members of the security forces. They say, "You have to come see me at 2 a.m. or you're ISIS," according to one camp facilitator who spoke on condition of anonymity. "It's very difficult. We hide them," he says, referring to how camp staff relocate women to other tents to try to protect them.
Other women are unabashed about their families' ties. "My husband was ISIS," says a soft-spoken woman from Hawija, in northern Iraq. She goes by the name Umm Maimouna (or mother of Maimouna, her daughter). "I was against it, but he joined and I couldn't convince him," she adds.
Umm Maimouna says her husband, who studied Islam, joined ISIS because the militants said they "came in the name of religion." She didn't know how to leave him in a culture where divorce often brings ostracization. Her husband has been missing for more than two years. She assumes he's dead.
Like many women here, Umm Maimouna has no education or work experience and thus no way to support herself. She lives in a tent with a dozen accused women and children, entirely reliant on aid from international organizations and unable to return home because tribal leaders and neighbors have banished her family. "No one likes this path," she says.

Umm Ahmed and Umm Maimouna say their fates were sealed by their husbands, but what about the women who traveled to Iraq and Syria in the name of ISIS? Iraq has detained approximately 1,350 foreign women accused of ISIS ties, along with hundreds of their young children, who are imprisoned with the women as they await trial.
Whether the foreigners came for adventure, religion, or love, they all face the full force of the Iraqi justice system. German citizen Linda Wenzel, 17, met a man online who convinced her to join the caliphate when she was 15. She traveled to Turkey, then Syria, then Iraq, where she married a Chechen ISIS fighter. According to news reports, Wenzel says the propaganda videos she watched before leaving were "rosy," showing "another world" in which "men and their wives and children wandered together through parks." But reality was a nightmare. "Why, you idiot, did you come here?" Wenzel would ask herself, she recalled in an interview with German media in Baghdad. In July 2017, Iraqi forces found her in a pile of rubble in Mosul; she's been detained since. This February, she reportedly narrowly escaped the death penalty, an Iraqi court instead sentencing her to six years in prison.
In Baghdad's counterterrorism court, a maze of hallways and courtrooms stacked high with paperwork, women have mere minutes to defend themselves. One morning in March, a dozen female detainees from Turkey and Central Asia lined up outside a courtroom. One after another, they were led to a wooden cage in the middle of the room. Bouncing babies and straining to understand the judge through a court-appointed translator, they stood accused of supporting ISIS by virtue of illegally traveling to Iraq and living under militant rule. None were accused of killing, but their sentences were the same as those given to the most violent ISIS fighters: death by hanging.
The women didn't have their own lawyers; they relied on the same aging public defender, who sat mostly in silence. There seemingly to comply with international law, he offered no compelling defense for the accused. Judge Abdul-Sattar al-Birqdar, a judiciary spokesman, maintains Iraq's legal system is sound. Those who are innocent will be found not guilty, and sentences for the guilty will "deter others from terrorism in the future," he says. But the swiftness of trials—and death sentences—has shocked human-rights groups like Amnesty International. "This is not justice," muttered a Turkish former teacher in her 20s when she learned she would be put to death.
Iraqis disagree about what the fate of these women should be. Those who joined willingly are largely considered traitors. "They destroyed this city, this nation," says 24-year-old Moaj, a biology student, as she sat on a bench at Mosul University in front of the remains of a library torched by ISIS. "I hope whatever they did to people, there is twice the catastrophe for them." But she's torn about what should happen to women who say they were helpless. "They couldn't leave," she says. Some are guilty, she says, but some are not. The question is whether Iraq's justice system can fairly differentiate between the two.
Thirty-year-old Maha, a nurse who worked at al-Jamhuri hospital in Mosul's Old City for nearly three years under ISIS rule, has no sympathy for women linked to ISIS. "They must be punished," she says, sitting in the courtyard of her family's house, one of the few in the area that survived the war. At the hospital, she was forced to treat ISIS fighters and civilians, some of them young girls sexually enslaved by ISIS. "I felt really sorry for them," Maha says. "They were innocent." Maha's aunt wants to see women who supported ISIS dead. "If I see them, I'll kill them," she says. But Maha's father isn't so sure. "They are innocent," he says. "They couldn't control their husbands."

In Mosul's old city, a mess of flattened concrete and twisted wire, the prospect of rebuilding is daunting. The once bustling neighborhoods, made up of ancient mosques and homes hundreds of years old, now resemble ghost towns. But to the east, where ISIS was pushed out sooner, life has rebounded. Restaurants are busy, and markets swell with shoppers. In an amusement park, men and women line up side by side to ride merry-go-rounds and roller coasters. This spring, at least a dozen women donned graduation caps and robes and teetered in high heels through the campus of Mosul University. They had planned on graduating in four years, but life stopped when war came, so it's taken them seven. "You achieved your dream," read one woman's robe. "You graduated. Love, Mom." Clad in bright-red headscarves (the color of happiness, they said), the women hugged and snapped selfies. Gone are the "black days," as some students call them, when women had to hide inside and cloak themselves from head to toe. "We use the burqas to mop the floors!" one student exclaims as the women around her laugh. Now they're focused on the future: getting jobs and chasing dreams.
But as Mosul continues to rebuild, women like Umm Ahmed are stuck a world away. Neighbors will not easily forget her husband's allegiance to ISIS; nor will the government. All she can hope for is forgiveness and, along with it, the freedom to safely return to Mosul. Only then could she piece together what's left of her shattered life. "I dream of smiling," she says, her eyes focused on the two gold wedding rings she wears, glistening in the warm afternoon light. "But when I wake up, it's not time to smile."
This story originally appeared in the October 2018 issue of Marie Claire.
RELATED STORY
Celebrity news, beauty, fashion advice, and fascinating features, delivered straight to your inbox!
Sophia Jones is a senior editor and journalist with the Fuller Project, a journalism nonprofit reporting on global issues impacting women. To learn more about their work visit fullerproject.org.