Party Crashers: These Female Candidates Are Shaking Up The Midterms
A new generation of fired-up insurgents is taking on the political establishment.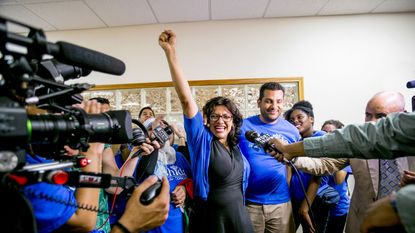 (Image credit: ANTHONY LANZILOTE)
When Rashida Tlaib decided to run for Congress, her party told her it wasn't her turn. Tlaib, an attorney and former Michigan state legislator, made the decision last December, when Representative John Conyers, a Democrat, resigned in the wake of sexual-harassment allegations. As the daughter of Palestinian immigrants, Tlaib felt her Muslim faith was under threat since President Donald Trump's incendiary campaign. In 2016, she was one of 12 women hauled away by security after shouting questions every two minutes in protest at Trump's speech at the Detroit Economic Club. (Her contribution: "Have you ever read the U.S. Constitution?")
A member of the Democratic Socialists of America (DSA), Tlaib, 42, has long advocated for Medicare for all, stronger environmental protections, and the abolition of Immigrations and Customs Enforcement (ICE). But by the time she decided to run for Congress in Michigan's 13th Congressional District, the city's formidable Democratic establishment had already decided which candidates to support. Tlaib recalls one person in the party's leadership telling her to back out because she hadn't paid her dues yet. Her response? "I didn't know there was a line."
In August, Tlaib won the Democratic primary, defeating five other candidates, including Brenda Jones, the Detroit city-council president, who had deep establishment support, broad name recognition, and dozens of endorsements. Because no Republican candidate is running for the seat, Tlaib is nearly assured victory in November, as well as a place in history: She will be the first Muslim woman to serve in Congress. The president's long history of Islamophobia only makes that milestone sweeter. "He can ban us from coming into the country," Tlaib says, "but he can't ban us from getting elected to U.S. Congress."
This year, women are done waiting their turn. Across the country, female candidates have stepped up to push their parties in new directions—whether they have the backing of the establishment or not. That was clear in June, when New York's Alexandria Ocasio-Cortez, a 29-year-old political newcomer and fellow Democratic Socialist, smoked a 10-term incumbent—Representative Joe Crowley, who was in line to be Speaker of the House—in the Democratic primary by an astonishing margin. (Her influence extended beyond politics; the red Stila lipstick she wore the night of her primary win sold out at Sephora.) And in September, Boston City Council member Ayanna Pressley, 44, followed in her footsteps, beating another 10-term incumbent in the race for Massachusetts's 7th Congressional District with a powerful campaign message: "The people closest to the pain should be closest to the power."
According to data from the Center for American Women and Politics, more than half of the nearly 500 female House and Senate candidates who ran this year challenged incumbents. Our Revolution, a Washington, D.C.–based progressive group that grew out of Vermont senator Bernie Sanders's 2016 campaign for president, has endorsed nearly 100 women running for everything from city council to Congress. Of those picks—which include current officeholders—39 have advanced to the general election.
Trump's election inspired a record number of women to run for office, but Hillary Clinton's loss also had a visceral impact. Many Democrats saw her as the epitome of the establishment and vowed to support future candidates who would further the party's socialist awakening. Before 2016, socialist was a kind of political slur, evoking cruel dictatorships where the government controlled the economy. Although the Democratic socialists of today ultimately want to end capitalism, they advocate for a more gradual process of reforms. Both the richest person in America and the poorest person, they say, should have access to a quality, free education; housing and healthcare as a human right; and a living wage. In part, this is a youth revolution. A 2016 national poll of 18- to 29-year-olds by the Institute of Politics at Harvard Kennedy School found nearly half either identified as socialists or said they supported socialism. But DSA's membership has grown across all age groups, from about 5,000 in November 2016 to 35,000 today.
Jane Kleeb, who sits on the board of Our Revolution, says women haven't just torched the rule book on when they can run—they "have not asked for permission on what their platform should be either." There's certainly some overlap between party factions—they're all Democrats, of course—but centrist candidates tend to favor incremental approaches, while those on the Far Left want radical action now. Medicare for all, which would provide health care for every American, tops the platform; tuition-free public college and abolishing ICE come next. At least some of this is becoming more popular. According to an August Reuters/Ipsos poll, 70 percent of Americans approve of a Medicare-for-all policy, and 60 percent support free college tuition. Getting rid of ICE, however, was far less favored: Only 32 percent backed the proposal.
RELATED STORY
In May, Summer Lee, who was endorsed by both the DSA and Our Revolution, ran for the Pennsylvania state legislature armed with that insurgent wish list. Lee, a former field organizer for Hillary Clinton who runs her campaign out of a hair salon, says in her district, which is mostly African-American, people don't often go to the polls. "We're always told that we have to vote," says Lee, 31, "but we're never told that we can be the ones to run." She launched her bid against state representative Paul Costa, a Democrat who belongs to a powerful political dynasty in Pittsburgh. Over Costa's 19 years in office, Lee says, the district he represents has become more progressive than he is. He hadn't had a real challenger in years. "If you can go that long without any opposition, how can people hold you accountable?" she says. "What type of democracy is that?"
Lee estimates her campaign team knocked on at least 40,000 doors, and many of the constituents who answered had never voted. In the May primary, she trounced Costa, garnering double the number of votes he did and essentially guaranteeing her the seat in the blue district. "If you can see a black woman run with all the odds against her—against the establishment, against a man, against a political dynasty—and get this sort of support," Lee says, "that shows that we can do this anywhere."
Shortly after the 2016 election, Liuba Grechen Shirley reached out to the local Democratic party on Long Island, New York, where she lives, to see how she could get involved. Nobody got back to her. So Shirley, a women's economic development expert, started a local chapter of Indivisible, an anti-Trump resistance group, and began organizing protests and rallies. She even came up with a plan to unseat the 2nd Congressional District's current representative, Republican Peter King, an ardent Trump supporter. But she never thought she would be the candidate to face him. With two small children—her kids are two and four—she didn't think the time was right for her to launch a congressional campaign. "I was waiting for the right person to come along," says Shirley, 37. Sometime in the summer of 2017, she realized that person was her. When she launched her campaign, she couldn't afford to hire a babysitter. "I was literally nursing my son, and my daughter was playing with my hair while I was on the phone calling people," she recalls. So she petitioned the Federal Election Commission to be able to use campaign funds for childcare costs—and won, in a historic first. Her platform veers to the left of the Democratic mainstream, and in the June primary, the party establishment supported her opponent. Shirley creamed him. "This was not in the cards for me," she says. "I don't have the network or the political connections. But this is how you build a movement."
That movement is in opposition to the party bosses. Some pundits even call it a civil war. In February, the Democratic Congressional Campaign Committee (DCCC)—the pinnacle of the establishment—shot back at its mutinous flank. Aiming to knock down Laura Moser, a progressive Democrat and darling of the resistance who was running for Congress in Texas's 7th Congressional District, the DCCC published a savage list of reasons Texans shouldn't vote for her. It was an extremely unusual move, and it laid bare the tensions between the party's warring sides. Moser lost the race in May to establishment favorite Lizzie Pannill Fletcher.

For Kerri Evelyn Harris, a 38-year-old lesbian Iraq War veteran turned community organizer who lost her race for the Senate in Delaware, the insurgency means finally having a conversation about what it means to be the party of the people. Like many candidates in the left flank, Harris despises politicians who take contributions from corporations and Wall Street bigwigs. "When it comes time to answer the call of our constituents, they're already beholden to somebody else," she says. She challenged Democrat Tom Carper, who's held the seat for nearly 20 years, because she believes he hasn't been strict enough in regulating banks and corporations. "As a party," Harris says, "we've forgotten who we represent."
Amy McGrath, who hopes to become the next congresswoman from Kentucky's 6th Congressional District, has focused on small-dollar donors. Her average donation is $47, she says. "What we need right now in America is people who aren't afraid to stand up and do the right thing and not necessarily toe the party line," says McGrath, 43, who beat the establishment favorite, Lexington mayor Jim Gray, to clinch the Democratic nomination in May. While McGrath, a former Marine fighter pilot, is not quite as far left as the DSA candidates, her unique résumé is breaking the party mold. "I was the first woman Marine to fly in an F-18 in combat," she says in a campaign ad about her military career.
Though the energy for bucking the party is concentrated on the Left, there are a handful of Republican women running as change agents too. But there's a catch: "It's the worst year to run ever," says Jennifer Lim, the cofounder of Republican Women for Progress. Because the excitement for women candidates sprung from the Women's March—that is, patent resistance to Trump—Republican women can't capitalize on that momentum.
Still, some are trying. In California's 16th Congressional District, Elizabeth Heng thinks it's time for the next generation to step forward. The daughter of Cambodian refugees, Heng worked on Capitol Hill for six years on and off before moving back to her hometown of Fresno last year. The 33-year-old has made what she calls "generational diversity" a plank of her campaign, pointing to Facebook CEO Mark Zuckerberg's April congressional hearings as a prime example of the need for younger people in Congress. In those hearings, senators made plain they had no clue how Facebook worked. ("How do you sustain a business model in which users don't pay for your service?" one asked. "We run ads," Zuckerberg responded.) "It was embarrassing," Heng says. "When the average age for a member of Congress is 57," she says, "they're viewing policies [through] a very different lens than people in their 30s." In the general election, she's challenging Representative Jim Costa, 66, a Democrat who has held the seat for 15 years.
RELATED STORY
Similarly, in simply running for office, Erika Harold has championed a more traditional kind of diversity within the GOP. Harold, 38, an attorney and former Miss America who paid her way through Harvard Law School with her pageant winnings, is vying to become Illinois's next attorney general. As a black woman, she's an anomaly among Republicans, and she hopes her candidacy gives other young women an example of what's possible. "I always tell them that they should run for office someday themselves and [that they shouldn't] wait until someone gives them permission," Harold says.
Win or lose, these insurgents have already succeeded in pushing the political conversation. Take Cynthia Nixon, the former Sex and the City actress who mounted a progressive challenge to New York governor Andrew Cuomo. She lost—as have 43 of the nearly 100 women endorsed by Our Revolution (so far, winners are the exceptions, not the rule)—but her embrace of certain issues drove Cuomo to change his stance. Last year, for example, Cuomo called marijuana a "gateway drug." But after Nixon made the case for legalization, framing it as a matter of racial justice, he reversed course. Thanks to Nixon, Cuomo has also paid more attention to the environmental toll of plastic bags, New York City's derelict public housing, and restoring voting rights to felons. "The blue wave is real, and it's not only coming for Republicans but for Democrats who act like them," Nixon said in her concession speech.
Lee, in Pennsylvania, says candidates like her will have an impact on politics for years to come. The message they've sent—that all people have the right to a dignified life, regardless of how much money they make—has clearly resonated with average voters, she says. "I hope that the party is listening."
From explainers to essays, cheat sheets to candidate analysis, we're breaking down exactly what you need to know about this year's midterms. Visit Marie Claire's Midterms Guide for more.
This article originally appeared in the November 2018 issue of Marie Claire.
Celebrity news, beauty, fashion advice, and fascinating features, delivered straight to your inbox!
Rebecca Nelson is a magazine writer in New York. Her work has appeared in the Washington Post magazine, GQ, and many other publications.