Gretchen Whitmer Is Ready for the Top Job
The Michigan Democrat has spent two decades in state politics—and it looks like she's heading to the Governor's Mansion.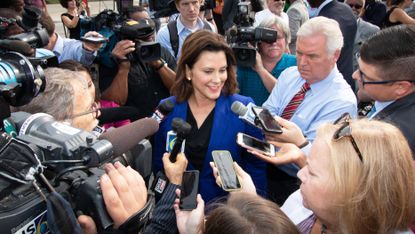 (Image credit: Courtesy )
Marie Claire Newsletter
Celebrity news, beauty, fashion advice, and fascinating features, delivered straight to your inbox!
Thank you for signing up to Marie Claire. You will receive a verification email shortly.
There was a problem. Please refresh the page and try again.
Update: Whitmer wins! As of 10:15 p.m. EST on November 6, Gretchen Whitmer has been declared the governor-elect of Michigan.
Meeting Gretchen Whitmer for the first time is less like meeting the odds-on favorite to run the 10th most populous state in America and more like meeting a friend's older sister. The 47-year-old Michigan Democratic Gubernatorial candidate is a bubbly midwesterner, peppering her sentences with "heck" and "gosh," and leaning in excitedly to chat about upcoming endorsements from top politicians like they're TV stars on a show she's a fan of. The accessibility and sheer friendliness of Whitmer is a welcome change from the non-stop political anger that has enveloped our country. After our first meeting, she offers her cell phone number, and is easy to reach via text or call. But the sweet soccer mom exterior belies a core of steel. Whitmer has been in state politics for 18 years...and she's ready for the top job.
A born and bred Michigander, raised by lawyers who worked in healthcare and politics, Whitmer attended Michigan State University with aspirations of a career in sports journalism. But after an internship in the state legislature, she turned her eye to government. She built a career in state politics long before women running for office was a trend, or looked kindly on at all.
Now, a "pink wave" has swept the country. Flippable founder Catherine Vaughan says, "When you're under attack from the federal administration, your first reaction is to look around and see who will protect you. And the sad reality is there's no one to protect us but ourselves. Women make up only 20 percent of Congress. In state governments, they're doing only marginally better, at 25 percent."
We're paying a price for that lack of representation, Whitmer says. During her first run at office, for the state's House of Representatives in 2000, Whitmer had a baby at home and a mother battling brain cancer. She spent the year juggling the personal and the professional, ultimately losing her mom to the disease but winning her seat. The experience left Whitmer with a deep appreciation for both family leave and affordable healthcare. It also showed her that while women are still stuck the majority of caretaking and chores at home—"I make more meals than most men do in a week," she says—they also need to be in public office to make laws and policy about the topics that impact our lives. Passing measures like paid family leave and access to birth control seem to fall to the backburner for even progressive men in office.
"Without women in office our chances of holding onto the rights we have and securing the rights we deserve will be impossible," says political operative De'ara Balenger. Whitmer believes that "there have been too few women in leadership because they haven't had the opportunities." She points to rising national stars like Georgia's Democratic Gubernatorial candidate Stacey Abrams and Michigan's own Rashida Tlaib (running for Congress in the state's 13thdistrict) as indicators of how far we've come: "Their wins will set a new, higher standard than anyone has before." Whitmer's own win is almost assured. As of press time, Real Clear Politics has her ahead of opponent Bill Schuette (the state's current attorney general) by more than 8 points. FiveThirtyEight say she has a 95 percent chance of celebrating on November 6.
For Whitmer, the political has always been personal. In 2013, Michigan was considering a so-called "abortion rider" bill, which would require women to buy additional insurance to cover abortion—most notably, the law would mean that women who became pregnant as a result of rape would have no insurance coverage for an abortion unless they had purchased the extra coverage in advance. (Similar laws have been passed in other states and are viewed as part of a larger slate of laws to limit a woman's right to make her own healthcare decisions.) The legislature refused to hear testimony on the bill; Whitmer, by then a state senator, did the unimaginable. She stepped up to the podium and shared what kind of impact the law might have on women who have been raped...women like her. She told her colleagues about her own experience of sexual assault while in college and its aftermath. Many women don't tell anyone about their rapes; to tell every co-worker you have while video is being recorded requires bravery and fortitude that few possess. To do so to protect the women in your state who have or might someday face the same attack brings a new level of meaning to "sacrifice for the greater good."
To Whitmer's dismay, the bill passed. But the defeat just proves that having equal representation in office so that people of all backgrounds can introduce and vote on legislation from their personal experience matters more than ever. In the wake of the watershed Larry Nassar sexual assault case that rocked Michigan State University—just miles from the Governor's Mansion—there is increased focus on how states will deal with #MeToo reckonings. States are also crucial to protecting the right to vote, healthcare, and the environment. "States become even more important when our federal government does not protect our interests," Vaughan, the Flippable founder, points out. "If Roe v. Wade is threatened, state governments will determine whether abortion is legal. Under the Affordable Care Act, states wield enormous power in how it is implemented." This year, a near-record number of women are running for Governor.
Michigan has a unique position in the country: The small midwestern state is the 10th most populous but oversees a mind boggling 21 percent of the world's surface freshwater supply. An oil pipeline runs under the Great Lakes, endangering that water supply. Should she win, Whitmer plans to start the long legal slog to close the pipeline so that the freshwater so much of the country depends on is protected. "Midwest elections have consequences," she points out.
Big oil isn't the only threat. The mother of two was so horrified by the 2014 revelation of the man-made water crisis in Flint, Michigan, a noxious swirl of unsafe water, lead pipes, and ignored warnings, that she decided to run for Governor. "A community was stripped of self-governance," she says, and what followed has been a years-long public health nightmare. While traversing the state (she's been to every county), a mother in Flint showed Whitmer a rash on her arms, and told the candidate that she is only able to bathe her children once a week because every bath causes them to breakout. Record numbers of children have lead poisoning, which leads to irreversible health issues. For pregnant and nursing mothers, the dangers are even more acute. The scariest part? Flint isn't alone. Many other cities in Michigan have dangerous levels of lead in the water. Detroit Public Schools started their 2018 school year unable to drink the tap water because of dangerous lead levels.
The water crisis may be just the most egregious example of the infrastructure issues Michigan is facing. American infrastructure is rated a D+ and Michigan is no exception. Whitmer's frustration with lack of spending on roads, bridges, and, yes, pipes, have led to her stump speech battle cry: "Fix the Damn Roads!" While some in the purple state tut tut her curse word, Whitmer repeats the line to highlight what most people care about: being able to live their day-to-day lives.
Whitmer is passionate about running Michigan—she refers to it as a "$60 billion corporation" with global importance. She filed on the first day of candidate registration, and has spent the past 20 months talking to everyone in the state she can meet. She is passionate about the women who want to take time off work to care for a newborn baby or dying parent, who want to access healthcare without going bankrupt, who want to be safe from sexual predators at school and work, who want water to swim in and drink without worrying about being poisoned. And, as is fitting in the state that gave us the automobile, she wants to fix the damn roads we drive on.
From explainers to essays, cheat sheets to candidate analysis, we're breaking down exactly what you need to know about this year's midterms. Visit Marie Claire's Midterms Guide for more.
RELATED STORY
Celebrity news, beauty, fashion advice, and fascinating features, delivered straight to your inbox!