Alicia Glen of Women.NYC on Helping Women and Female-Led Business Get the Money They Deserve
A former deputy mayor once in charge for economic development for NYC sets her sights on empowering women.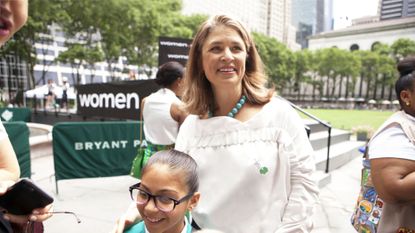 (Image credit: REBECCA GREENFIELD)
I often find myself meeting with college-age men and women to discuss their future work goals. While many of the women stress "putting in the time," "learning the trade," and navigating the politics of "getting ahead," I am continually struck by how many of the men reject that paradigm. Recently, one young man confidently revealed his plan: Start a business right out of college. The fact that he had no experience nor any capital didn't seem to matter. In his mind, he could start a company, get funded—even fail—and be way ahead of those women toiling away as junior analysts at big banks.
This is something I've seen all too frequently: Men brimming with self-confidence, and women questioning the validity of their skills or ideas. Women tend to pledge loyalty to companies or institutions that profit from their intelligence and hard work, often without compensating them adequately in money, recognition, or power. That confidence gap is not irrational. Men get rewarded for taking more risk, are promoted more quickly, and make and raise more money than women do. Sexism is alive and well, even in the Big Apple.

As the Deputy Mayor of New York City in charge of economic development, I wanted to use the power of government to make sure that women no longer have to play by different rules than their male counterparts in order to be successful in the workforce. A large part of my work involved diversifying our economy by starting, growing, and attracting technology and innovation companies eager to tap into our city's exceptional talent. Whether it was supporting the burgeoning start-up sector or supporting more established companies, New York City had a huge opportunity as our economy transforms to put our thumb on the scale and fix systemic gender inequities. So I founded women.nyc, a comprehensive platform that provides tools, resources, and access to capital to help women succeed in their businesses and careers.
Leveling the playing field for women is not a new concept, nor is gender equality. But out of 55 Fortune 500 companies, there still is only one woman CEO in New York City (Deanna Mulligan, CEO of Guardian Life Insurance Company of America). There are no women leading major banks or healthcare systems. And whether it is media, arts, culture, law, construction, or higher education, it is still a rarity for a woman to be in charge or for there be a senior staff or board meeting with a majority of women in the room. Women in New York City earn 89 cents for every dollar a man earns. Female workers continue to be concentrated in lower-paying positions. And women-led businesses simply have less access to capital, whether they're seeking seed or venture funding, working capital, or a traditional small business loan, inhibiting their ability to grow their companies and make more money.

To make a real difference, we decided to put our own skin in the game and invest in women and their ideas. Partnering with crowd-funding platforms, banks, and venture capital firms, New York City created a suite of financial products designed to help female entrepreneurs get the funding they chronically lack. So far, we have pumped millions of dollars into women-led businesses. Most recently, we launched WE Venture, a $30 million initiative to provide more capital to women-led venture funds, who will then invest in companies led by women and other disadvantaged groups. If one of these companies turns out to be the next Google, that won't just be good for women, it's a good thing for the taxpayers of New York City.

And we are making sure that women will stop being underpaid. New York City was the first city in the nation to pass a law that prohibits companies from asking about salary history during the interview process, a practice that contributes significantly to the pay equity gap by compounding prior underpaid practices or job choices. Employers and job applicants now engage in salary negotiations focused purely on skill and merit. Equal pay for equal work.
Today women.nyc is announcing an inaugural board of highly accomplished women—including Anne Fulenwider, editor in chief of Marie Claire—all of whom achieved leadership positions on their own terms. Among other board members are Celeste Beatty, founder of Harlem Brewing Company; Audrey Gelman, founder of The Wing; Jennifer Hyman, CEO and cofounder of Rent the Runway; designers Maria Cornejo and Rebecca Minkoff; and Susan Lyne, president and managing partner of BBG Ventures. They will help us identify new products and programs to assure that women in all sectors of New York City's economy are being supported, as well as advocate for policies that promote women's empowerment and autonomy. If New York City can finally break the economic status quo for women, then who knows how broad the impact will be?
Maybe the next time I am hanging out with my daughters' female friends, I will be pitched 20 new ideas to invest in—perhaps a new restaurant, new software, a disruptive technology, or just a great idea for a screenplay—and I will be part of what I hope will be the next economic revolution, one where women are fairly compensated and are powerful players in the careers they choose.
Women are making waves. But this is not the time to celebrate. Meaningful and lasting change demands a new infrastructure and new terms. It's time to get to work.
Alicia Glen is the former Deputy Mayor for Housing and Economic Development of New York City and the founder and chair of women.nyc.
RELATED STORIES
Marie Claire email subscribers get intel on fashion and beauty trends, hot-off-the-press celebrity news, and more. Sign up here.