The Good Husband
Kamala Harris is poised to be the country's first female vice president, which makes her spouse, Doug Emhoff, America's likely first second gentleman (or whatever he's going to be called).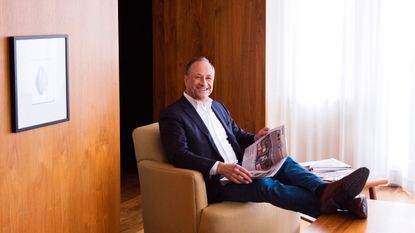 (Image credit: Rebecca Greenfield)
If Joe Biden becomes the next president of the United States, Jill Biden will become the first lady. And if Kamala Harris becomes the next vice president, Doug Emhoff will be…
"I'm going to leave that to others to decide," Emhoff tells me over Zoom. He's swapped his go-to campaign call attire (a suit jacket) and backdrop (a row of American flags) for a black polo and a beige, blank-walled corner at one of the Biden/Harris campaign's Washington, D.C., offices.
"I'm not into titles," he goes on. "I'm into action. I'm not into labels. I'm really just into—"
I interject because it's such a cop-out. After all, he has to be called something. He holds the line. "No, no, no. No one has told me! I don't know." He says his buddies and his 26-year-old son, Cole, tease him by making up potential titles, but Emhoff refuses to tell me what these are.
"Second gentleman" feels like the frontrunner. (I ask Cole his opinion on that one; he concedes, "I guess that has a ring to it.") But why must a man who loves to hype his unconventional family—amicable relations with his ex, Kerstin; two grown kids who call their stepmom "Momala"—be beholden to tradition? Could he be the Number Two Man? Vice Dude? No one will tell me, but I keep asking. (This is a technique I picked up from watching Senator Harris grill underprepared men during Congressional hearings.)
Emhoff insists his mind is elsewhere: "I'm just working night and day, 24/7, running through walls, crawling over glass to help them win."
For now he refers to himself as a "guy." As in: "I would be the first guy to hold this role." Also: "I'm just a guy. I'm not a politician." Or: "I'm a lawyer; I'm a guy; I'm a dad." And, by way of explaining why his musical tastes stopped evolving after Depeche Mode released Construction Time Again: "I'm a guy. I graduated high school in Southern California in 1982." (Harris, whose superior taste in music is well documented, has mocked him for this, but love is about acceptance.)
Much is being made of the historic nature of Harris's candidacy: Her father came to the U.S. from Jamaica and her mother from India, making Harris the first Black and first Asian-American woman on a major-party ticket. As Harris joins the extremely short list of women who've been nominated for vice president on a major-party ticket—her only predecessors are Geraldine Ferraro and Sarah Palin—Emhoff, too, is a pioneer by proxy, going where few men have gone before.
"He's the first one who really [has] a chance. Ferraro and Palin [were] long shots," Joel K. Goldstein, a vice-presidential scholar, tells me. And unlike, say, Hillary Clinton's husband, Emhoff "is a totally new face on the scene," whose presence and attitude are a pointed deviation from the politics of the past. This is how the campaign is presenting Emhoff to the country and the world: a modern, progressive man for our modern, progressive era; a guy's guy, with a fantasy football team, whose masculinity is enhanced and not diminished by his happy-to-be-here husbandry and devoted dad-dom.
"When people say that RBG and Hillary Clinton and Senator Harris are models for little girls, that's true," Goldstein says. "I think their success does send a message to girls that this is becoming a different world, and there are possibilities that maybe didn't exist for their mothers or grandmothers. But it also sends a message to little boys that this is a different world than the one that their fathers and grandfathers grew up in. And Mr. Emhoff is part of that."
---
So, who is this guy? Brooklyn born, Jersey raised, Californian since eleventh grade. All traces of the East Coast are gone from his speech, save for when he does what I trust is an excellent impression of his mother. Emhoff had what his sister, Jamie, describes as a prototypical suburban childhood: riding bikes, playing baseball, knowing that if he got in trouble, his mom would hear about it from somebody else's mom. One of his first jobs was at McDonald's, where he was named employee of the month.
Jamie remembers why her brother was drawn to the law. "He liked the idea that it was sticking up for people," she says. "And he could always win an argument."
Today, Emhoff is a partner at DLA Piper, one of the largest law firms in the world. Prior to that, he spent a decade at corporate firm Venable. He's represented lowbrow American icons (a Real Housewives husband; the ad agency behind the Taco Bell chihuahua) and suspect American enterprises (Merck, the multinational pharmaceutical company; Dolarian Capital, the arms dealer).
In 1992, he married Kerstin, the cofounder and chief executive of production company Prettybird, with whom he has two kids, Cole and 21-year-old Ella. They divorced after 16 years of marriage. A go-to line for Harris on the trail has been that their blended family is "almost too functional." When Harris was running for president, Kerstin shocked campaign staff by volunteering her creative expertise and connections in service of Harris's bid. ("They were like, 'The ex-wife wants to do what?'" Kerstin recalls.) But it wasn't at all startling to people who know Emhoff. "He just has this quality where he can bring a room together," Cole explains.
As Kerstin tells it, she's been supporting Harris from the jump. "When [Doug and Kamala] first started dating and [Kamala] was [attorney general of California], I just thought, Wow, that's cool. Don't mess this up!"
Harris's longtime friend Chrisette Hudlin met Emhoff through work in 2013. "I was looking at him as more of a lawyer, but by the end of the meeting I was just liking him as a person," Hudlin tells me by phone. "And that doesn't happen a lot, period." She wouldn't have played matchmaker, except Emhoff mentioned he'd met Harris recently at a lawyer event. "And he said something to the effect of 'She's really hot.'"
"He was complimenting her, and at the same time he was admiring her, and I liked that," Hudlin says. "I thought, Oh, what's your deal?"
After an endearing if awkward start—a nervous "just saying hi!" text, a rambling predate voicemail that Harris saved and replays for him on their anniversary—Emhoff impressed Harris by emailing her the morning after their first date to tell her, "I really like you." Less than a year later, he got down on one knee in the middle of a decidedly unromantic conversation (she was deliberating between chicken or shrimp pad thai), and they were married on August 22, 2014.
Being with Harris has helped Emhoff, who is white and Jewish, recognize his privilege—his carefree attitude at airport customs; breezy exchanges with security guards—and see into his blind spots. Harris calls out these incidents in real time, Emhoff says. "She'll say, 'You realize that wouldn't have happened if you weren't a white dude?'"
"I always viewed myself as progressive and open-minded," he says, but there is a lot he notices now that he wasn't acknowledging before. "It's great to be with her because she has such a great perspective and she's certainly not shy about expressing [it]."
In their six years of marriage, Emhoff has seen Harris through the high of winning a Senate seat and the low of dropping out of the 2020 presidential race. "She made that decision, and I would have supported whatever she decided," Emhoff says. "But I'm not her political adviser. I'm her husband. And so my role was to be there for her, to love her, to have her back, to talk it through, to help her."
This August, Emhoff announced he'd be taking a leave of absence from his firm. His days are now devoted to seeing that his wife becomes the next vice president of the United States. It sounds...intense. "Imagine working from home with Kamala Harris, during a pandemic and all the other issues going on," he says. "She just works hard, and she's relentless.…It's just incredible how much she does. And I'm looking over and she's looking [back] and she goes, 'What are you doing, Dougie? You working?' And I say, 'Yep! Yes, honey.'" The experience, in Emhoff's diplomatic retelling, has "really elevated my game." (His evenings off with Harris, he says, are spent working their way through the Marvel-Verse or one of those "90-minute cute rom-coms" on Netflix, like Love, Guaranteed.)
"I love that America is getting to know my Doug, and they're seeing who he really is through this campaign," Harris tells Marie Claire in a statement. "It's so clear in everything he does: He is someone who loves his family, loves our country, and is incredibly supportive of those around him."
The idea that a man in Emhoff's position would sideline his own career to aid and abet his wife's is still, for far too many women in the U.S., like something out of science fiction. But even though Harris's pursuit of national office has the potential to change everything in Emhoff's life, he says he had no apprehensions about her runs. "Our relationship and the way I roll, my whole life has just been to support the people I love unequivocally, and they support me," he says. "The whole thing has been based on parity and mutual respect."
---
When a new class of U.S. senators is sworn in, they go through a multiday orientation in Washington, D.C.; there's a corresponding orientation for Senate spouses, which Emhoff attended in 2017. "Doug studied the spouses' binder like a Talmudic scholar," Harris wrote in her 2019 book, The Truths We Hold. When I ask Emhoff what was in the binder, he doesn't reveal much. He does say that there is a whole Senate spouse scene—like WAGs, for the federal government—complete with a book club and weekly lunches. Since the VP presides over the Senate, the second spouse is involved in all of these nonpartisan get-togethers.
Harris's Senate run "was my first recognition of Oh, wait, I guess I'm a political spouse too," Emhoff says. She was one of 21 female senators in 2017—a record high at the time, but, still, the other 79 were men.
"That was the first time where I felt like he was a little bit of a fish out of water," Kerstin recalls. "He was joking with us that he was invited to a Senate spouses thing, and they all had to submit a recipe for some cookbook Melania [Trump] is doing. And I said, 'Do you want me to give you one? Because you don't cook anything.'"
Of the handful of men who met as Senate spouses, a considerable number went on to be presidential-hopeful husbands in the Democratic primary: John Bessler (married to Amy Klobuchar), Bruce Mann (husband of Elizabeth Warren), and Jonathan Gillibrand (Kirsten Gillibrand's husband). "That was actually a really bonding experience," Emhoff says. While the would-be presidents are sweating under stage lights at a town hall in New Hampshire, the spouses are "all just chilling in the back, and we're joking around."
Conveniently, it's how he got to know Jill Biden. In a statement to Marie Claire, Biden says of her current campaign-trail buddy, "Not a lot of people know what it's like to be on the other side of this as a candidate's spouse. It's not a role you seek out—but it's an incredible honor and a powerful platform. I promised myself I wouldn't waste it, and I know Doug won't either. I can't wait to see the great things he does as our first second gentleman."
---
That it's remarkable to think of a man as the vice president's spouse reveals the United States as awfully behind the times, a place where it is still noteworthy when, for instance, a new parent gets paid leave after giving birth or health insurance includes dental coverage. It's quite telling about who we are and how far we have to go.
"It confuses us, because we expect the spouse—who's usually female—to just be, like, 'the Wife,'" David Mandel, the Emmy-winning showrunner of Veep, tells me. "And our female-hating brains explode when the woman is the candidate."
Though it is extremely frustrating to be expected to feel ecstatic over progress that's long overdue, "let's not forget that we are just a giant country of misogynists. We've proven that in 2016," Mandel says. "So I think you have to spoon-feed this to the world—that not only is this what [Harris and Emhoff] are doing, and not only is it cool, but by the way, you could do it too! You're allowed to help your wife!"
In previous years, first and second spouses have tended to take on projects that reflect the priorities of their husbands' administrations: President Barack Obama pushes the Affordable Care Act while Michelle champions fruits, veggies, and fitness; George W. Bush enacts No Child Left Behind as Laura Bush advocates for children's literacy.
Like several of his predecessors, Emhoff is wildly overqualified for a job that is largely ceremonial and holds no constitutional power. It will be illuminating to see if he is able to expand and update the expectations for how political spouses work and wield their influence.
"There's a formal role of the VP spouse," Emhoff says. "I think that's all working and that's not something I'd be trying to upend." As far as using the platform this position would afford him, he envisions approaching it "like I do anything" and plans to "talk about fairness and talk about justice and talk about equality. Just try to lead by example."
Harris echoes this: "If Joe and I are elected, [Doug] would be a champion for issues of justice, opportunity, and equality and a partner in all our work for the American people."
It wasn't so long ago that Emhoff wasn't even interested in politics. He voted, but beyond that, "I was just a lawyer with kids trying to make a living." Hearing his wife describe him on the campaign trail as someone who "loves his country" has made Emhoff start to see himself in a different light.
"I'm not overly political." Laughing a little at himself, he clarifies, "I'm overly her husband."
Photographer: Rebecca Greenfield | Grooming: Alexis Arenas | Shot in the Ambassador Suite at Park Hyatt Washington, D.C.
MORE FROM OUR OCTOBER DIGITAL ISSUE
Celebrity news, beauty, fashion advice, and fascinating features, delivered straight to your inbox!
Jessica M Goldstein is a freelance writer covering all things culture. You can read her in the Washington Post, Vulture, McSweeney's Internet Tendency, and elsewhere across the internet. She would love to pet your dog.