To Her Stepchildren, Kamala Harris Is "Momala"
"They are my endless source of love and pure joy," she's said.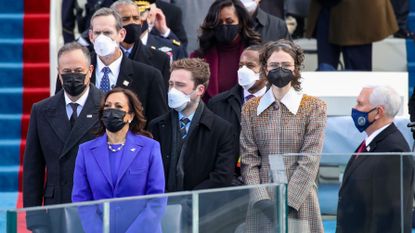 (Image credit: Getty Images ¦ Rob Carr)
Marie Claire Newsletter
Celebrity news, beauty, fashion advice, and fascinating features, delivered straight to your inbox!
Thank you for signing up to Marie Claire. You will receive a verification email shortly.
There was a problem. Please refresh the page and try again.
Vice President Kamala Harris, the former state attorney general and senator from California who assumed office on January 20, 2021, has a loving and supportive family. Her husband Douglas Emhoff has two children, Cole and Ella—to them, Harris is "Momala," because "Cole, Ella, and I agreed that we didn't like the term 'stepmom.'" Harris has spoken publicly about her close bond with her stepkids and how much Cole and Ella mean to her. Now, given her new role and increased visibility, we'll likely going to hear even more about them. Here's what we know about them, and what they've shared about their relationship.
Kamala Harris was careful and thoughtful about meeting Cole and Ella.
Cole and Ella are named after John Coltrane and Ella Fitzgerald. As Harris wrote in ELLE, being the child of divorced parents herself, she was very careful about her relationship with them both when she and Emhoff first started dating.
"I was determined not to insert myself in their lives until Doug and I had established we were in this for the long haul. Children need consistency; I didn't want to insert myself into their lives as a temporary fixture because I didn't want to disappoint them. There's nothing worse than disappointing a child."
But she needn't have worried. The initial meeting went well, and Harris fell in love with the two kids. She was nervous at first and wanting to make a good first impression she "picked up a tin of cookies and tied a ribbon in a bow around them," but worried they might find the gesture "weird" or "too much." They loved it.
"Cole and Ella could not have been more welcoming. They are brilliant, talented, funny kids who have grown to be remarkable adults. I was already hooked on Doug, but I believe it was Cole and Ella who reeled me in."
Now, Cole and Ella are an important part of her life.
Emhoff and Harris officially got married in 2015. To the kids, Harris is now "Momala":
In Yiddish, "mamaleh" means "little mama"—in fact, the couple honored Emhoff's Jewish faith at their wedding. On top of that, it's a sweet combination of "Kamala" and "mom."
In an interview with Glamour, the two kids shared a story about when they met Kamala for the first time. "I think for all of us, it was love at first sight. We had an incredible evening at one of my favorite restaurants—The Reel Inn. We had a long drive down the Pacific Coast Highway, sharing music. I got to know her first on a much more personal level—her music tastes, her cooking, how she interacts with Doug, which was hilarious. She would just be ribbing him. It was perfect," said Cole. "Over time, I got a sense of who she was and her career up to that point. It gave me a new understanding of what she's been able to accomplish, and I was so impressed."
Ella then added: "I think when we met her, I was about to go into high school, so I was in an equally intense time, but for different, more angsty reasons. It felt serious when he was just talking about her, because I could hear it in his voice. When we did meet, it all felt so natural that it wasn't even a big deal. It felt like we had known each other forever. And I think what was important was getting to know her as a person first—a person before a politician.
"When Harris made the decision to run for president, she explained: "They are my endless source of love and pure joy...I can say one thing with certainty, my heart wouldn't be whole, nor my life full, without them."
Obviously, their schedules (especially Harris') are crazy, but it's pretty clear they still try to make time for each other:
They used to gather every Sunday for family dinner. These days, Doug, Kamala, and the kids now have a weekly Zoom call on Sundays. (ELLE was present for one of those Zooms, which you can watch here.)
Cole works as an executive assistant for Plan B Entertainment after graduating Colorado College. BTW it's the very same company founded by Brad Pitt and Jennifer Aniston when they were still an item, per Variety, and Brad later took over ownership.
Ella is a student at Parsons School of Design where she's pursuing a Bachelor of Fine Arts in Apparel and Textiles. She's a pro-knitter making all kinds of sweaters, shorts, and pants that I desperately would want in my closet. Lucky for me, she also accepts custom commissions via her website.
They've spoken candidly about how much their lives have changed since Kamala was elected vice president. "It feels completely unprecedented for us because we haven't really been around politics our entire life. We're still kind of getting used to it," Cole said. Ella added: "I think the idea of sharing our parents with the world is kind of insane."
Cole also shared this tidbit: "I was a senior when they got together, and I remember I saw a tweet that someone did. It was a photo of Kamala at the Kavanaugh hearing, and someone tweeted, like, 'I'd hate to have to look at that face and explain why I'm late for curfew.' And I was thinking, 'I've literally had to do that.'"
Kamala is "dear friends" with Doug's ex-wife Kerstin.
Yep, you read that right! She and Doug's ex-wife, Kerstin, get along too, as Harris jokes that their "modern family is almost a little too functional." Kerstin's totally supported their relationship from the get-go. She told Marie Claire that when he revealed they were dating, she just thought, "Wow, that's cool. Don't mess this up!"
Kerstin even offered her creative talents and connections (she's the co-founder and chief executive of the production company Prettybird) for Harris' presidential campaign. She recalled to Marie Claire, "They were like, 'The ex-wife wants to do what?'"
Harris wrote about their unexpected friendship and what it means to Emhoff's children: "To know Cole and Ella is to know that their mother Kerstin is an incredible mother. Kerstin and I hit it off ourselves and are dear friends. She and I became a duo of cheerleaders in the bleachers at Ella's swim meets and basketball games, often to Ella's embarrassment."
Cole and Ella were by Kamala's side during the inauguration.
Both Cole and Ella were front and center at Harris' inauguration to support her, alongside their dad. Their placement at the inauguration made clear that although they may Kamala's stepchildren, they are every bit much as Second Daughter and Second Son as any vice president's biological children.
Also, can we talk about Ella's outfit? She wore Miu Miu with a white collar that had serious RBG vibes, and was instantly labeled a style icon. "Ella Emhoff, Second Daughter, Run Me Over in That Coat," Glamour wrote.
Celebrity news, beauty, fashion advice, and fascinating features, delivered straight to your inbox!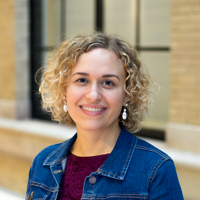 Katherine's a Boston-based contributor at Marie Claire who covers fashion, culture, and lifestyle—from "Clueless" to Everlane to news about Lizzo. She's been a freelancer for 11 years and has had roles with Cosmopolitan and Bustle, with bylines in Parents, Seventeen, and elsewhere. It's "I go to dinner," not "Her huge ego," but she responds to both.