No Matter the Outcome, Election Day 2020 Gave Me Hope
Marie Claire contributing editor Chloe Angyal spent the day registering new voters. Here's why what she experienced is a good thing for all Americans.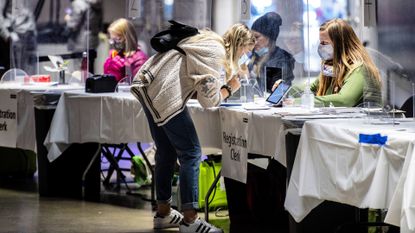 (Image credit: The Washington Post)
My memories of Election Day 2020 will always be associated with one emotion: relief. Oh, there were other emotions: dread, panic, excitement, more dread, and sheer disassociated numbness. But relief is the MVP for me. Not because the outcomes all swung the way I wanted them to (some really, really didn't). But because relief was the sentiment I watched wash over so many people's faces when they realized how quick and easy it was going to be for them to register and vote.
I spent the second half of the day—from about 2pm until about 10pm—as an election worker at my local polling place, in a suburb outside of Iowa City. I was one of many first time election workers, young people who signed up this year for a role that's usually filled by senior citizens, in a bid to protect a vulnerable population from needless exposure to coronavirus. Nationwide, lots of those young people were women; at my polling place, in a team of seven election workers, I was one of four young people, three of us women. We masked up, spread out to maintain social distancing, and got started helping people vote.
Iowa is a same-day registration state, which is rarer than it should be. Registering a new voter, if they've got the two documents they need (a piece of ID and proof of residency), only takes a few minutes. We had enough computers to scan everyone's IDs quickly and enough workers to process their eligibility declarations efficiently. We had enough polling booths to prevent lines from forming. In part because so many people voted early, and in part because we had the infrastructure, most people were in and out in under 10 minutes. And multiple voters expressed surprise and relief at how quick and easy it was.
In too many states, and in too many polling places, of course, this is not the case. Republicans have spent years making it harder to vote: changing the kinds of identification you need and closing the places that issue IDs, tightening registration deadlines, kicking registered voters off the rolls, limiting early voting, and shutting down polling places. Those tactics are designed to make it harder for the people who likely won't vote Republican to vote at all. This year, we saw long lines for both early and day-of voting in plenty of states, including some where purported liberal values are somewhat undermined by how hard it is for people to vote. (I'm looking at you, New York, where in 2016 I waited more than two hours to vote, and where last week the editor in chief of this magazine waited nearly six).
Still, I won't think about Election Night 2020 without thinking about the young woman who dashed into our polling place with less than half an hour until the polls closed and registered so quickly that she was able to chat with one of my fellow election workers, who she already knew, and still cast her ballot with time to spare. She had raced to the site and braced for a line, followed by a long, tedious registration process. She got what every voter should have: a smooth, easy experience.
To be sure, America could make it even easier to vote. We could automatically register every voter when they turn 18, mail them an absentee ballot without the need to request it, expand early voting, and make Election Day a holiday or schedule it on a weekend. We could invest in infrastructure that makes casting, collecting, and counting ballots quick, easy, and secure.
Turnout in my state smashed records this year, in keeping with national trends. That's in part because young people showed up not only as voters, but as organizers, campaign volunteers, and election workers. Millennials now make up a quarter of voting age Americans, and the Zoomers are right behind them—I checked in a lot of people with "2000" and "2001" on their IDs last night. This election was abnormal in many ways, but I remain optimistic that the way young people showed up in 2020 can become thoroughly, gloriously normal. What a relief that would be.
Related Stories
Chloe Angyal is a journalist who lives in Iowa; she is the former Deputy Opinion Editor at HuffPost and a former Senior Editor at Feministing. She has written about politics and popular culture for The New York Times, The Washington Post, The Atlantic, The Guardian, New York magazine, Reuters, and The New Republic. Angyal has a Ph.D. in Arts and Media from the University of New South Wales.