Trump Was Banned From Twitter—Here's How the World Reacted
"We should all congratulate Melania Trump for her successful campaign against cyberbullying."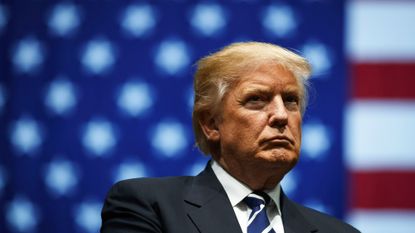 (Image credit: Drew Angerer)
Well, folks, it finally happened: Twitter banned President Donald Trump from its platform, citing "the risk of further incitement of violence." The ban came after four years of dangerous rhetoric two tweets that Trump sent in the aftermath of the Capitol riots on Wednesday. "Our determination is that the two Tweets above are likely to inspire others to replicate the violent acts that took place on January 6, 2021," Twitter said in a statement. Earlier this week, social platforms from Facebook to Twitch banned the president in the aftermath of the Capitol riots and his childish response.
The first tweet: "The 75,000,000 great American Patriots who voted for me, AMERICA FIRST, and MAKE AMERICA GREAT AGAIN, will have a GIANT VOICE long into the future. They will not be disrespected or treated unfairly in any way, shape or form!!!" The second: "To all of those who have asked, I will not be going to the Inauguration on January 20th." As Twitter pointed out, these statements imply that "the Inauguration would be a "safe" target, as he will not be attending," and "exhibit support for those committing violent acts at the US Capitol." Twitter also noted: "Plans for future armed protests have already begun proliferating on and off-Twitter."
That a sitting President would be banned from social media is nothing short of extraordinary—if not entirely surprising, given the painfully inept response by Trump to his supporters storming the Capitol. Here's how the world responded to the news.
People Are Furious It Took This Long
...But It Made For Some Good Jokes
...And Memes!
...And Dark (But Accurate) Observations
Celebrities Weighed In, Too
Goodnight!
Celebrity news, beauty, fashion advice, and fascinating features, delivered straight to your inbox!