A Better Future for Care Workers Means a Better Future for All Americans
In our Moving Forward series, Ai-jen Poo, director of the National Domestic Workers Alliance, shares her vision for a more equitable future for those who put their lives on the line to care for others.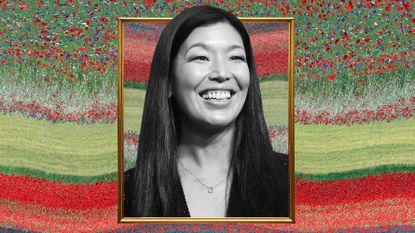 (Image credit: Getty/ Morgan McMullen)
In honor of the inauguration, Marie Claire's op-ed series Moving Forward asks influential and politically active women to examine the work that needs to—and can be—done by the incoming administration to reconcile an increasingly divided country.
If there ever was a year to stay at home, 2020 was it. From rampant voter suppression, threats of vigilante violence at the polls, the spread of disinformation, and a raging pandemic, there were countless reasons one could have had to sit out the election.
But we didn't.
We showed up in record numbers and we made sure our friends, family, and neighbors did, too. The 2020 election was a heroic, unprecedented effort in democracy. And we, the people, organized to make it so. We came together—to make calls, to canvass, to text, to plan events, and host fundraisers. We gave our energy and our money, when possible, to protect democracy and ensure our voices were heard.

And to our collective relief, we were successful; the people decided this election. While our current mixed emotions and ongoing anxiety make sense in light of all that has happened, we must never lose sight of how important a win like that was in the midst of the toughest conditions imaginable.
Our power in a democracy lies in both determining who sits in elected office with power, as well as what they do with it. And now that we are on the other side of the election, we must focus on the what. Our feelings of anxiety are warranted: While Trump may not be in office, Trumpism, or the ideas and narratives that powered the Trump administration, are alive and well, as we witnessed in the final two weeks of his presidency. His ideas about issues such as COVID-19, racism, and climate change dominate the media that half the country consumes. The new year was supposed to mark the start a new chapter, but the violent insurrection at the Capitol on January 6 and COVID-19 spikes around the nation made the beginning of 2021 feel a bit too much like 2020.
There are challenges ahead, that is certain. But if there's anything we proved last year, it's that we're up for the challenge. The proof is in the past. We have to look no further than what delivered the election outcome: organizing. Organizing is the process of working collectively with other everyday people to achieve shared goals. It involves listening, connecting, building trust, and taking action, like calling your member of Congress, attending a Town Hall, setting up a meeting with your Senator, participating in a march, or organizing your neighborhood group or your church to join you. It's about taking action regularly on the issues you care about, building up more people, power, and impact each time.
We must continue to lift up organizers, led by Black women on the ground in Georgia, who helped send new Senators to Washington who will prioritize the well-being of their constituents. This win, and the progress it makes possible, cannot be overstated. It's time to build on our wins and deliver real change, especially for those struggling the most, like care workers.
In 2021, our new Administration and the next Congress will have a mandate to both provide relief for people who've been impacted by the COVID-19 crisis and chart a path toward recovery from the profound loss of life and livelihoods that we have endured this year. With a combination of good organizing and courageous leadership, we have the opportunity to not only recover, but do so equitably.
For example, many of us have been struggling under the weight of caring for our family members while working remotely; some of us have even lost our jobs and income in the pandemic. In the months of August and September alone, more than 800,000 women left the formal workforce, largely due to caregiving challenges. In December, when employers cut 140,000 jobs with women accounting for all losses, a survey showed that Black and Latina women lost jobs, while white women made gains.
Many of our care workers, who are often Black and brown women, including many immigrant women, have been working on the frontlines as essential workers without adequate wages, health care, or safety protections. President-elect Joe Biden campaigned on a plan to invest in the care economy as a key priority of his economic recovery agenda, making childcare, home care for the elderly, paid leave, and disability accessible to more people. He pledges to do this while ensuring our caregivers have the support, protections, and wages they deserve.
To make this caregiving plan a reality, Congress will need to take action, and the new Administration will need to make it a priority among many in the recovery. In order for that to happen, our members of Congress will need to hear from us, as will our new Administration. They must hear our stories, accept the urgency, and understand what we need from them. It will require our ongoing engagement—every person and every action matters.
It's work; and there are no shortcuts. But if (or when) we are successful, this plan will help every working family get back on track. It also addresses our long-standing failure to value and protect caregivers. We can do more than recover—we can rebuild our economy to work much more equitably for women, for our families, and for the people it has failed the longest. Imagine emerging from the multiple crises of 2020 stronger than ever before, beginning right at home with our families. It's worth it. And together, we got this.
Ai-jen Poo is the director of the National Domestic Workers Alliance and a Pop Culture Collaborative Becoming America visionary.
RELATED STORY
Celebrity news, beauty, fashion advice, and fascinating features, delivered straight to your inbox!