For Teachers, Going to Work Can Mean Life or Death
Stefanie Minguell, a COVID survivor and second grade teacher in Florida's Broward County, almost died of COVID-19 and is immunocomprised. When she teaches in the classroom, she's forced to choose between her health and her students.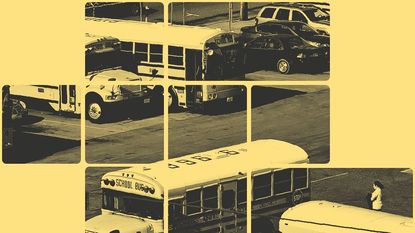 (Image credit: Getty - Morgan McMullen)
Stefanie Minguell is a second grade teacher at Fox Trail Elementary School in Broward County. Her county was one of a handful that defied Florida Governor Ron DeSantis's ban on mask mandates. Instead, Broward County enforced mask-wearing at schools. As the legal battle around the issue makes its way through the courts, the Department of Education is withholding funds from Broward County and another county enforcing mask-wearing, Alachua, until both comply with the order. Ahead, Minguell, who survived a severe case of COVID-19 last spring, shares her story, explains why enforcing masks in schools is so important, and discusses the fraught nature of returning to the office for some essential workers and immunocompromised people.
---
Click here to read all of the stories.
We left school in March of 2020 for spring break and never went back. At the time, I was already sick. I had a cold; I was coughing and wheezing. My mother was also coming down with COVID-like symptoms. She went to get tested and it turned out she was COVID positive, so she quarantined in her house. But she started to get progressively worse.
My husband and I got tested, but because I was coughing and wheezing so much, the hospital immediately admitted me. That same day, my mother was hospitalized. I turned out to be negative for COVID so the doctors treated me for asthma and sent me home. But six days later, I started running a high fever and was getting disoriented. My husband and I went back to the hospital and they admitted me again. This time, I tested positive for COVID. I believe I contracted COVID during my first hospital visit.

I blacked out within a day or two of getting to the hospital; my oxygen level went below 80 percent and doctors had to put me on a ventilator. I was on a ventilator for 21 days. To this day, my voice isn't the same—it's still very hoarse and I run out of air quickly.
I thought I was going to die. I was begging the forces that be to help me. When I was on the ventilator and my health was declining, my mother, who had recovered, advocated for me (using the local news) to get me experimental treatments. Thankfully, those treatments worked for me.
When I woke up, I was paralyzed. When you're on a ventilator for three weeks and you don't move, you lose all muscle mass. All I could do was move my head right to left and lift my fingers. I was able to FaceTime with my family from the hospital using my iPad, but because I couldn't move my arms, a nurse would have to come in and press the "on" button. Through physical therapy, I slowly was able to lift my arms and, eventually, sit up. Then, I had to go to rehab to learn how to use a walker and a wheelchair before I was able to go home. It was really the worst nightmare you could imagine.
I came home from the hospital in June of 2020. I spent the whole summer in rehab and in physical, occupational, and speech therapy. In August, when it was time to go back to school, I thought what am I going to do? Thankfully, the school district started off the year virtually, so I was able to teach from home. But a few months into the school year, they made all the teachers go back. Luckily, our union, the American Federation of Teachers, fought to let immunocompromised teachers, including me, continue to teach from home. I taught the entire school year from home. It was such a relief, especially because I was recovering. If I had not been allowed to work remotely, I likely would have had to leave my job and I would have lost my pay and insurance. That would have been devastating, especially considering how many doctors [visits], copays, and medications I had to pay for. Teaching remotely was great. I could take the focus off of my own woes and focus on the students. It gave me strength and courage to get through my recovery.

When the current school year [started to] roll around, we had no idea what things would look like. The state decided that we had to go back to in-person classes. Then, Florida Governor Ron DeSantis issued a ban on mask mandates for public schools, meaning public schools were not allowed to enforce a mask-wearing policy.
Broward County decided to defy Governor DeSantis's order and issued a mask mandate anyway. Despite [all the back and forth in the courts], the school district is still being fined for not complying with the ban on mask mandates: Led by Education Commissioner Richard Corcoran, the Florida Department of Education said it would withhold a monthly amount of funds equivalent to school board members' salaries. [The state does not pay the salaries of local officials and thus can't directly withhold pay, according to the New York Times.] They're punishing us for making students wear masks.
Had we not stuck to our guns and required masks at school, I probably would have had to take a leave of absence. Even though we have masks on in the classroom, it's still not safe. The students—many of whom are not vaccinated because they are too young—are still very close together. They have to take their masks off in the cafeteria to eat lunch. You can't keep young children apart. We've already had classes that have had to quarantine [because of a suspected exposure].
The [ban on mask mandates] made me angry. I'm still angry. I'm angry hearing parents say that they have the right to choose whether or not [their child is going] to wear a mask, and I'm angry when they act like COVID is no big deal. [And to the governor:] You're taking a risk with people's lives. With children, with teachers, and with other people in the school. You're taking a risk with parents and grandparents. Yes, we have a vaccine but lots of people are still not getting it, and if you're immunocompromised, you have a low immune system and you're more susceptible to getting COVID, even if you're vaccinated. As a leader, why would you force someone into unsafe situations? Shouldn't you be protecting your people, not putting them in a situation that it could go either way?
It's the teachers—many of us who have been teaching for 20 years (I have been teaching for 24 years), who have given their heart and soul to these children—that are at risk. Younger teachers are getting out of the profession while they can and doing something else. They're smart.
At this point, we've risked our health and our lives for so long. We've taken such low pay. We've done without. We're the ones that have gone through mass shootings, through budget cutbacks. We help the kids who come to school with no supplies, with no lunches, or who don't know how they're getting home. The kids need us.
The reason I have not retired from teaching is just that—that the kids need us. But they know something is wrong. Often, they ask me what's wrong with my voice. Without going into too many details, I tell them "I had COVID and it hurt my voice, but I'm okay now. That's why we're going to take precautions and do the best we can."
Story edited and condensed for length and clarity.
Related Story
Megan DiTrolio is the editor of features and special projects at Marie Claire, where she oversees all career coverage and writes and edits stories on women's issues, politics, cultural trends, and more. In addition to editing feature stories, she programs Marie Claire's annual Power Trip conference and Marie Claire's Getting Down To Business Instagram Live franchise.