How Women Really Feel About Company-Provided Egg Freezing
At a D.C. egg-freezing conference, attendees speak up about Facebook and Apple's latest fertility benefits.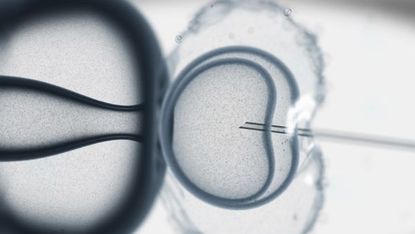 (Image credit: Archives)
Last month, news broke that Facebook and Apple would cover egg freezing in their insurance packages, paying $20,000 per female employee interested in the procedure. This past Saturday, many of the 50 attendees at a Washington, D.C. conference on egg freezing, organized by the Shady Grove Fertility Clinic, applauded the corporate move. "It's incredibly awesome," said Samara Gomez, a single 32-year-old attorney. "I wish more companies would go that way."
Egg freezing—the process of having eggs retrieved by a fertility clinic and stored for potential use down the road—is a relatively young science. Initially it was seen as an alternative path to pregnancy for women who might battle medical obstacles, like cancer patients before undergoing chemotherapy. But due to technological advances and a shift in mindset, women from all walks of life are now considering it a tool to preserve fertility.
Facebook and Apple's news also ignited a wave of criticism. "Don't Be Fooled by Apple and Facebook, Egg Freezing Is Not A Benefit," the Daily Beast cautioned. Detractors said it pressures women to put their career before family. "I think it's good for those employees," 35-year-old Michele (who declined to give her last name) said about Facebook and Apple. "But I also think it's kind of sad that the companies just want to get more out of their women."
For most of the attendees, company sponsorship is welcome news. "I would have taken them up on that," said Bree Darien, a 35-year-old divorced teacher, about the tech firms' offer.
Employer financial help is especially attractive given that most insurance companies won't pay for egg freezing. After hearing the news about Facebook and Apple, Silver Spring MD's Aichatou Keita called her insurance company, and was dismayed to find that egg freezing is not part of the fertility treatments they cover. "I think insurance should cover it," she said.
Since Apple and Facebook's news, calls to Shady Grove— where one cycle of egg freezing, often not enough to extract the ideal amount of eggs, costs $7500—have doubled, says clinic marketer Kasey Nichols. And interest overall is growing: Since 2011, the number of people scheduling consultations about egg freezing at Shady Grove has doubled annually.
Al, 31, who attended the conference with his 38-year-old girlfriend, viewed the Silicon Valley announcement as pro-family. People want to "have successful careers and have successful family lives," Al said. (He also declined to give his last name.) By offering to pay for this fertility treatment, Apple and Facebook are "showing that they are in tune with that."
Conference speaker Sarah Elizabeth Richards, author of Motherhood, Rescheduled told attendees that the procedure has shifted from being "desperate to cool" since she opted to do it herself more than five years ago. Women considering this are "smart, ambitious and forward looking," said Angela, a 35-year-old attorney. She and her husband are thinking of having a child soon, but want to preserve their ability to also have a second or third. These are women who are "taking control of how they want their life to be," she added.
But many of the women Marie Claire spoke with felt the practice is still stigmatized. "You are not talking to your girlfriends and saying, 'oh, I had my eggs frozen'," Gomez said, although she was glad to have a venue to discuss the topic. "I know so many people who have fertility issues and are relatively young," Gomez said. "I think it's a conversation that needs to be had."
Related Links:

Want to Freeze Your Eggs? Let Us Help


Should You Freeze Your Eggs Now?


The Baby Dilemma: Hope in a Tank

Image via Getty