Last Night's State of the Union Was Not, in Fact, a Major Win for Women
And we have the bingo cards to prove it.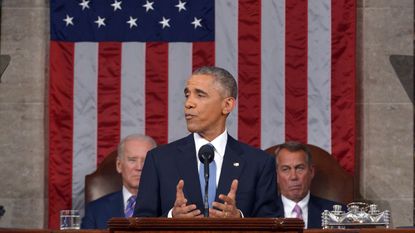 (Image credit: Getty Images)
Marie Claire Newsletter
Celebrity news, beauty, fashion advice, and fascinating features, delivered straight to your inbox!
Thank you for signing up to Marie Claire. You will receive a verification email shortly.
There was a problem. Please refresh the page and try again.
Every year, we watch the State of the Union at a crowded bar or at home following along on the Twitterverse. This year, we did the exact same thing. Except we also played bingo.
The American Association of University Women—a non-profit focusing on women's equality–created three bingo cards especially for the #SOTU, with terms and buzzwords they thought we would hear from President, like "equal pay," "campus sexual assault," "STEM," and "she."
We were so ready to check off all those boxes—but we never had the chance. Other than calling for guaranteed paid sick leave and delivering a nice zinger about equal pay (without actually calling on Congress to pass the Paycheck Fairness Act), the President failed to mention many of the issues that featured on the AAUW cards—things that matter to women. Like the fact that reproductive rights are still being eroded on a state-by-state basis or that 2014 saw an unprecedented rise in awareness around the epidemic of sexual assault on college campuses.
Still, in his final State of the Union, Obama made many galvanizing points. He focused on "middle class economics" and working families and highlighted the need for affordable, high-quality childcare and free community college tuition. He emphasized the threat of climate change, urging countries around the world to follow the lead of the U.S. and China, who struck a historic deal to cut carbon emissions last year, the warmest on record. It was also a historic speech, marking the first time a president has used the words "transgender" and "bisexual" in a State of the Union address.
But after such a pivotal year for feminists—with Malala Yousafzai winning the Nobel Peace Prize, Laverne Cox and trans rights covering Time magazine, and the awareness raised by #YesAllWomen—we were let down. We hate to think it will take a female President for women's issues to come to the political fore...but we're so ready when they do.
You should also check out:
These Will Be the Biggest Feminist Issues of 2015
Surprise Surprise: Republican Men Don't Want a Female President
Celebrity news, beauty, fashion advice, and fascinating features, delivered straight to your inbox!
Kayla Webley Adler is the Deputy Editor of ELLE magazine. She edits cover stories, profiles, and narrative features on politics, culture, crime, and social trends. Previously, she worked as the Features Director at Marie Claire magazine and as a Staff Writer at TIME magazine.