Where Are the #MissingDCGirls? Here's What You Need to Know
And why D.C. says the social media maelstrom is overblown.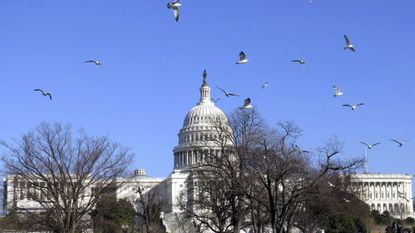 (Image credit: Archives)
Marie Claire Newsletter
Celebrity news, beauty, fashion advice, and fascinating features, delivered straight to your inbox!
Thank you for signing up to Marie Claire. You will receive a verification email shortly.
There was a problem. Please refresh the page and try again.
The hashtag #missingDCgirls has trended all day, firing up people around the country as they learn that a dozen African-American and Latina teens have gone missing in the District of Columbia and that, supposedly, no one is doing anything about it.
Today, D.C.'s police department hosted a Facebook Live to address concerns. Their takeaway? The numbers are "normal."
Here's a condensed timeline of what's happened: In the first quarter of the year, 501 juveniles have gone missing in Washington, D.C. Yesterday, Congressional Black Caucus chairman Cedric Richmond and Delegate Eleanor Holmes Norton sent a letter to the Justice Department begging their assistance in investigating these missing children. Today brought the #missingDCgirls hashtag and the outrage, as citizens (and celebrities like Nicki Minaj and P.Diddy) demanded attention to the issue.
"The goal of MPD [the Metropolitan Police Department] is to reunite any missing person in the District of Columbia with their loved ones quickly. We felt social media was the tool to meet that goal," said D.C. Commander Chanel Dickerson, who also leads the Youth and Family Services Division of the Investigative Services Bureau. Sending out write-ups of each missing kid is meant to amplify their cases, and it's working—maybe too well.
"We have received a lot of media concerns and attention from the public because of the number of releases, there have been concerns that girls in the District of Columbia are the victims of human trafficking or have been kidnapped, or if there's an increase in the number."
On the contrary, Dickerson said, despite the hashtag #missingDCgirls, there hasn't been an increase in the number of missing juveniles recently. "I say this: without minimizing the number of missing persons in D.C., because one missing person is one person too many, but there's actually been a decrease," she said. "Sadly our missing number of girls return. They come home voluntarily. They return within a short period of time."
Dickerson implied that the majority of these missing girls are runaways, a problem that needs to be investigated in its own right. What are they running from? "That's a really good question. We need to find out the underlying reasons why so many young people in the District of Columbia have chosen to leave home voluntarily because they feel they have no other alternatives," she said.
Many citizens, in D.C. and across the country, are concerned that these missing children are not getting proper attention due to their being disproportionately African-American and Latina. "We've all heard before that African-American and Latino people feel like their missing persons are not investigated the same way," she continued. "With this push, this initiative of the social media, this ensures that every case, regardless of race, where you live, or your immigration status, that the Metropolitan Police Department and the District of Columbia will investigate every case the same way."
As to why the recent teens haven't received Amber alerts when they disappeared, Dickerson pointed again to their seemingly voluntary choice to run. "An Amber alert is a national system, an early notification system used by law-enforcement agencies when a juvenile has been abducted or kidnapped and are in imminent danger," she said. "None of these cases meet that criteria. We have no evidence that [these teens] are the victims of kidnapping or sex trafficking."
For her part, Mayor Muriel Bowser had this to say:
We want our youth to know help is available for them. It's so important to #talkdontrun so we can get you the help you need. Call 800RUNAWAY pic.twitter.com/3ePzLtfUJTMarch 24, 2017
See more
Follow Marie Claire on Facebook for the latest news, tips, fascinating reads, livestream video, and more.
Celebrity news, beauty, fashion advice, and fascinating features, delivered straight to your inbox!