My "Feminist" Date Pressured Me to Hook Up with Him—and Then Freaked Out When I Said No
To the tune of 15 texts, 11 Facebook messages, two emails, one Instagram message, and a call.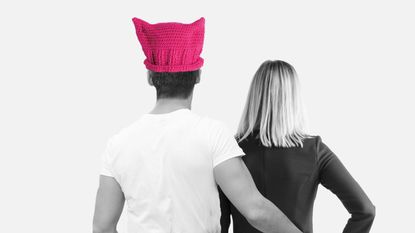 (Image credit: Monica Park)
Marie Claire Newsletter
Celebrity news, beauty, fashion advice, and fascinating features, delivered straight to your inbox!
Thank you for signing up to Marie Claire. You will receive a verification email shortly.
There was a problem. Please refresh the page and try again.
I was rooting for the second date. I really wanted it to be fun. On paper, this new guy and I had a standout first go-round: plenty to talk about, lots of shared laughs. We commiserated about Trump and he boasted about being raised by a throng of strong women. He even planned our second date halfway through, picking up tickets for a film we both wanted to see. But he'd also tried to kiss me goodnight after I'd pulled away and then lingered on my stoop, asking if I was sure he couldn't come up. As our movie date approached, I felt a squeeze of something unpleasant whenever I pictured his handsome face.
Still, I pushed it aside, because lord knows enough people have told me I'm too picky: 31 and single and expecting the moon and stars. "I always had a three-date rule," married people tell me, smugly, like every man blossoms into Prince Charming given enough time.
When I got to the cinema, he was already in line; as we chatted, he stood too close to me and I kept smashing into the people behind me.
The second we sat down in the theater, he leaned over to kiss me, lingering. I laughed and offered him my cheek. At the end of the show, he went in again; I made a joke and pulled my face away. We'd agreed beforehand to get a drink after the show, but as soon as we walked outside, he asked if I wanted to go to his apartment. I declined but continued with the plan to find a bar. I've been conditioned to think it's impolite to steer away from the agreed-upon path.
"Do you go on a lot of online dates?" he asked. I could tell there would be no third date, so I set myself up for an out later: "You know, not so much right now...honestly, I have so much going on it's a little bit hard to make dating a priority."
At the bar, I turned down a second drink, called myself a car, gave him a hug and said a casual, "Well, thanks again for the movie, this was fun." Then I turned my attention to my phone, willing the Lyft driver to step on it. Undeterred, my date moved in close and kissed me.
"You really just go for it, don't you!" I said lightly, pulling away. Because this is how I've been trained: For the sake of personal safety, rejection is best served with a smile.
He shrugged. "Are you sure you don't want me to come with you?" he asked. I demurred. He pressed on: "It's perfect 'cause you're about to go out of town, I could give you something to remember!" I kept smiling as I shook my head: "I'm sure, I just gotta get home!"
When our two separate Lyfts pulled up, I practically leaped into the one in front. Then I got this:
I gave him the too-busy line. Everyone knows it's a polite pass, right? I wouldn't have had trouble making room in my life for someone I genuinely liked, but after two dates and no sex, letting a guy down with his ego intact seemed easiest on everybody.
I put my phone down and chalked it up to yet another Super Sad True NYC story: two strangers briefly pausing together in the dark.
Then, from the kitchen table, my phone buzzed again.
I ran screenshots by a few trusted girlfriends. "Passive-aggressive," one friend noted. "The proper response is: 'Good luck with everything, take care.'" "It sounds like he was just commiserating about the dating scene?" suggested another, optimistically. Once I pointed it out, everyone agreed it was pretty rude to imply our two dates had been a "giant waste of time." But people say things without intending malice, and hey, why not assume the best?
Bizarrely, he sent one more text hours later, as I was turning my phone off for the night:
I lay in bed going over the tiny story arc of our relationship in my mind, stewing instead of sleeping, growing angrier and angrier as I went over the details of that night.
After all his unreciprocated moves, he had the audacity to text that he's "become better at picking up signals." Signals like me not letting him kiss me, not wanting another drink, and not spending the night? I lay there awake, angry with myself, too: I'd stroked his ego because I didn't feel like dealing with someone potentially calling me a c*nt. "We're in the age of desensitization!" Yeah, bruh, maybe you're desensitized to someone expressing repeatedly that she does not want to have sex with you.
I emailed a few friends for advice the next morning, and their responses snapped things into focus. My boldest friend said this: "If you feel comfortable sending a message, I say go for it. Otherwise, who is going to call this guy on his shit?"
Before I could think about it too long, I did just that:
Then I blocked him.
It was only after I hit send that I remembered the dating app on which we'd met shows your first and last name after you connect—so with the help of Google, he'd have myriad means of contacting me if he so desired.
But I had a busy day of travel ahead of me, so I scurried off to the airport, heart pounding, arms pulsing with adrenaline.
When he'd tried—I'm assuming—to text back and didn't receive a response, he reached out via Facebook. (Even though, by blocking him, I'd put up another boundary—one he rushed to pole-vault over in multiple ways.) Because we aren't friends, I didn't see any of it until later, but it's clear at this point he was sure there'd just been some kind of misunderstanding:
A grand misunderstanding! My phone must not be getting his texts! He must've had a little too much to drink! (We'd each had three light beers and a meal over several hours, so nobody seemed drunk, but okay.) There's an apology there but also an accusation. Because it's heartlessness that led me to text that, right? I obviously pulled a fast one on him by not dropping my smile, adopting a stern voice, and saying, "Sir, your continued advances are making me uncomfortable." Never mind that that is something women have been trained not to do. Why? Because it gets them killed.
(I'm not being dramatic: Witness these 12 women killed for saying no. Or the 22-year-old man who, in 2014, vowed to "slaughter" the women who'd rejected him before going on a shooting rampage in Santa Barbara. "Women killed for rejecting men" is an autofill on Google.)
This came next:
In the cab to the airport, I rejected a call from an unknown number; I Googled it, and sure enough, it was his work number.
Shortly after, I opened Instagram to find this:
Another hour or so passed, and as I was waiting in the terminal, busily answering work emails, a message came through to the address listed on my professional website with the subject line "Hear me out:"
Right. The only reason I could have sent that text is because I'm a mean, immature person who loves playing the victim and takes pleasure in hurting people. And I need a man to explain to me how I was wrong in stating that I felt uncomfortable. This is just how people date, it was just a cheek kiss and a polite inquiry. Really, I'm such a liar. Like all the women who say Trump assaulted them. Like all the women who couldn't get Cosby convicted.
For what it's worth, I didn't think this guy was going to rape (or kill) me. I never worried that he'd force his way into my building or push me against the cab until I let him join me in the backseat. That's not the point. And that's not what I meant when I invoked rape culture. You do not have to rape anyone to contribute to rape culture.
I shut off my phone and tried to push his defensive tirade out of my mind during my flight. But when I turned it back on another email was in my inbox:
The Five Love Languages is a book about how people in committed, consenting relationships can better express their love. Is his interpretation that if physical touch is your love language, you can get handsy with whomever you please? And let's not miss that he thinks I'm being unloving by stating that I felt uncomfortable. "She has tremendous hate in her heart." It rings a bell, right?
I spent the day with my stomach in knots. And I'm feeling them again, writing this. But I'm not sharing this tale to shame one ill-informed guy. My hope is that people will see this and get a peephole view into the female experience—one where your interest in a man is irrelevant, where being nice as a survival mechanism is leading someone on, and where stating that you feel uncomfortable is a slanderous lie.
My date never lost his temper, never called me a bitch or a c*nt or a whore. He's a smart guy, and attractive, and cool, and certainly, in his own mind, entirely woke. But guys, smiling as you continue to pressure your way into someone's pants is not respectful. And then turning defensive when you're called out? Not woke.
There are hundreds of ways I exhibit racism and ageism and ableism and sexism without realizing it, and of course I'm tempted to grow defensive when called on it. What's more, I'm certainly not convinced I did everything right. I shouldn't have let him kiss me on that dark street corner, I think, playing the mental tapes back weeks later. Maybe I shouldn't have been so nice in my initial blowoff text. Maybe I should have engaged in a dialogue about rape culture. Maybe I shouldn't have been afraid to call him out.
But at the end of the day, his response was disturbing. Even worse, I know that to women, this is just another story of a bad date.
Follow Marie Claire on Facebook for the latest news, essays, video, and more.
Celebrity news, beauty, fashion advice, and fascinating features, delivered straight to your inbox!
Andrea is a Brooklyn-based wordsmith and author of WE WERE NEVER HERE, THE HERD, and THE LOST NIGHT.