What Men Really Think About Your Sexy Halloween Costume
Are those sexy librarian outfits a turn-on or turn-off? Real guys weigh in.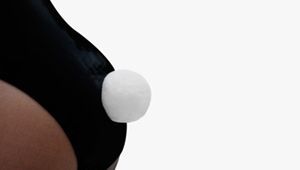 (Image credit: Image Source)
Ah, it's that time of year again: Halloween — when pumpkins are plentiful and artificial cobwebs abound. When children wear costumes and many, many women wear as little as possible!
As I scramble to find some kind of last-minute outfit, I've been wondering: Should I just wear the same old witch costume again? With the pointy hat that has been in my trunk for the last 360-something days?
But also: How do dudes feel about ladies in especially-revealing costumes?
I asked my guy friends to weigh in.
Here's what one 38-year-old in Manhattan had to say: "Forget the trick-or-treating: What I love about Halloween is the eye candy. But I wouldn't necessarily be interested in dating a woman who is wearing a revealing costume unless it was also creative or stylish."
But a 31-year-old from Houston says: "I almost always think Halloween outfits that don't leave much to the imagination are ridiculous — and they make me less interested, rather than more." (Another friend — a 30-year-old Brooklynite — said almost the exact same thing.)
One 29-year-old from San Francisco had this opinion: "All women should dress as sexily as they want on Halloween! Though I'd say everyone should also ask a friend or two if her outfit is working for her before she goes out in it. "
A 30-year-old from Cambridge, Massachusetts, had this to say: "On Project Runway, Heidi Klum's advice was: 'Boobs or legs — show me one, not both.' I think that's a good rule of thumb for Halloween, too. Outfits that feature, say, short skirts are perfectly fine — but if you're going to be a lifeguard on October 31 because you want an excuse to be out in your bikini, that's too much."
I think a good rule of thumb is to wear a costume you feel comfortable in, whatever it looks like.