10 Mistakes You're Making with Your Online Dating Profile
Lose the group photos.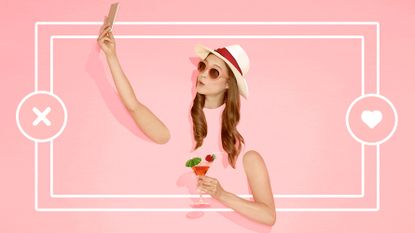 (Image credit: bs-photo/Design by Dana Tepper)
Marie Claire Newsletter
Celebrity news, beauty, fashion advice, and fascinating features, delivered straight to your inbox!
Thank you for signing up to Marie Claire. You will receive a verification email shortly.
There was a problem. Please refresh the page and try again.
Online dating apps are a special place where Friday night dreams go to die—but at the same time, they may be our greatest chance of meeting someone outside the two-block radius of our apartment/office. So we keep swiping and hoping, fed on the stories of the happy couples who are *apparently* making it work through Tinder/Hinge/Bumble/what have you.
And while we keep our spirits high with these daily affirmations, it's important to note that success in the online dating realms is also largely a product of our profiles. If you're going to play the game, you might as well do it right, you know?
So: Do any of the below sound familiar? Let's revisit some of the most common pitfalls of online dating profiles.
1. Face-obscuring sunglasses
Thanks for all the great angles of your designer sunnies...but we can't see your face. Not having a clear shot of your mug makes people think you've got something to hide, and no one wants to be catfished.
2. Back-to-back selfies
Selfies are good, selfies are great, and they're the best way to promote self-love in an angry troll-happy cyberverse. But six selfies in a row on a dating profile? It can make you look a liiiittle self-absorbed.
3. Group photos
"Which one are you???" Please, for the love of God, don't have a group photo as your profile pic. And if by the third group photo, people still don't know which one you are, it's game over.
4. Being too being specific about what you want
It's always good to know what you want in a relationship. But being ultra-specific about what you like and don't like in a person can cut off a potential pool of interested people from swiping right if they feel like they don't fit the bill. It's better to come into dating with an open mind and allow yourself to be surprised.
5. A blank profile
Prepare to be either bombarded with generic statements (because how do you start an interesting conversation with someone you have no information on?) or to hear absolute silence. Blank profiles can give off the impression that you're not even trying.
6. Bragging
Survey says that overly confident young men come in last when it comes to online dating. (Shirtless, flexing dudes, looking at you.) Though the data didn't extend to young women, it wouldn't hurt to lose the statements about living your *dream life*.
7. Generic statements
Oh, so weird, you like movies and you also like dogs? So does most of the population. So weird, you thought you were the first to come up with the bad joke "We'll tell everyone we met at X location that's not Tinder/Hinge/Bumble/OK Cupid"? Set yourself apart by being more specific about your interests and by...having a more unique tag line. Trust, it'll help to draw someone who's more in line with your tastes.
8. Overuse of internet slang
This one's a slippery slope. I'm all for doing you and trading "LOLs" and "OMGs" between friends, but someone's first impression may be to take you less seriously if there's an abundance of internet talk on your profile.
9. Oversharing
Include necessary information about yourself, but not your whole life story. Save it for the date.
10. Lying
Last, but definitely not least. Don't lie about your age or your interests. If they don't know it now, they're going to find out later. Just be you.
Follow Marie Claire on Facebook for the latest celeb news, beauty tips, fascinating reads, livestream video, and more.
Celebrity news, beauty, fashion advice, and fascinating features, delivered straight to your inbox!